First Pole for Audi Hybrid !
The qualifying sessions escaped rain, despite big black clouds that overshadowed the Spa- Francorchamps circuit. It was during a session without any major incidents that a hybrid prototype qualified on pole for the very first time with Allan McNish at the wheel of the Audi R18 e-tron quattro #2.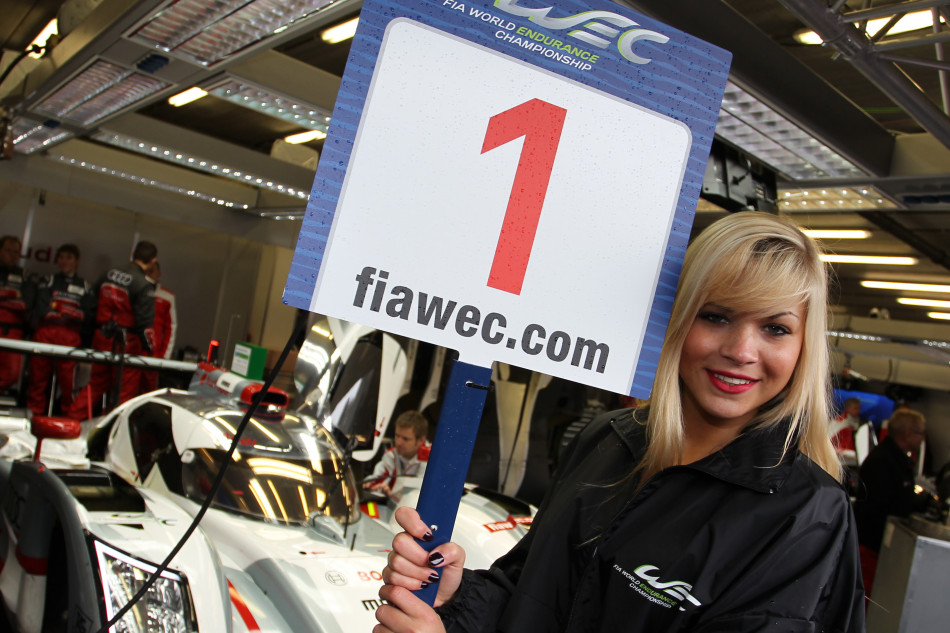 The Scottish driver was the only one to get below 2'02''. With a time of 2'01'' 579, he led his nearest rival, the young Marco Bonanomi, (who will race tomorrow for the first time with Audi) by more than half a second. The young Italian hoisted the #4 R18 Ultra (the new non-hybrid car the German manufacturer) to the front row, ahead of of Marcel Fässler the Audi hybrid #1 that dominated first place during all the free practice sessions.
Rebellion Racing continued its momentum with the best performance of a private team in LMP1. Neel Jani set a time of 2'04'' 234, ahead of Danny Watts and the Strakka HPD, followed by Andrea Belicchi in the second Rebellion Lola-Toyota.
John Martin distinguished himself by making sure the LMP2 pole position with the blue and white liveried #25 Oreca-Nissan of ADR-Delta. Although it did not improved the time set by Soheil Ayari in the second session of the free practice, the young Australian once again demonstrated the pace of the Oreca prototype powered by a Japanese engine, while James Rossiter confirmed that the performance of the Lola-Lotus #32 of the Lotus team this morning at the third and final free practicesession.
In LMGTE Pro Ferrari locked out the front row, thanks to Frederic Makowiecki for Luxury Racing and Giancarlo Fisichella for AF Corse setting the two best times. Only the French driver was able to go below the 2'19'' 770, but the top five competitors in the class are covered by just over a second, promising a very tight battle for the race tomorrow.
Ferrari did not quite make the Pro and Am double, as Nicolas Armindo hoisted the team IMSA Performance Matmut Porsche into in first place on the LMGTE Am starting grid. The #81 Ferrari of Marco Cioci and #58 of Gunnar Jeannette had to be content with second and third positions.
Cars are now placed in parc fermé until the warm-up that starts at 10:05 tomorrow morning.
QUALIFYING RESULT
1 2 AUDI SPORT TEAM JOEST D. Capello / T. Kristensen / A. McNish Audi R18 e-tron quattro LMP1 M 
2 4 AUDI SPORT NORTH AMERICA M. Bonanomi / O. Jarvis Audi R18 Ultra LMP1
3 1 AUDI SPORT TEAM JOEST M. Fässler / A. Lotterer / B. Tréluyer Audi R18 e-tron quattro LMP1 M
4 3 AUDI SPORT TEAM JOEST R. Dumas / L. Duval / M. Gené Audi R18 Ultra LMP1 M
5 12 REBELLION RACING N. Prost / N. Jani / N. Heidfeld Lola B12/60 Coupé - Toyota LMP1
6 21 STRAKKA RACING N. Leventis / D. Watts / J. Kane HPD ARX 03a - Honda LMP1 M
11 25 ADR-DELTA J. Martin / R. Kerr / T. Graves Oreca 03 - Nissan LMP2
28 59 LUXURY RACING F. Makowiecki / J. Melo Ferrari F458 Italia LMGTE Pro M
33 67 IMSA PERFORMANCE MATMUT N. Armindo / R. Narac / A. Pons Porsche 911 RSR (997) LMGTE Am M 
LMP1 Pole Position
Allan McNish
Nr2 Audi R18 e-tron quattro
"First of all today has been quite a big day for Audi because it was the first qualifying for the R18 e-tron quattro and, thankfully, we were able to give it its first milestone pole position. That's something we're particularly proud of because Dindo, Tom and I did exactly the same for the R10 TDI, the first diesel engined car. So it's nice to have our names linked to that particular fact and with the R10 we were able to go on and take its first victory the following day so we're hoping we can do the same again tomorrow.
"Two laps were enough to get the best out of tyres, so beyond that I don't think we would've been able to go any quicker. There is a point for pole, which we can't forget about when you come to the end of the championship in China.
"We've seen over the course of testing that the R18 ultra and e-tron quattro have got pretty much similar performances. Obviously the main bulk of the car is exactly the same - the aerodynamics, the mechanical set up, the monocoque. There are subtleties that come with the hybrid set up in weight distribution. However if you look at the session times over the past two days it has been nip and tuck and I think the difference here is going to be whether you hook up a total lap or not."
LMP2 Pole Position
John Martin
Nr25 ADR-Delta Oreca 03-Nissan
"Very pleased. We're a brand new team so this is an amazing result to come to Spa as a new team and put it on pole. The ADR-Delta boys have done an amazing job this week and pole at Spa doesn't really get much better than that and I'm really looking forward to the race tomorrow. For qualifying we took a bit of aero off to try and make us a bit quicker on the straights and make Eau Rouge a bit more exciting.
"My first lap wasn't quite good enough but on lap 3 I hooked the lap up to get pole. In Free Practice we concentrated on heavy fuel loads and hard tyres to see what it's going to be like for the race if it stays dry. Everyone says it's going to be wet or snowing or something but tomorrow is another day."
LMGTE Pro Pole Position
Frederic Makowiecki
Nr59 Luxury Racing Ferrari 458 Italia
"AF Corse is the reference of the GTE Pro category and it is really good for us to be competitive here and at Sebring. To do a pole position is good for us as we have worked really hard to be consistent and that is why I am confident for the race tomorrow.
"Now Luxury Racing has the potential to fight against AF Corse, Felbermayr and Aston Martin Racing and this is why this championship is the best in GT and it is really good for us. We don't have a lot of information of running in wet conditions and we know the Porsche is good in the wet, especially for traction. However I think we can also be very quick in the wet on this track."
LMGTE Am Pole Position
Nicolas Armindo
Nr67 IMSA Performance Matmut Porsche 911 RSR(997)
"We are hoping for rain tomorrow because for the car it is very good with the rear engine and for myself, I am very confident in the wet. It will be a long race, 6 hours, and you can make many mistakes in that time in the wet on this track. The most important thing for us is for myself, my teammates and the team to learn the most for Le Mans. We decided to leave our run until later, this was our tactic as we had nothing to lose. We are really pleased to be here as we are a guest team in this race and it is important for use to see where we are against the teams in the WEC. We had nothing to lose so we could afford to take maximum risk and we are on pole."