FIA WEC supports Action for Road Safety in Brazil
The 6 Hours of Sao Paulo event hosted a very special press conference...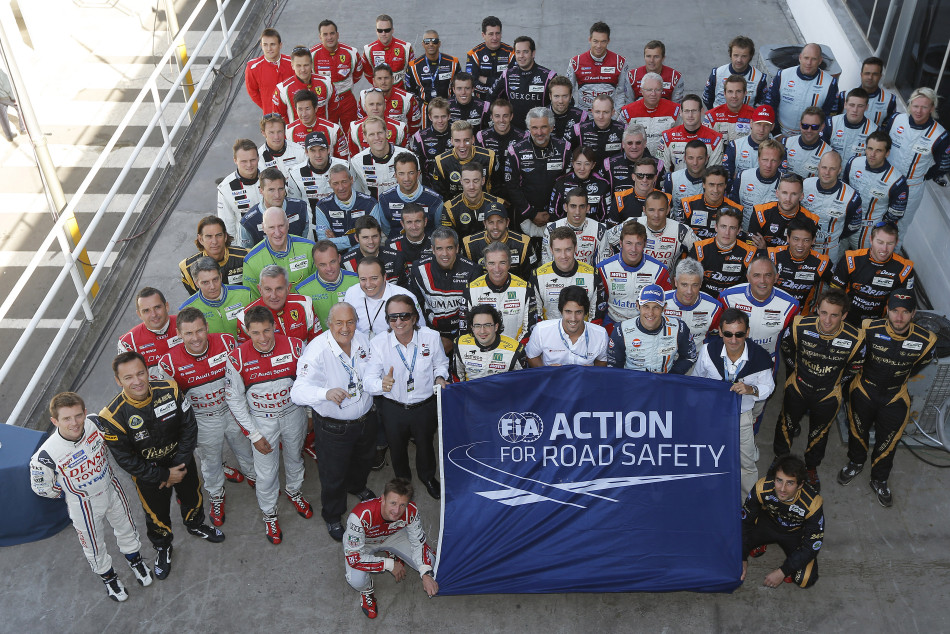 The 6 Hours of Sao Paulo event hosted a very special press conference when Emerson Fittipaldi invited the media to talk to Fernando Haddad, the Mayor of Sao Paulo, Agnaldo Ribeiro the Brazilian Cities Minister and other dignitaries, including ACO President Pierre Fillon, to talk about PARADA, the road safety campaign in Brazil. PARADA means 'action' in Brazil and this weekend the FIA WEC will help get the message across to the Brazilian fans who are coming to the 6 Hours of Sao Paulo by supporting PARADA and the FIA Action for Road Safety campaign.
Emerson Fittipaldi:  I want to thank Marcelo Rehder, SP Turis' President, Gérard Neveu, FIA WEC's President, Agnaldo Ribeiro, Cities Minister, our Mayor Fernando Haddad, Playcorp's Fernando Elimelek, Pierre Fillon, ACO's President, John Doddrell, Great Britain's consul, and his support to our action.
Agnaldo Ribeiro: - Minister Of The Cities:  Last year we and Dilma Russef created PARADA. This represents society's call for action on road safety. We have shown many films that shows accidents and alert people about the dangers while driving.  We start some work to change our traffic rules to make it happen.
Fernando Haddad: - Mayor Of São Paulo: I'm not a sports Champion, but I'm very worried about road safety in our country. There are almost 50.000 people killed by road accidents in one year in Brazil. It's our worst problem. There are Young people who have barely started to drive. I'm very sad about it. Since last year's PARADA, São Paulo has seen a reduction in the number of people killed by road accidents and we are happy but we have to think about other ways to reduce this number further.
Gérard Neveu: CEO of the FIA World Endurance Championship:  The WEC and ACO are very grateful. First thanks to Fernando Haddad for receiving the WEC for the second time. São Paulo welcomes us and now we would like to welcome São Paulo here this weekend.  We are not just concerned about the race, but also about road safety, because motorsport starts there.  This is recognised by the efforts of the ACO and through the FIA's Action for Road Safety campaign, which the WEC supports at every race aorund the world.  We would like to thank Playcorp and Emerson Fittipaldi for their work here in São Paulo. I think this will be a long term link between the WEC and São Paulo.
Comandante Meira: Military Police Chief: I am very proud to be here at the FIA WEC, because WEC is also worried about safety. Traffic is based in education and engineering. The police work in the schools to teach kids safer ways to drive. Unfortunately we can't teach adults and every person killed in road accident costs about half million reals for us. We have to change; we have to save lifes.
John Doddrell: British Consul in Brazil: It's a pleasure to be here with you. It's also a privilege be a title sponsor of the kids' driving school here at the FIA WEC event. There is a lot of good drivers over there. We have the GREAT campaign to show English culture to Brazilian people and this school is part of GREAT. There is another traffic campaign in the UK called THINK. We reduced people killed by road accidents in 2011 to our lowest levels since 1926. There it is about our safety tecnologies created in GB, several new rules and people's consciousness.
Pierre Fillon: President of the ACO: Gérard has said everything, but Iwould like to thank the Minister, Emerson and Mayor Haddad. It's wonderful to feel the passion for Le Mans in Brazil. We hope to continue WEC and Road Safety for a long time in São Paulo. The ACO has worked for road safety for 100 years. We figured that our efforts are going well because mortality numbers are going down from 20,000 to 4,000. We hope that PARADA has the same success as the ACO's campaign.
Fernando Elimelek: Playcorp: This weekend we will have many track and off track activities. We worked hard last month to make this happen. This will be a Family event. We are really proud of PARADA, because PARADA's and FIA Road Safety Action's final objective are the same - to save lives. We also have to thank ClaroTV for their support.
After the event Emerson Fittipaldi, Pierre Fillon and all the drivers competing in the 6 Hours of Sao Paulo were photographed with the FIA Action for Road Safety flag to show their continued support for the campaign.