FIA President presents Bahraini officials with Special Awards for actions during last year's crash involving Romain Grosjean
FIA President Jean Todt has presented Special Awards to the marshals and firefighters who helped rescue Romain Grosjean from the fiery heavy crash the French driver suffered at the start of last year's Bahrain Grand Prix.
The FIA President also presented a Special Award to the Bahrain Motor Federation, the national sporting authority (ASN) responsible for the organisation of the grand prix and the training of race volunteers and officials. The specially commissioned 2020 FIA Prize Giving trophy designed by renowned sculptor Patrick Roger, was presented to His Excellency Shaikh Abdulla bin Isa Al Khalifa, President of the Bahrain Motor Federation and Abdulaziz Al Thawadi, General Manager, Bahrain Motor Federation.
The prizes were announced by the FIA President during the virtual FIA Prize Giving in December of last year, but on the occasion of today's 2021 Bahrain Grand Prix, the opening round of the FIA Formula One World Championship, President Todt took the opportunity to present the awards in person to the seven local marshals and doctors and the firefighters who assisted Grosjean escape from the fire that engulfed his car following his crash on the opening lap of last year's grand prix at the Bahrain International Circuit.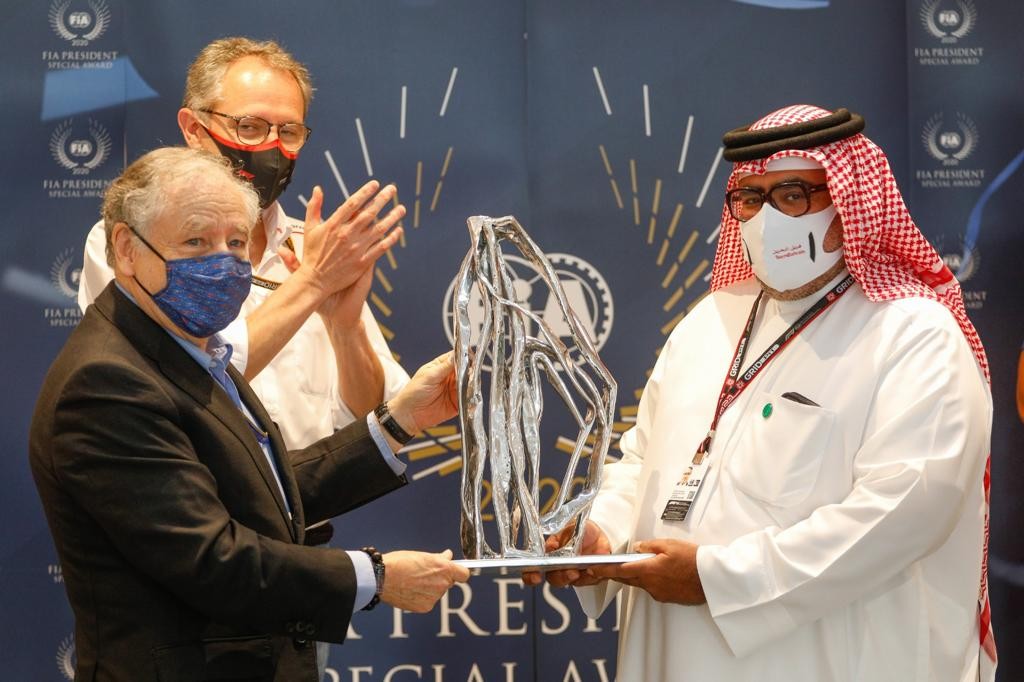 Abdulla Ahmed Qambar, Osama Al Sherooqi, Mehab Medhat Fawzi, Ahmed Abdulla Mohammed, , Ahmed Saeed Mohamed, Atif Turkey Alanbar, Dr Yasir Yar Muhammad and firefighters Joby Matthew and Thaer Ali Taher were honoured with commemorative medals for their bravery and exceptional reaction during the incident.
Medals were also presented to FIA Formula 1 Medical Rescue Co-ordinator Dr Ian Roberts and FIA Formula 1 Medical Car Driver Alan van der Merwe.
The combined heroics of this group of courageous individuals and the collaborative efforts of the local volunteers who come from all sectors of Bahraini society meant that Grosjean emerged with minor burns to his hands.