FIA Motorsport Games: triple Gold puts France atop in medal standings
Halfway through the FIA Motorsport Games weekend, host nation France emerged as leaders owing to gold medals in Rally2, GT Cup and Cross Car Sr in the event staged at Circuit Paul Ricard, its surroundings and Veynes. Seven gold medals are yet to be awarded
DOUBLE GOLD FOR ITALY BUT FRANCE TOPS TOP CLASS 
Medals were decided in all three Rally disciplines on Saturday, with Team Italy earning a pair of golds in Rally4 and Historic Rally and the Rally2 going to Team France. 
The French win never looked in doubt from as early as Friday morning's opening Special Stage, with the crew of Mathieu Arzeno/Romain Roche (Skoda Fabia) extending their lead to more than a minute over Team Spain's José Maria López/Borja Rozada (Hyundai i20). The battle for all three medals went down to a trio of Super Special Stages around Circuit Paul Ricard, with Team France again victorious to claim gold ahead of Spain and Estonia's duo of Georg Linnamäe/James Michael Morgan (Volkswagen Polo). 
Rally4 was much closer on the longer stage. Team Italy grabbed the advantage over fellow Peugeot 208 crew Team Spain, the duo of Roberto Daprà/Luca Guglielmetti successfully negotiating a tense top-three SSS shoot-out that resembled a rallycross race. This confirmed the gold medal, while Team Türkiye's Ali Turkkan/Ahmet Burak Erdener (Ford Fiesta) took silver after a 10S penalty dropped Spain's duo Dcar Palomo Ortiz/Rodrigo Sanjuan to third. 
Historic Rally was dominated by Team Italy, which bagged gold in style. Audi Quattro driven by Andrea "Zippo" Zivian/Nicola Arena, beat Team Czech Republic, with Vojtěch Štajf/Vladimir Zelinka handling their Opel Kadett. Bronze medal honours were taken by Team Spain with Antonio Sainz/ David de la Puente in their Porsche 911 SC.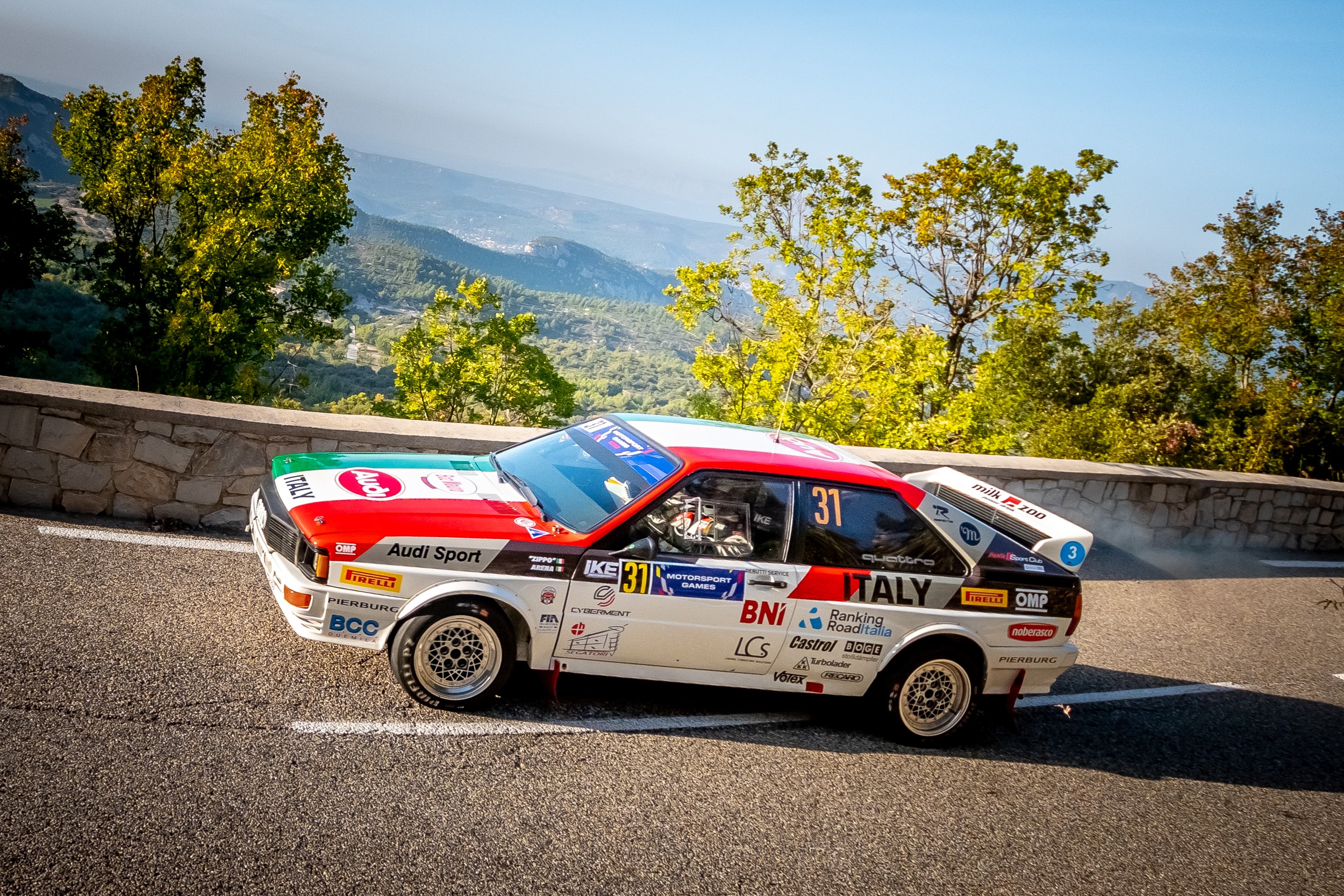 LATVIA SLIDES TO STUNNING GOLD
Latvia's Kristaps Blušs got the better Team Kuwait's Ali Makhseed in a phenomenal Drifting Final to bag gold medal. Bronze went to Poland's cross-country rally convert Jakub Przygoński 
The initial 30 nations were whittled down to 16, eight and then two Semi-Finals, which pitted Team Latvia against Friday's top scorers Team Poland, and Team Kuwait against Team Estonia.  
Kuwait faced off against Estonia's Kevin Pesur and came out on top in a stylish contest between the pair. In the other Semi-Final, Latvia's Blušs performed a giant-killing display to beat Poland's Przygoński. 
The Polish contingent went on to win the Small Final to seal the bronze medal, while it took a second attempt and a total of four runs to decide an overall winner between the top two nations. 
2019 gold Ukraine's Dmytryi Illiuyk buried his chances of a strong outing having earned a penalty for a discretion on one of his tandem runs.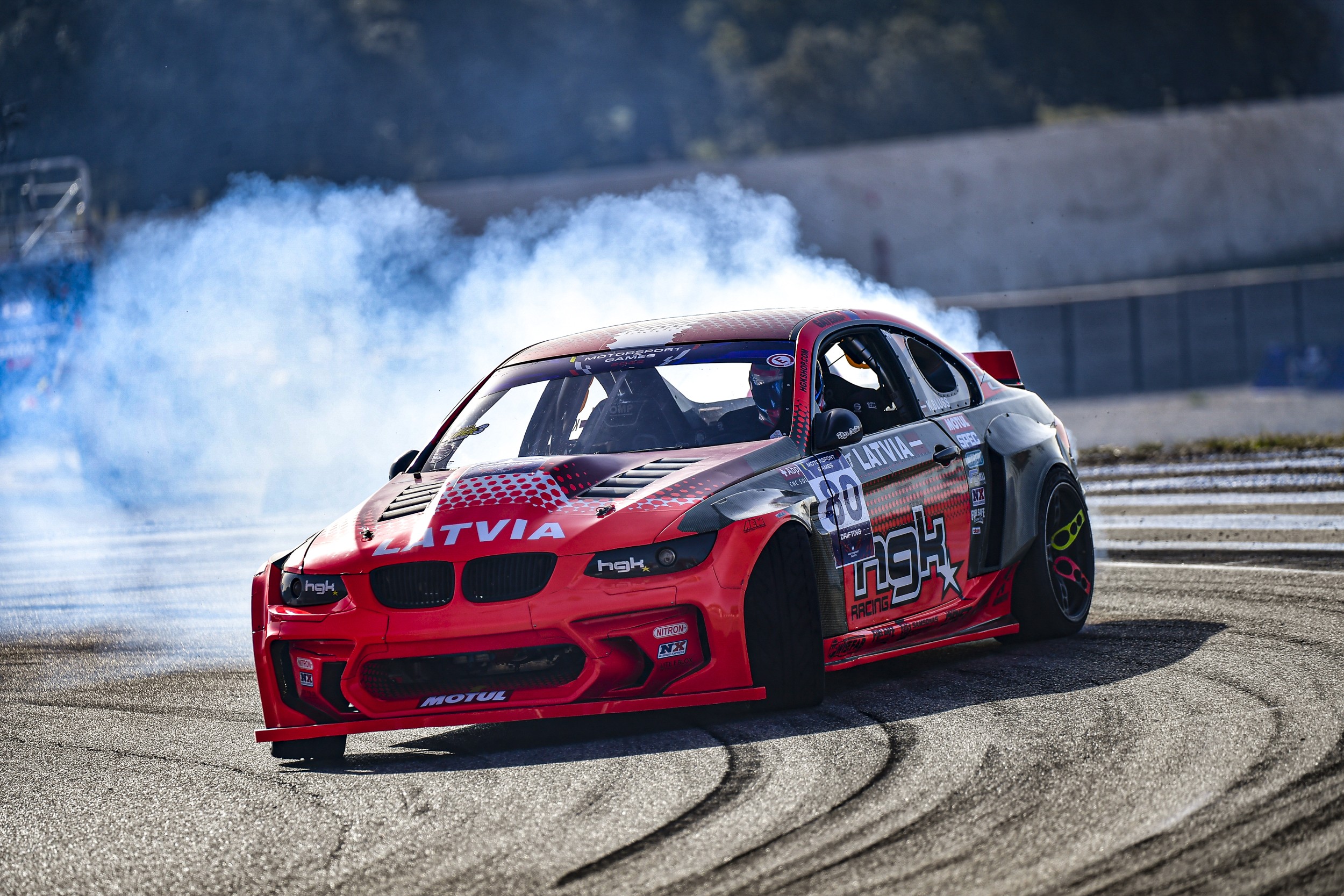 FRANCE RESISTS GERMANY TO SEAL GT GOLD 
Early in the day host nation France clinch the first gold of the event after resisting pressure from pre-race favourites Germany in this afternoon's medal deciding GT contest.  
French duo Eric Debard and Simon Gachet was by no means an outside bet, showing its pace by finishing both qualifying races in runner-up spots, though it was the German (Fabian Schiller/ Valentin Pierburg) crew that started on pole after winning both qualifiers.  
The race featured two distinct phases. This was down to driver choice, with most teams electing to run their bronze first while four selected their silver to take the start. France was among the latter group, allowing Gachet to quickly pull out a commanding lead.  
In the German entry, bronze-graded Pierburg fought valiantly but ultimately lost out to several silver-rated drivers in what was the defining moment of the race. 
Podium was rounded out by Team UK entry of Ian Loggie and Sam Neary who replaced unwell Christopher Froggatt on the eve of the event. All the podium finishers were running AMG-Mercedes machinery.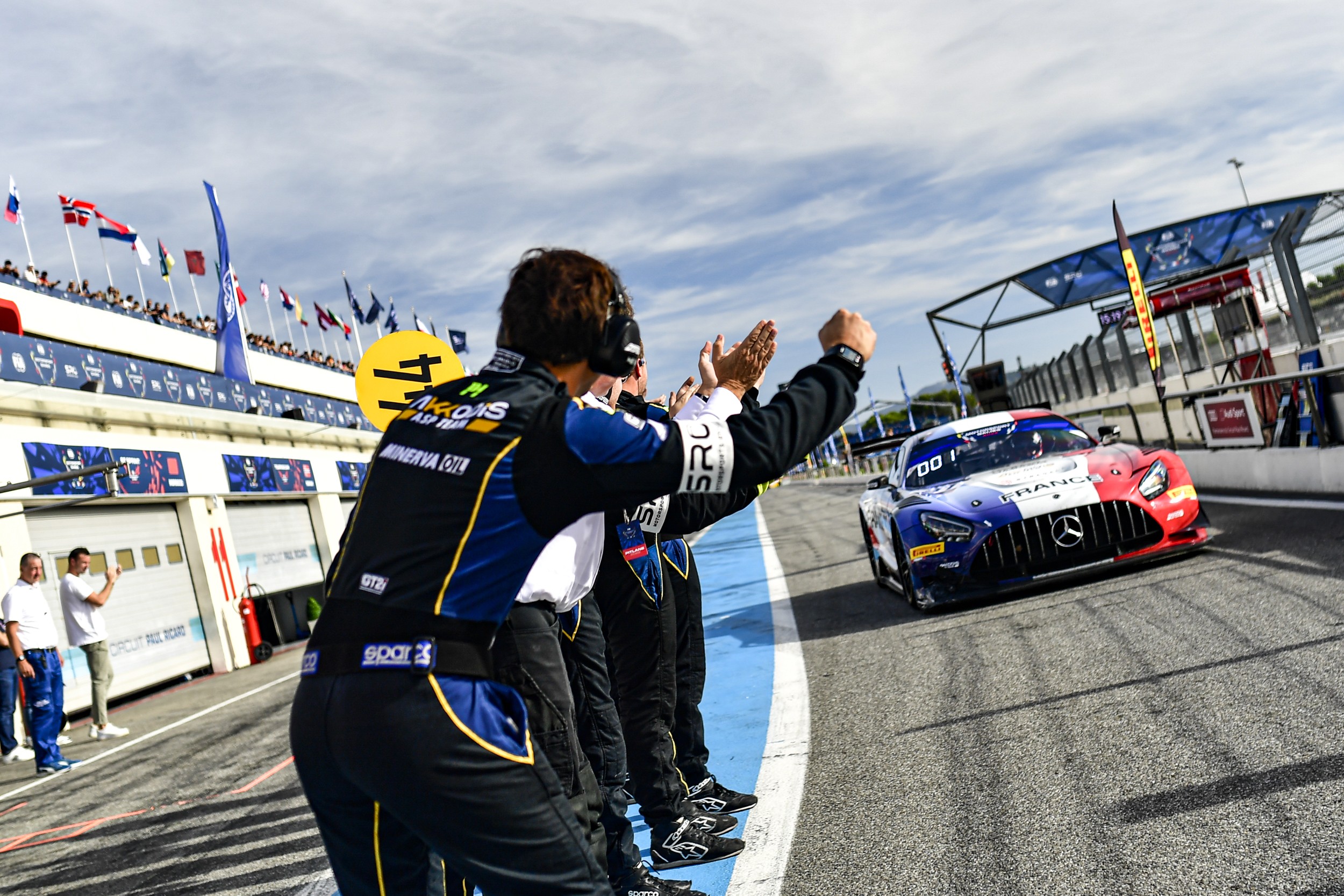 ESPORTS FAVORITE DELIVERS
Team UK sim racer, James Baldwin earned his nation's first-ever FIA Motorsport Games gold medal in today's Fanatec Esports final. Starting from pole position in his McLaren 720S GT3, the 25-year-old multiple SRO Esports champion outclassed the other drivers with a light to-flag victory, as he was followed by Team Netherlands, represented by Chris Harteveld also competing in a Mclaren, while Garcia Gomez grabbed the last podium place in his Lamborghini Huracàn GT3 Evo.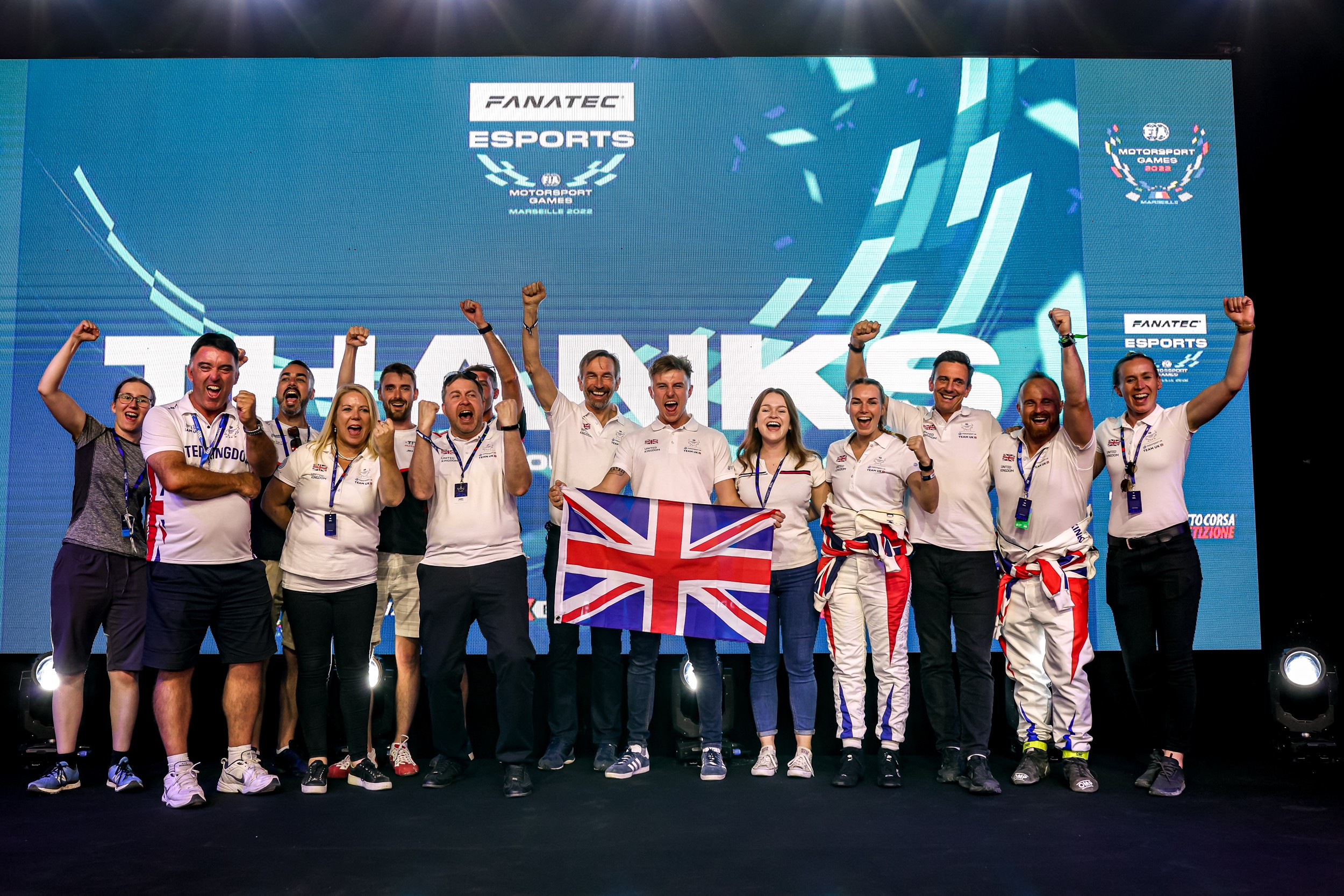 FRANCE AND NETHERLANDS SHARE CROSS CAR GOLDS 
Cross Car medals were awarded for the first time in FIA Motorsport Games history on Saturday. Team Netherlands shared the spoils with Team France after a pair of intense finals in Junior and Senior competitors. 
In the Senior discipline, France were the stars of Saturday's action thanks to the in-form David Meat, who won his Semi-Final by a significant margin of nearly 15 seconds. The Frenchman then went on to scoop gold by pipping Team Spain's Ivan Pina-Chinchilla in the Final. The Spaniard had to recover from a slower start to overtake Sweden's Patrick Halberg for the silver, while the latter grabbed bronze by resisting Italy, Netherlands and Estonia. 
The Junior contest was won by Team Netherlands as Nathan Ottink fended off the chasing pack over the seven-lap dash, securing the nation's first gold medal of 2022. His winning margin was just 1.5s over Sweden, who earned the silver thanks to Alexander Gustafsson, with bronze heading the way of the recovering Romuald Demelenne for Team Belgium.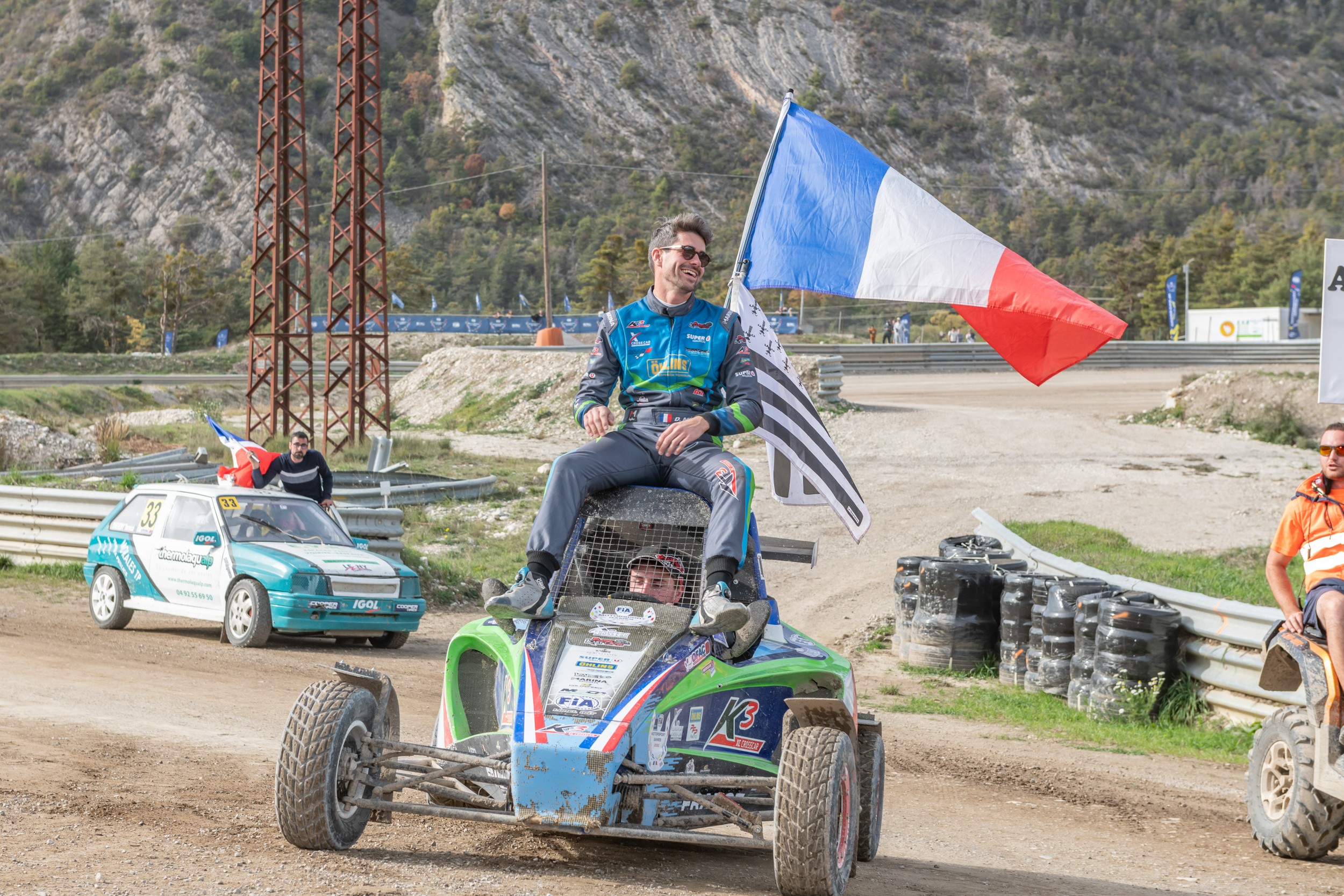 BELGIUM KARTERS CLINCH GOLD IN THRILLING FOUR-HOUR ENCOUNTER 
Team Belgium has earned the second gold medal of the FIA Motorsport Games following a hard-earned victory in the four-hour Karting Endurance race. The nation's drivers, Maxime Drion, Jeremy Peclers, Sita Vannmeert, and Antoine Morlet climbed the order from seventh on the grid to take the gold medal fight to then leaders, Team Spain, resulting in a battle for the top spot before a mistake from the Spaniards allowed Belgium to pull out an unassailable advantage.   
Alvaro Bajo Robles, Alba Cano Ramirez, Jose Manuel Perez Aicart, and Ivan Velasco brought home the silver medal for Spain. The Czech Republic, meanwhile, moved up to third with 27 minutes remaining, ensuring them the first Karting Endurance bronze medal ever awarded. 
PLENTY TO LOOK FORWARD TO ON SUNDAY 
Saturday's action also featured Karting Slalom, Auto Slalom, Karting Sprint Jr and Sr, Touring Cars and KCMG Formula 4, with all competitors putting on an exciting show in sunny South of France. Seven gold medals are yet to be awarded on the final day of the FIA Motorsport Games 2022 and all is to play for.