FIA Motorsport Games: Germany claims GT qualifying race, Rally at halfway point
The 2022 FIA Motorsport Games action is in full swing, with several categories taking it to the track and special stages on Friday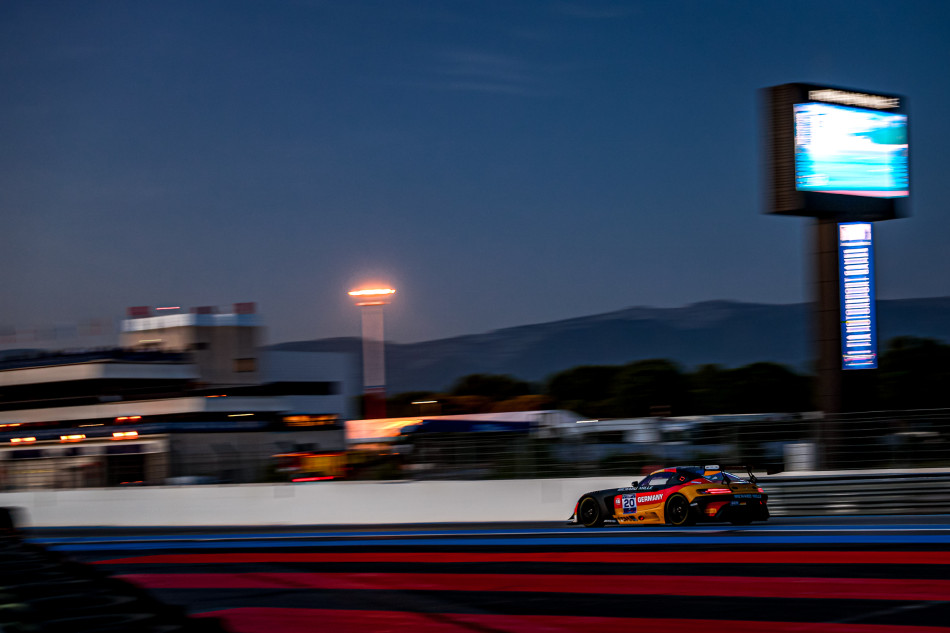 GERMANY'S GT DOMINATION
Owing to GT Qualifying Race taking place on Friday evening, the 2022 edition of the event had its first door-to-door action of the weekend.
Germany secured pole position for the race in a session held earlier in the day. However, it was Eric Debard who looked in control for much of the session and was on course to put host nation France on the pole, but it was a late charge from Valentin Pierburg to promote Germany to the top by half a second. 
Came to the race and Team Germany converted their pole into a dominant victory, confirming Valentin Pierburg and Fabian Schiller as favourites to secure gold tomorrow afternoon.
The day ended with a Mercedes-AMG 1-2-3, with Team France and Team UK rounding out the podium.
Team Poland ended up best of the rest in fourth, despite a fraught opening stint for Marcin Jedliński, which included an opening lap spin and later contact with a Hong Kong China car followed by a splendid recovery driver from Karol Basz.
RALLY ACTION AT HALFWAY POINT
Halfway through the rally, local aces Mathieu Arzeno and Romain Roche in a Skoda Fabia Evo, settled into a comfortable, 41s over Spain's José Maria "Pepe" López.
Team Spain set the pace in Rally4 for front-wheel drive machinery. Following a morning charge of Oscar Palomo and Rodrigo Sanjuan in a Peugeot 208, Spain holds an 11s lead over Team Italy's Roberto Daprà and Luca Guglielmetti.
Among drivers competing aboard historic machinery, Team Italy continues to dominate, with Andrea "Zippo" Zivian and Nicola Arena clinching seven stage wins out of seven stages held.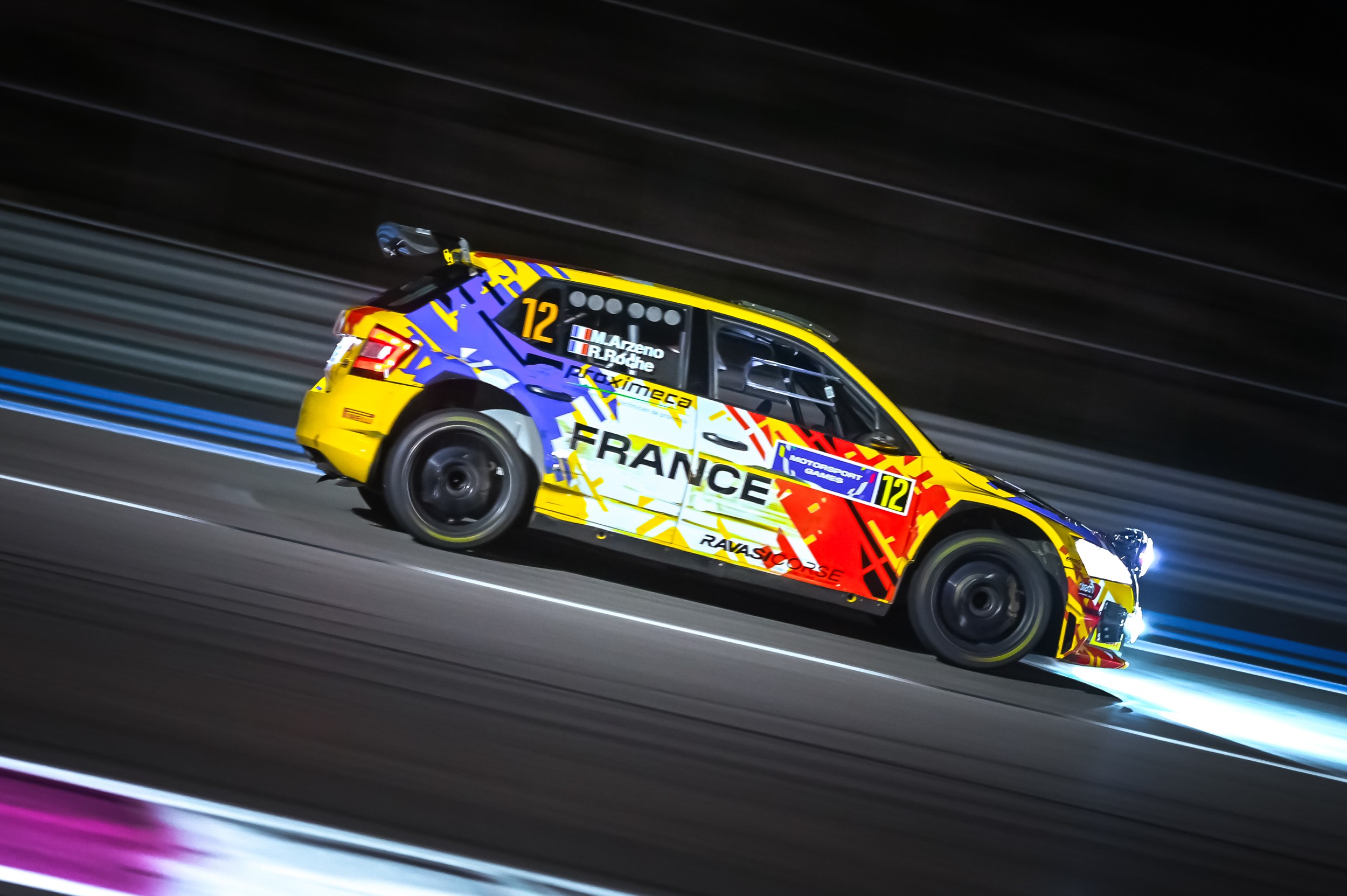 FANATEC ESPORTS CUP SEMI-FINALS GRIDS DETERMINED
The top 40 racers from 55 participants have been locked in for the semi-finals of the Fanatec Esports Cup.
The top ten racers in each quarter-final race earned an automatic semi-final spot with the remaining ones having to fight their way in two last-chance rounds, with the top five from each heat completing the line-up of the semi-finals.
Team Brazil's Igor Rodrigues dominated the opening quarter-final from the pole, with the two remaining quarter-finals taken by Team Czech Republic's Martin Kadlečík and Team UK's James Baldwin.
The battle for medals will commence on Saturday, with the semi-finals followed by the grand final set to take place at 17:30.
DAKAR SPECIALIST KEEPS DRIFTERS AT BAY
Team Poland's Dakar Rallye regular turned drifter Jakub Przygoński led the way in 30-nations-strong Drifting qualifying.
The Pole finished ahead of Team UK's Martin Richards and Kuwait's Ali Makhseed. 2019 gold medalist, Ukraine's Dmitriy Illyuk, experienced a difficult afternoon but just managed to go through, finishing 28th out of 28 qualifiers.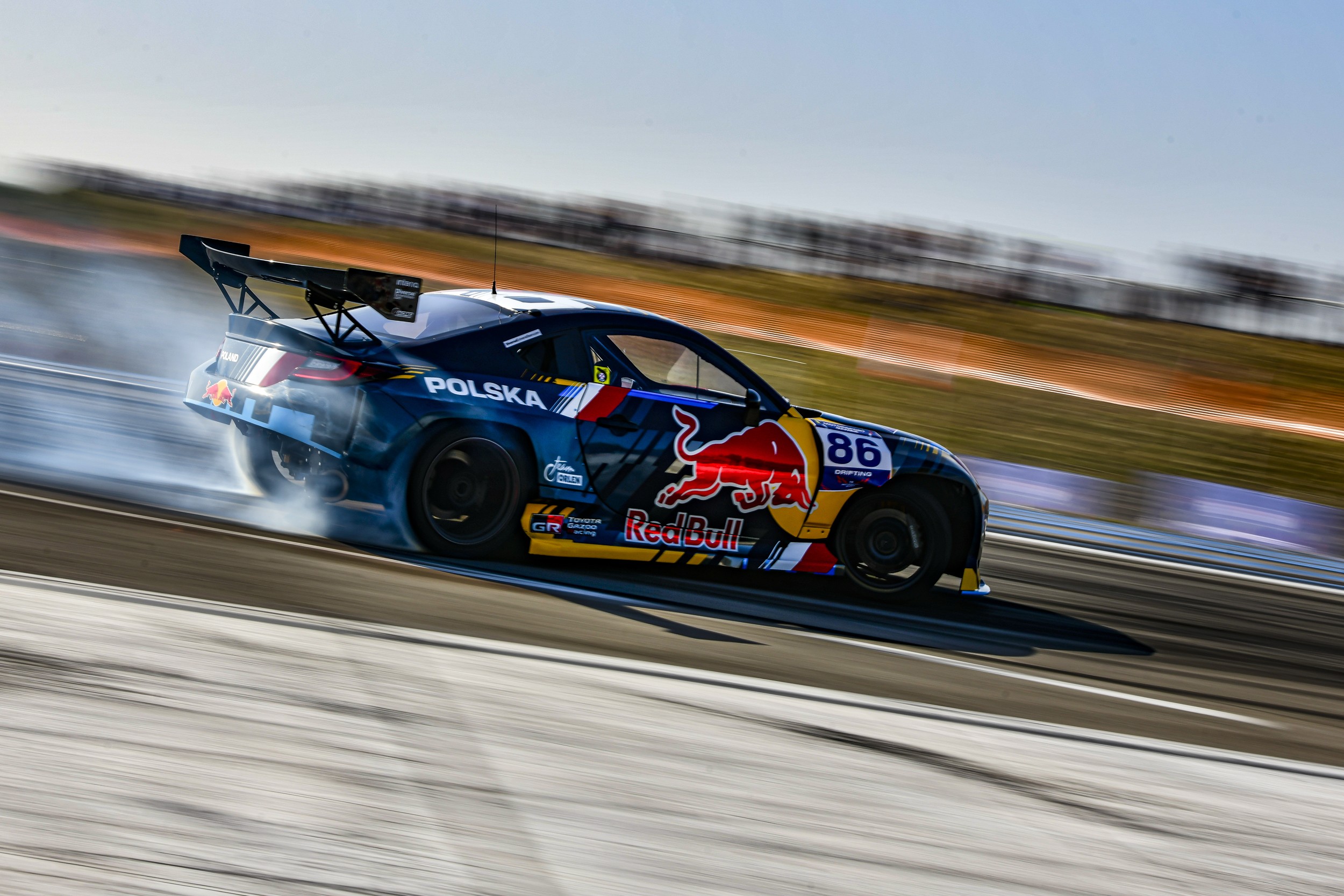 OFF-ROAD GETS UNDERWAY
The first qualifying heats of the Cross Car held at Circuit of Boutarik in Veynes gave us a taste of the exciting off-road discipline. Romuald Demelenne from Belgium topped the young guns contest in Cross Car Jr, while FIA Rally Star European reserve driver, Patrick Halberg of Sweden, finished first in the Senior heat.
PRACTICE SESSIONS INDICATE MEDAL CONTENDERS IN CIRCUIT RACING
In the KCMG Formula 4, 16-year-old Team Italy racer Andrea Kimi Antonelli set the pace in both practice sessions emerging as the number one favorite to clinch gold.
In Touring Car it was three-time WTCR – FIA World Touring Car World Cup race winner and 2019 FIA Motorsport Games silver medalist Gilles Magnus who topped times in the sole Free Practice session held for the category. The second came TCR Europe race winner Jack Young and the top three were rounded out by another Motorsport Games returnee, Tom Coronel.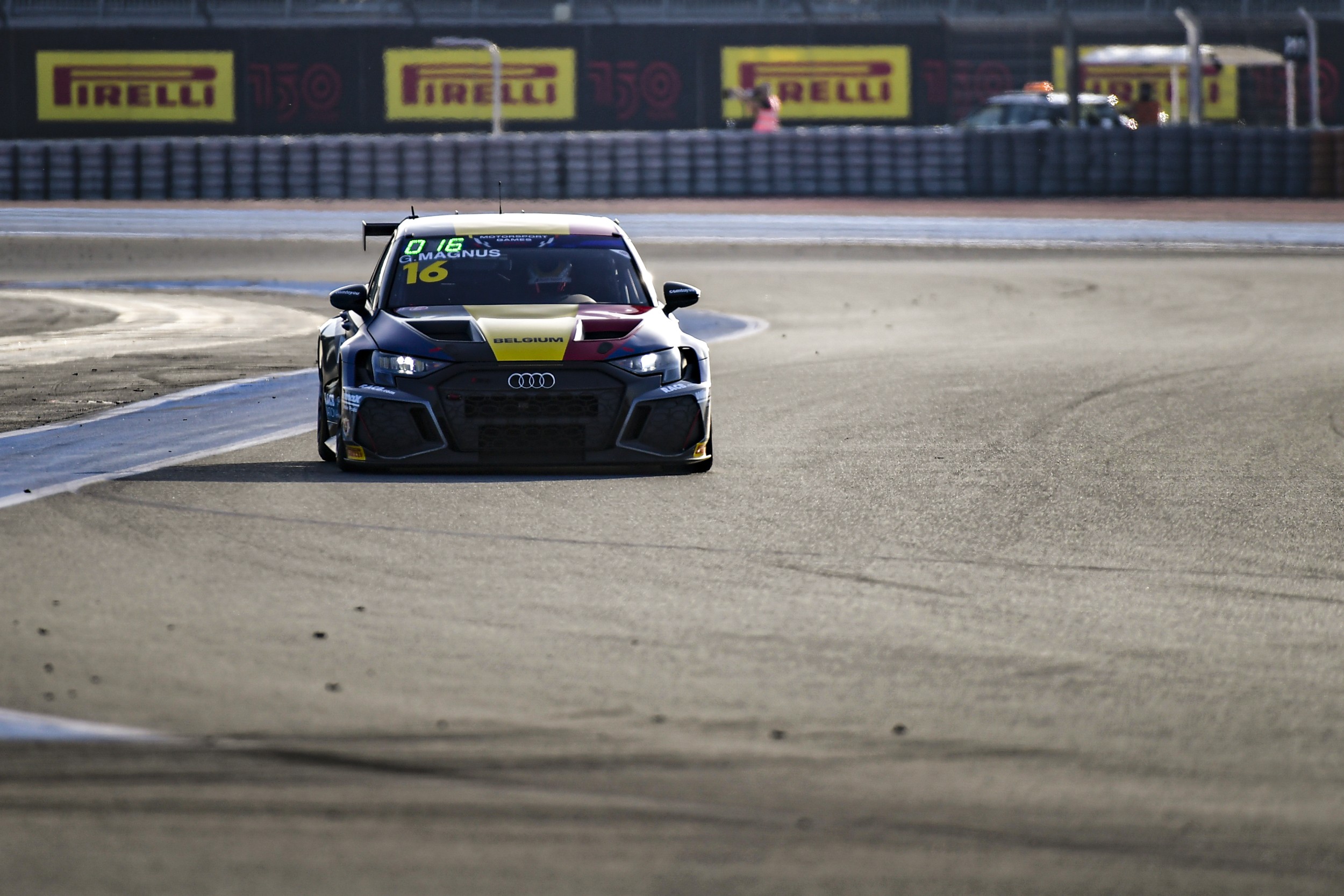 FIRST LAPS IN ANGER TURNED IN KARTING
Qualifying practices kicked off today on the high-speed Paul Ricard karting track. In the sprint discipline, Israel and Belgium secured the best starting slot on the grid for tomorrow's qualifying heats in the Junior and Senior competitions respectively.
Meanwhile, Endurance Karting for four-piece crews hosted practice sessions today. Belgium finished on top in the opening one, while Team UK topped the leaderboard in the second one.
POLAND AND GERMANY ATOP IN SLALOM RUNS
In slalom competitions, Team Poland heads into the eighth final as favorites in Karting Slalom, as Team Germany tops the timing sheet today in Auto Slalom.