FIA Karting - Patterson and Bedrin the polemen in the overwhelming Normandy heat
At the Aunay les Bois / Essay International Circuit (FRA), high temperatures accompanied the opening phase of the fourth and final FIA Karting European Championship for OK and the FIA Karting European Junior Championship Competition. After three Qualifying sessions, Dexter Patterson was fastest in the OK class, while Nikita Bedrin took pole position in OK-Junior.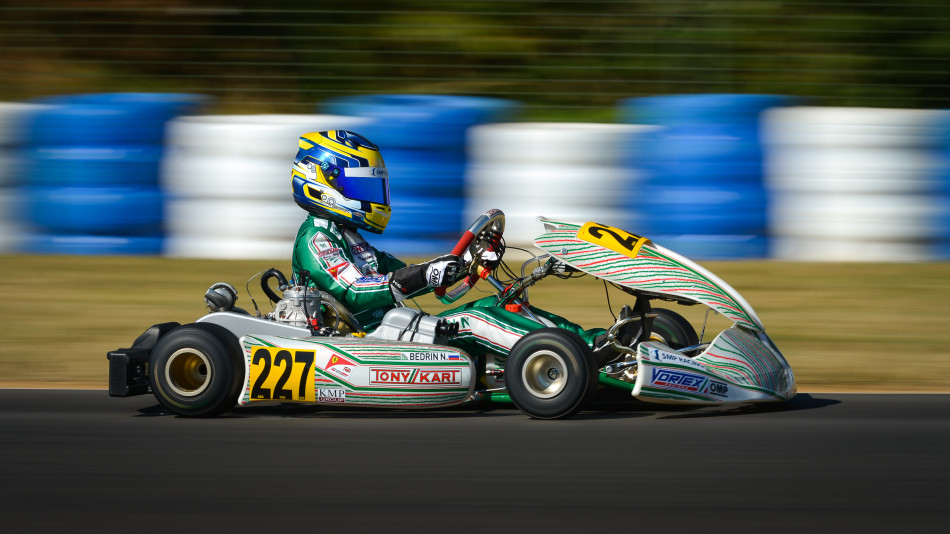 Although several Drivers entered at the Championships were not present at the French Kart Grand Prix, the overall field still exceeded 130 Drivers and of course no defections were registered among the title contenders. The air temperature exceeded 33°, while the new track surface at Essay reached 50°. In these difficult conditions for the Drivers and the equipment, the Qualifying Practices happened perfectly on the 1215m of the Norman circuit. In each category, the performances were mostly equivalent between the three groups.
Patterson flies ahead of the OK category
Dexter Patterson (GBR) relegated his rivals from the first group by almost four-tenths of a second and kept pole position until the end - 45''198 - despite the excellent lap by Harry Thompson (GBR) in the last group that was 0.171'' away and Kas Haverkort's (NLD), in the second session, 3rd fastest time overall. Lorenzo Travisanutto (ITA) secured the 4th fastest performance ahead of Jonny Edgar (GBR). The leader of the provisional standings, Hannes Janker (DEU) was in 14th position, his closest rival Pedro Hiltbrand (ESP) finished 35th and Juho Valtanen (FIN) 30th. The situation promises to be explosive in the Qualifying Heats in view of the Championship.
First Junior pole position for Bedrin
Nikita Bedrin (RUS) immediately opened the hostilities in the first session of the Junior Qualifying Practice with 46.724 seconds. Victor Bernier (FRA), in the third session, was 42 thousandths off the position, while the leader of the second group, Kai Askey (GBR) was 58 thousandths away. In 4th, Gabriel Bortoleto (BRA) finished 75 thousandths further back and Paul Aron (EST), the leader of the classification, finished in 5th place by a tenth. These very tight gaps between the top Drivers bodes well for hard-fought Qualifying Heats, especially as challenger Gabriele Mini '(ITA) is not far away in 7th place.