FIA Karting - Nakamura-Berta and Khavalkin, leaders of intense heats in Sweden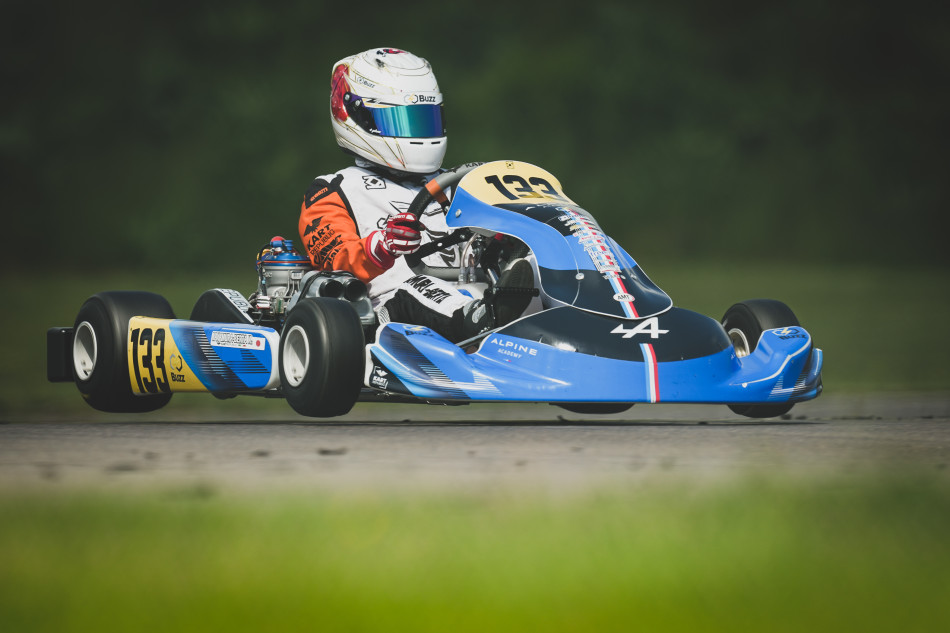 The battles were relentless during the 30 Qualifying Heats of the FIA Karting European Championship - OK and OK-Junior held in Sweden on the Kristianstad circuit. The intermediate rankings have changed a lot since Qualifying, except for OK poleman Kean Nakamura-Berta (GBR), who is unbeaten in five races. Anatholy Khavalkin regained the lead over OK-Junior poleman Guillaume Bouzar (LUX).
Saturday's weather was very nice and the thermometer rose above 20°. The slick tyres, Vega in OK-Junior and MG in OK, offered excellent grip to the competitors throughout their numerous sporting confrontations. The battle was played out on the level of driving as well as equipment, with the teams working hard to make the difference.
The Super Heats on Sunday morning will give participants a final opportunity to qualify for the top 36 in each category that will take them to the Finals. Fierce competition is expected at all levels of these morning races.
OK: Nakamura-Berta has everything going for him
Holder of the best Qualifying time, the British driver Kean Nakamura-Berta was perfect during the Qualifying Heats of the FIA Karting European Championship - OK. With five victories in five races on the 1221 m of the Åsum Ring, he could not have dreamt of anything better. Three times winner, Latvian Tomass Stolcermanis took second place ahead of Jamaican Alex Powell. Maksim Orlov managed to come back to fourth position, equal in points with Finnish driver Juho Valtanen who had gained eight places. Good performances for Olin Galli (BRA) who came back from 22nd to sixth position, and for Evan Giltaire (FRA) seventh with a gain of 13 positions. Maxim Rehm (DEU), who set the second fastest time in Qualifying, dropped back to 14th. Championship leader Joe Turney (GBR) moved up from 30th to 17th, while his runner-up Enzo Deligny (FRA) was 19th (+6 pl). Rashid Al Dhaheri (ARE) climbed 19 places to 22nd and Gabriel Gomez (BRA) climbed 21 places to 23rd.
OK-Junior: Khavalkin takes Bouzar's place
Anatholy Khavalkin took first position in the intermediate classification of the FIA Karting European Championship - OK-Junior in Kristianstad with three victories against two to the Luxembourg driver Guillaume Bouzar, pole position holder. This shows how close the confrontation was. The Frenchman Jimmy Helias was in the top three until his retirement in the last race pushed him back to 13th position despite his two victories. The British driver Lewis Wherrell, with three victories, took third place on equal points with the Polish driver Jan Pzryroswki, who moved up nine positions. Thai driver Enzo Tarnvanickul entered the top five with three top places. The rest of the hierarchy presented some new drivers with Kirill Kutskov sixth, Emmanuele Olivieri (ITA) seventh, Miguel E. Costa (BRA) eighth, the leader of the Championship Nathan Tye (GBR) ninth and Tiziano Monza (SGP) tenth. Several drivers who were well placed in the Championship were not in a favourable position on Saturday evening. The situation was not too bad for Dmitry Matveev who came back from 15th to 11th place, but René Lammers (NLD) 29th and Jules Caranta (FRA) 25th were probably expecting better.
Provisional programme for the Kristianstad event
Sunday 5th June
09:00 - 10:05: Warm-up
10:10 - 11:45: Super Heats
13:15 - 14:40: Finals
The Kristianstad event can be followed on the official FIA Karting Championship app for mobile devices and on the website www.fiakarting.com.