FIA - Jean Todt attends inauguration of new dragster track in Nicaragua
During his visit to Nicaragua on 10 August, FIA President Jean Todt urged the President of Nicaragua, Daniel Ortega, to make road safety a top priority in order to reduce the number of road deaths by 50 per cent by 2030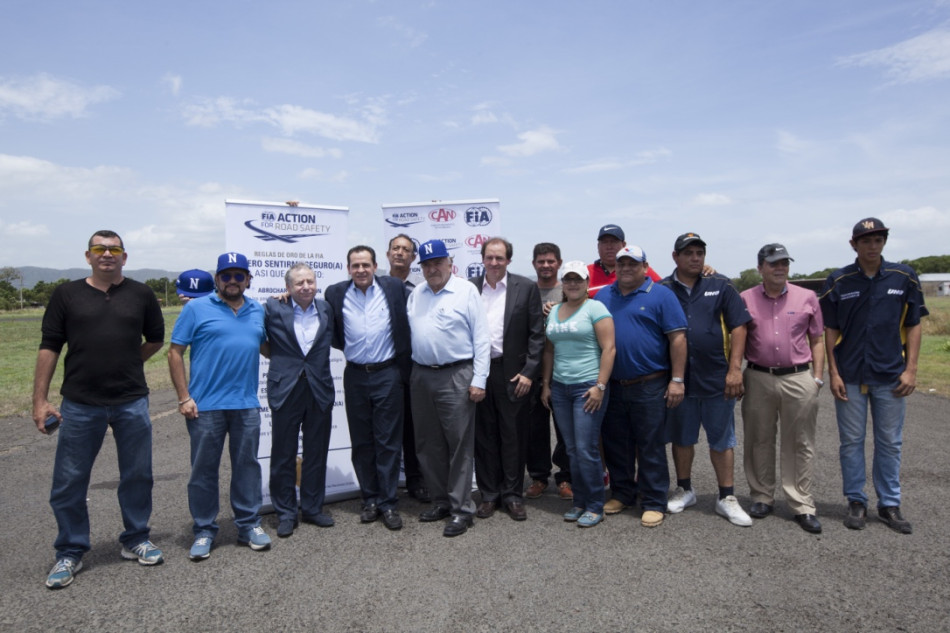 On 10 August , FIA President Jean Todt attended the inauguration of a new dragster track in Managua that will be used for sporting events as well as road safety courses for drivers of all ages. The track is a converted 30-hectare runway in the vicinity of the Los Brasiles airport that was donated by the Ortega administration to the Automobile Club of Nicaragua.
During a press conference held at the inauguration ceremony, Todt emphasised the importance of road safety education in order to reduce the country's high number of traffic fatalities.
Todt, the UN Secretary-General's Special Envoy for Road Safety, said, "Many people die on the roads every year or are badly injured, which causes great pain for the community, for the families, for society at large, and a big cost for the government."
"Road safety is all about education and there is great potential here to improve training and make a significant positive impact. Many of the basic rules that keep people safe on the road are not part of the driving culture in Nicaragua, so we need to help create a shift in both driving habits and also law enforcement and road infrastructure," he added.
Nicaragua has a population of 6 million inhabitants and the World Health Organization (WHO) estimates there are around 931 traffic fatalities every year. Most of those killed are pedestrians (33%) and motorcycle drivers (26%).
According to José Abed, FIA Vice President for Sport, the new premises will allow Nicaragua to set up the largest driving school in Central America, with the capacity to train up to 5,000 drivers of all ages each year. The school could be up and running in two months.
Road safety courses will be offered to schoolchildren using go-karts, under 18's who aim to pass their driving test, truck drivers, delivery drivers, as well as adult drivers who can also benefit from further training.
"These are the best possible premises that Nicaragua could have. No other Central American country has facilities such as these and if we take advantage of their potential we could see a dramatic decline in traffic deaths in this country", said Mr Abed.
During his visit to Nicaragua, Jean Todt met with the President of Nicaragua, Daniel Ortega, and conveyed the importance of making road safety a priority for his government in order to help reduce the number of traffic fatalities by 50 per cent by 2030.
"It is important to engage with President Ortega on issues of road safety because real positive change can only come about with the backing of the state. We also encourage the continued work that has been started to develop motor sport in Nicaragua," said Todt.
Since the FIA President visited Nicaragua in 2011, the country has approved a number of laws imposing speed limits and the mandatory use of motorcycle helmets, seat belts and child restraints, as well as fines for drink-driving.
"Around half of all vehicles in the country are motorcycles and they cause huge problems because people got off their horses and bicycles and jumped straight onto a motorcycle without proper road safety education", said Álvaro Lacayo, President of the Automobile Club of Nicaragua. "When President Todt came to Nicaragua five years ago, not a single motorcycle rider wore a helmet whereas today they've all got them. The government donated 5,000 helmets, half of which were given to the police as not even police officers wore helmets previously. This is a significant step, but we still have a lot of work to do."