THE FIA IS COMMITED TO THE #UN75 INITIATIVE
The United Nations and the FIA collaborate in a global initiative to foster international cooperation and dialogue on topics such as pandemics and human safety. 
Take the survey: https://un75.online/partner/FIA-Motorsports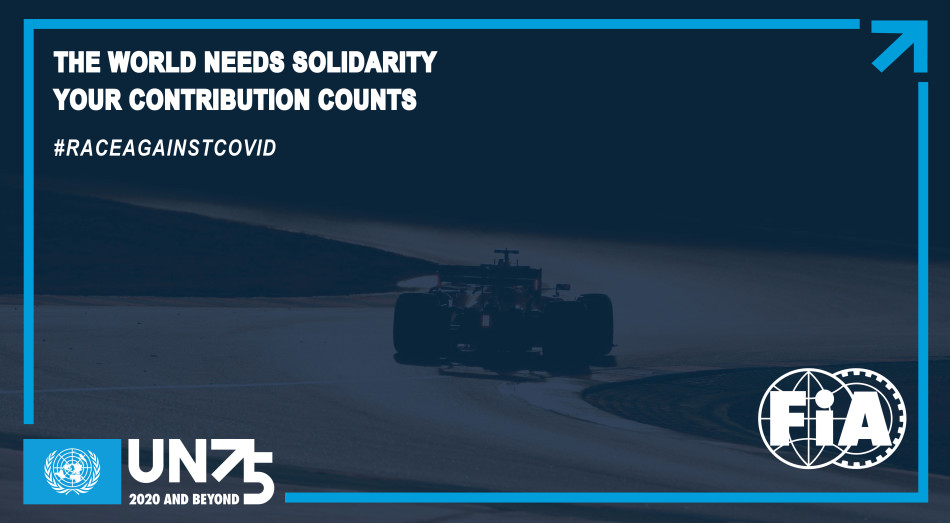 The United Nations is marking its 75th anniversary at a time of great challenge, including one of the worst global health crisis in its history. This calls for greater solidarity and international cooperation to solve global challenges. Rather than having a traditional celebration, the UN has launched the world's largest exercise to listen to people's concerns, thoughts and ideas for the future we want.
The UN75 one-minute survey is available in more than 40 languages and ask people across all over the world to share their views on what the world should look like in 25 years. The campaign is particularly targeting young people as well as those marginalized voices who are not heard at the international stage.
Building on existing initiatives in support of the UN's Sustainable Development Goals and the UN Decade of Action for Road Safety, the FIA continues its global leadership and partnership by supporting the UN75 initiative.
The FIA will disseminate and promote the UN75 Survey and promoted through its, digital platforms, its global organization, its members, stakeholders and fans around the world. 
The views and ideas generated through the #UN75 campaign will be presented to world leaders at a high-profile event during the 75th Session of the General Assembly, 21st September 2020. Learn more on www.un.org/un75
TAKE THE SURVEY: https://un75.online/partner/FIA-Motorsports