This page contains archived information and may not display perfectly
Ferreira and Maluszyński lead FIA European Baja series contenders into Hungarian challenge
The series-leading Portuguese driver João Ferreira and his co-driver David Monteiro are the top seeds for this weekend's 19th Hungarian Baja, the fourth and penultimate round of the 2022 FIA European Cup for Cross-Country Bajas.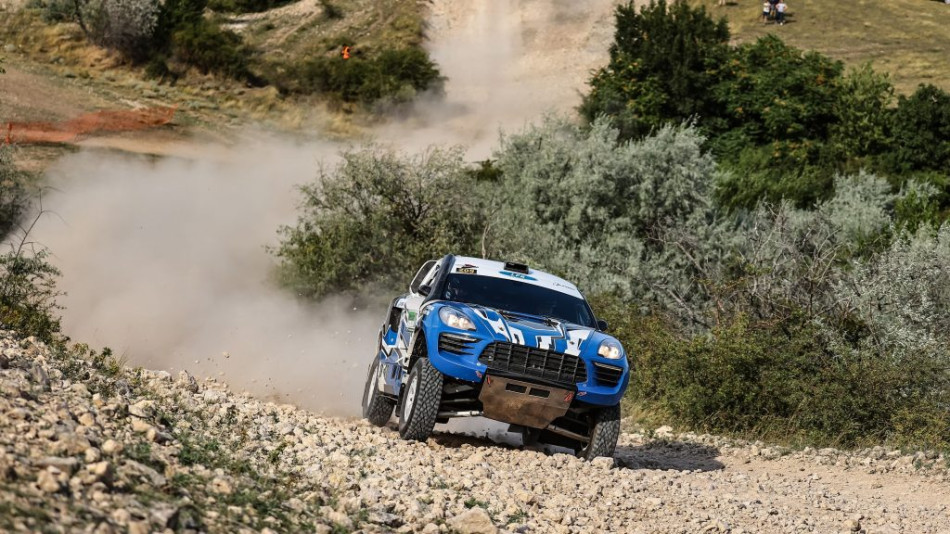 Based at the town of Várpalota, in the western Transdanubian country of Veszprém, the event is also a counting round of the FIA CEZ Cross-Country Championship. The organising Garilla Racing Kft. has attracted 12 entrants in the FIA T1 section, five in T3 for lightweight prototype machines and four in the T4 category. 
In the Drivers' Championship, Ferreira has guided his Mini John Cooper Works Rally to a two-point advantage over Poland's Michal Maluszyński, who also drives an X-raid-built Mini. Pedro da Silva (Volkswagen) and Santiago Navarro (Can-Am) currently trail the leading Portuguese by three points. Navarro has already clinched the FIA European T3 title after maximum points scores at the Bajas in Spain, Greece and Italy. 
The PRK Sport Rally Team has a 20-point cushion over the X-raid Mini JCW Team in the Teams' Championship and fields a pair of Ford EXR 05 Protos for Portugal's Edgar Condenso and Austrian Michael Braun, an Amarok for de Silva and a Can-Am Maverick for the Portuguese Filipe Nascimento.
Competition in T1 for the likes of Ferreira and da Silva comes from the Czech veteran Miroslav Zapletal (Hummer H3), Lithuania's Benediktas Vanagas (Toyota) and local driver Luka Csucsu (Toyota). 
Navarro and co-driver Marc Sola represent the FN Speed Team at the head of the T3 category. They face challenges from team mate Jordi Segura, German privateer Bernt Hoffmann, Nascimento and Spaniard Ricardo Ramilo. 
Italy's Amerigo Ventura (Yamaha YXZ 1000 R) currently holds a 39-point lead over Tomas Bialkowski (Polaris RZR Pro XP) in the tussle for FIA T4 honours and the Quaddy Racing driver is fifth in the overall Drivers' Championship as a result of his consistency. 
Germany's Lina van der Mars (Polaris) and Akpol Rally Team's Adam Kus (Can-Am) are also entered in the T4 category. 
Competitors face five short selective sections that account for 415.91 competitive kilometres in a total compact route of 565.57km.
A Qualifying Stage of 7.31km, near Várpalota, on Friday evening will sort out the starting order for the first of two passes through a selective section of 81.96km between Várpalota and Gyulafirátót on Saturday. They are split by a single pass through a shorter stage of 56.08km between Gyulafirátót and Újmajor. 
Two passes through a timed selective of 66.26km between Gyulafirátót and Várpalota bring the competitive action to a close on Sunday before the ceremonial finish in Szabadság Square, Várpalota.
19th Hungarian Baja  – leading entries:
200. João Ferreira (PRT)/David Monteiro (PRT)                                       Mini JCW Rally 
201. Pedro da Silva (PRT)/Viktor Jesus (PRT)                                             Volkswagen Amarok
202. Miroslav Zapletal (CZE)/Marek Sykora (SVK)                                                     Hummer H3 Evo
203. Benediktas Vanagas (LTU)/Kuldar Sikk (LTU)                                                     Toyota Hilux
204. Edgar Condenso (PRT)/Carlos Silva (PRT)                                          Ford Ranger EXR05 Proto 
205. Pál Lónyai (HUN)/Nikolett Szöke (HUN)                                            LPR Porsche Macan 
206. Luka Csucsu (HUN)/Márk Mesterházi (HUN)                                                     Toyota Hilux
207. Zdeněk Pořízek (CZE)/Pavel Vaculík (CZE)                                         Ford F150
208. Michael Braun (AUT)/Evo Santos (AUT)                                            Ford Ranger EXR05 Proto
209. František Brutovsky (CZE)/Retr Hauptmann (CZE)                          Ford F150 Evo
210. Christophe Danner (AUT)/Herwig Rieger (AUT)                              Puch G320
211. Michal Maluszyński (POL)/Lukasz Kurzeja (POL)                             Mini JCW Rally
Timetable of events
Friday, August 5
Pre-event press conference - Thury Castle, Várpalota                 15.15hrs
Qualifying stage SS1 (Várpalota – 7.31km)                      First car - 18.10hrs
Ceremonial start – Szabadság Square, Várpalota         21.30hrs 
Saturday, August 6
SS2 (Várpalota-Gyulafirátót - 81.96km)                            First car – 10.15hrs
SS3A (Gyulafirátót-Újmajor – 56.08km)                           First car – 11.25hrs
SS3B (Várpalota-Gyulafirátót - 81.96km)                         First car – 14.30hrs
Sunday, August 7
SS4 (Gyulafirátót- Várpalota – 66.26km)                          First car - 10.45hrs
SS5 (Gyulafirátót- Várpalota – 66.26km)                          First car - 10.45hrs
Podium ceremony, Szabadság Square, Várpalota        17.00hrs