Ferrari back with a bang
The AF Corse Ferrari 458 Italia No.3 of Filip Salaquarda (CZE) and Toni Vilander (FIN) took pole position for tomorrow's Qualifying Race at the season-opening event in Nogaro, France.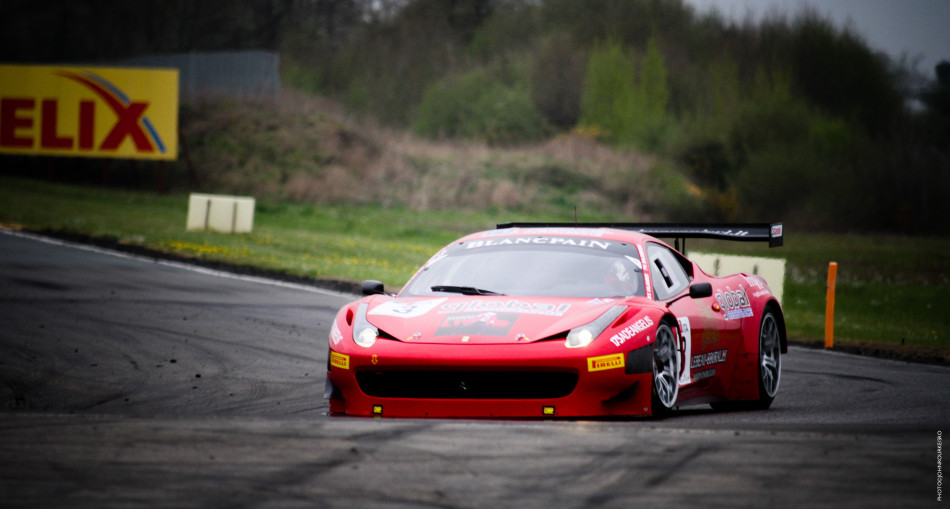 Second was the Belgian Audi Club Team WRT Audi LMS R8 No.32 of Stephane Ortelli (MON) and Laurens Vanthoor (BEL) while the sister Audi of Frank Stippler (DEU) and Oliver Jarvis (GBR) will start from third on the grid.
The Audis were dominant throughout the three sessions on a track which started out dry under heavy skies and was eventually ruled wet by race control after light rain fell during the first period. In the final flourish it was Vilander in the bright red Ferrari who secured top spot.
"First of all it is good to be in the championship," Vilander said. "Even in the testing I found many very good drivers, great cars and great teams so I think it's going to be a very tight year. I only got to know Filip (Salaquarda) on Monday and we started to build our confidence together.
"These cars are a bit special to drive, ABS and stuff like that is completely new to me. I am looking forward to tomorrow. Hopefully we have the pace to get a good result."
His co-driver, the young Czech Salaquarda added: "I expected Qualifying to be close because there is not much between the cars. I am really happy to be with the AF Corse team and Ferrari. For sure we'll be aiming for the podium tomorrow."
In the lead Audi, Ortelli said second place was reward for the hard work invested in by the WRT team during the build-up to Nogaro. "It has been a good week for us, we have been learning the car more and more during each practice and we are proud to be part of this world championship and joining big names like Ferrari, Mercedes and McLaren," Monaco's Ortelli said.
"For the race, anything can happen here at Nogaro. It is an exciting track, not so wide so it will be difficult to overtake and maybe we have some rain coming. I expect a big fight for the podium."
Belgian Vanthoor, delighted with second place, also paid tribute to his vastly-experienced partner Ortelli. "For me and all the team, it's a great result. It's our first race in the FIA GT1 World Championship and it's my first race in a closed car with a roof over my head so it's something new," he said.
"It's a dream for me to partner Stephane. He's really helping me in every aspect and he's very open. The understanding between us is good and I expect a good collaboration during the season."
Stipplerin the No.33 Audi expects tomorrow's Qualifying Race to be every bit as close as Qualifying given the quality of the opposition assembled behind his car's third position on the grid.
"It's a great championship with strong drivers and strong manufacturers," the German said. "I am pleased that we did a pretty good job but there are some strongcompetitors behind us so it will be close."
Stippleralso welcomed the chance to switch from his customary endurance racing to the FIA GT1 World Championship sprint format.
"For me it's new again to do these sprint races. I have been at the Nordschleife mainly for the past three or four years in endurance races," he explained. "It's great to be going international again and it's an honour to be part of the world championship and I'm looking forward to the season."
Stippler's co-driver Oliver Jarvis said the collective strength of the Audis, which was evident today, bodes well for the year ahead.
"We have shown today that we have a strong car, a strong team and four strong drivers," the British driver said. "For the three Qualifying sessions the two cars have not been separated by more than four hundredths.
"Hopefully we can keep that consistency throughout the season."
In fourth place was the best of the Mercedes in the shape of the ALL-INKL.COM Münnich Motorsport No.38 of Marc Basseng and Markus Winkelhock. In the No.37, Nicky Pastorelli and Thomas Jager were 6th.
Tomas Enge and Albert von Thurn und Taxis got the better of the Reiter Lamborghini duel to claim seventh in the No.24. Peter Kox and Darryl O'Young were 10th.
It was tough day at the office for the 2011 teams' champions Hexis Racing. The French squad had starter motor problems with both of their McLaren GT MP4-12Cs. As a consequence the No.2 car of Alvaro Parente and Gregoire Demoustier was 8th and the No.1 of Frederic Makowiecki and Stef Dusseldorp could manage only 14th.
Parente said: "Gregoire (Demoustier) did a great job putting the car in Q2 in a difficult track after the rain shower in the middle of Q1. In the Q2 I gave my maximum, I did an almost perfect lap, and I put the car in Q3, which is really good. However, Gregoire wasn't able to do any lap, as we experienced problems with the starter, something that also happened in the No.1 car.
"We will start from eighth, a good position to achieve a nice result. Though, it will be a hard race with such a tight field. We are having some troubles inwarming up our front tyres so we will have a hard first few laps, which will be done by me. We will give our best and Hexis Racing is very strong in the pit-stops, so we will see what we can get."
Frenchman Mike Parisy and Matt Halliday took their Exim Bank Team China Porsche No.9 to ninth place with the second Porsche of Benjamin Lariche and China's Ren Wei a lowly 15th.
The BMWs finished 11th and 12th with the No.17 Vita4One Z4 of Nicolaus Mayr-Melnhof and Mathias Lauda shading team-mates Michael Bartels and Yelmer Buurman.
In 13th place was the quickest of the Team Russia Aston Martins, the No.7 shared by Maxime Martin and Alexey Vasiliev while the Sunred Ford GT No.10 of Milos Pavlovic and Matteo Cressoni will start at the back of the grid just ahead of the second Aston of Andreas Zuber and Sergey Afanasyev.