F3 - Zak O'Sullivan holds off Browning for Barcelona victory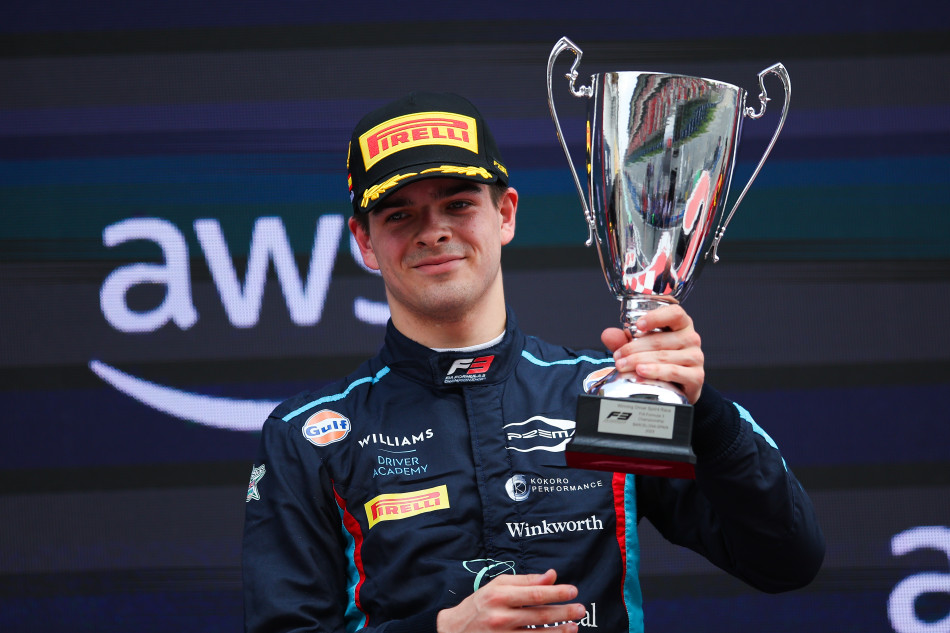 Zak O'Sullivan remained cool, calm and collected on his way to his second win of the 2023 season in the Barcelona Sprint Race. Overcoming two Safety Car restarts and a rapid Luke Browning behind, the PREMA Racing driver lead every lap from reverse grid pole.
Browning ultimately had to settle for second, securing his first Formula 3 podium despite late pressure from third-placed Leonardo Fornaroli.
AS IT HAPPENED
Reverse pole-sitter O'Sullivan instantly defended the inside line, giving compatriot Browning a slipstream down into Turn 1. Despite that, Browning had to yield to his fellow Williams junior on the exit of Turn 2.
Just behind them, Fornaroli's rapid reactions helped him jump Grégoire Saucy for third. A fast-starting Paul Aron rocketed up from P8 to P5 by the time the Safety Car was deployed at the end of the opening lap after Rodin Carlin's Ido Cohen found the barriers at Turn 9.
Racing resumed on Lap 5 and O'Sullivan bolted away early through Turn 12, allowing him to pull clear from Browning. The #11 and #10 MP Motorsport cars squabbled over eighth, with Franco Colapinto getting through on Mari Boya.
After Qualifying down in P18, Gabriele Minì was on the charge. The Alpine Academy junior was brave on the brakes, diving past Christian Mansell through Turn 7 for 12th.
Out front, O'Sullivan couldn't shake off Browning and on Lap 10, the #16 Hitech Pulse-Eight pounced. The PREMA fended him off twice, as Browning tried a move into Turn 1 on consecutive laps to no avail.
Running in P4, Saucy ran wide out of the final corner, opening the door for Aron to get through. Unable to fight back out of Turn 1, the ART Grand Prix driver was left vulnerable to those behind and lost places to both Sebastián Montoya and Gabriel Bortoleto, dropping to seventh.
Aron and Montoya were next to go side-by-side through Turn 1. The slightest of contact left the Hitech driver with a puncture, forcing him to pit at the end of Lap 15. Dino Beganovic found himself out of the race as he too sustained a puncture, becoming beached the gravel at Turn 10.
Minì and Mansell's earlier battle reignited on Lap 16, but this time the pair made contact. It sent Mansell spinning off at Turn 2 to bring out a second Safety Car. Minì was later awarded a 10-second time penalty for the collision.
Recreating his earlier restart, O'Sullivan had a chance to breathe as Browning was forced to defend from Fornaroli. Pulling a 1.6s gap, the PREMA driver brought it home for the victory ahead of Browning and Fornaroli.
Bortoleto added more points to his Championship tally in fourth, just in front of Aron, Colapinto and Boya. Minì's penalty promoted Martí to eighth, as Saucy and Taylor Barnard rounded out the top 10 points-scorers.
KEY QUOTE – Zak O'Sullivan, PREMA Racing
"P1 in the Sprint Race! Really good race, quite tricky with Luke behind always with DRS in the first half of the race. I managed to manage the gap, especially towards the end. The late Safety Car wasn't ideal, but I managed to pull a gap and it's great to get my second win of the year."
THE CHAMPIONSHIP STANDINGS
With seven more points on the board, Bortoleto extends his Drivers' Championship lead to 24 points, with the Brazilian on 80 to Minì's 56. The top five remain unchanged, with Saucy sitting third on 49, three and five points clear of PREMA duo Beganovic and Aron.
Trident continue to head the Teams' Standings, now on 139 points. PREMA Racing are 12 points adrift on 127, with Hitech Pulse-Eight firmly in third on 111 points.