F3 - Post-Sprint Race press conference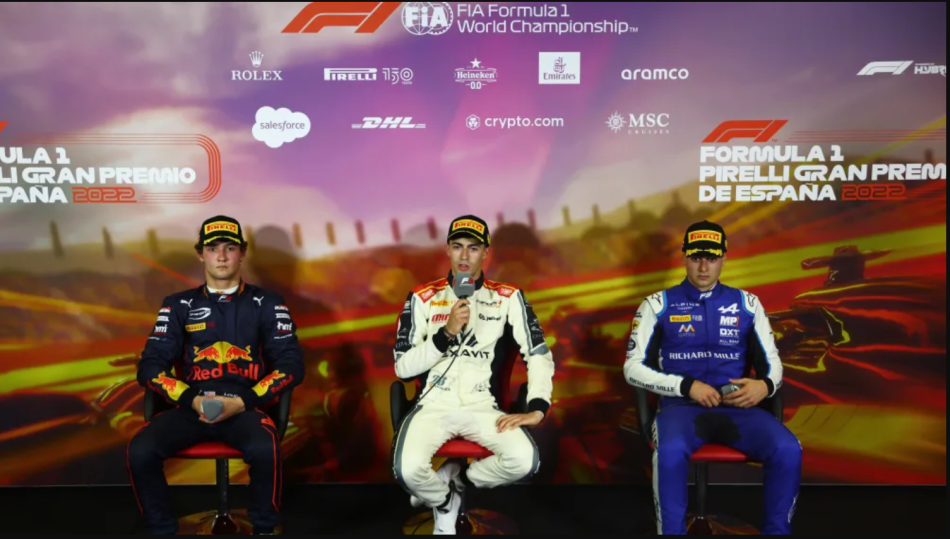 Thoughts from Vidales, Crawford and Collet
FIA Formula 3: Congratulations to the top three finishers of the FIA Formula 3 Sprint Race here at the Circuit de Barcelona-Catalunya. In third place, Caio Collet for MP Motorsport. In second place, Jak Crawford for PREMA Racing, and winning the first F3 race of the weekend, David Vidales for Campos. What a place to take a win, here at home in Spain. Tell us what this means to you David and also to your team?
David Vidales: Well, it's a special place to win my first F3 race. For me and for the team it's the first win of the year and to win it here at home is incredible. You could see all the people supporting, the grandstands were full of people with the Spanish flag and after the race you could see the atmosphere was great. So that gave me an extra push to hold off Jak, who was coming pretty fast. I'm super happy to do the win here, first win and hopefully we can get many more.
FIA Formula 3: You started on pole, you won the race, but as you say Jak did come pretty close at one point. Can you talk us through that incident at Turn 1? Can we call it a an incident?
Vidales: Well since the beginning of the race I managed to hold the first position. It was a good start, I had good pace the first laps and then Jak was coming pretty fast. After two laps, he managed to make me defend the position. I wouldn't call it an incident because we didn't touch at all but it was hard racing, which is what we want. In the first corner he went to the outside, on breaking he was still not side by side so I just tried to do my line and brake as late as possible but still without touching him and pushing him off track. I was also trying to do my best to hold the car without having snaps because the track was quite difficult, because of the heat and everything. I tried to my best and it worked, and the pace in the end was enough to hold him back.
FIA Formula 3: Finally, what did you learn in the race today that will help you in the longer Feature Race tomorrow?
Vidales: Every time I jump in the car I learn new things for me and for the team, it's a learning process. Since day one, we haven't stopped learning and this shows all the progress we have done, and that we understand what are our weak points. So today's job is going to be as always to analyse everything from the race. We understood the degredation, how the tyres behave in 20 laps which with this heat, and at this track, that is important to understand. So for sure this is going to help us understand better how to manage the race for tomorrow and make it a good race.
FIA Formula 3: Many congratulations to you, well done. Jak coming to you, third on the grid to second is a good result but can we start by talking through those moments when you got very close to David?
Jak Crawford: I was in the DRS and I wanted the win badly, it was one of my first chances and I think we both broke a little early so I released the brake a bit and tried to be on the outside. I was ran out of road and if I would have tried we would have crashed so. I was trying to go for the win. Maybe I could have been a bit more patient, but yeah.
FIA Formula 3: Hard, fair, racing. Is that how you saw that?
Crawford: There's always two opinions, I think. Let's just say it was racing.
FIA Formula 3: Looking at the positives, this is your third consecutive podium of the season. So you and the car are proving very quick?
Crawford: It's not great when you get the Sprint Race podium because that means you didn't qualify usually as high as you wanted to, but I'm really happy with the consistency we've been showing the past couple of races and, hopefully, we can get a podium tomorrow as well!
FIA Formula 3: Good luck with that, Caio, coming to you. Great race from you, talk us through that move on Juan Manuel Correa for the final podium place with just a couple of laps to go?
Caio Collet: I think he's one of the guys I don't want to take the podium away from, he deserves it quite a lot. When I saw him P3 I felt a little bit bad, but I know I had to go for it because we are racing drivers. The first time it didn't work out. I didn't expect him to brake that late, and it was fair racing but I didn't expect it. So I prepared a lot the second time and made sure I was close enough to be able to overtake him without any risk and it happened. Quite a good race and it's nice to be back on the podium.
FIA Formula 3: It's been a difficult start of the season for you so how much of a boost is this podium for you?
Collet: It's a relief, for me and the team, I think the first two rounds were a bit of a mess we've been all over the place in Qualifying and in the races. We didn't finish half of it. So to be back is really nice, I think it's a booster for me and the team but obviously we need to stay here and keep pushing for the rest of the season.
FIA Formula 3: Good luck with that, thank you.