This page contains archived information and may not display perfectly
F3 - Post-Race 3 Press Conference
F3 - 2021 season/ Round 5 in Spa-Francorchamps - Race 3 Press conference transcript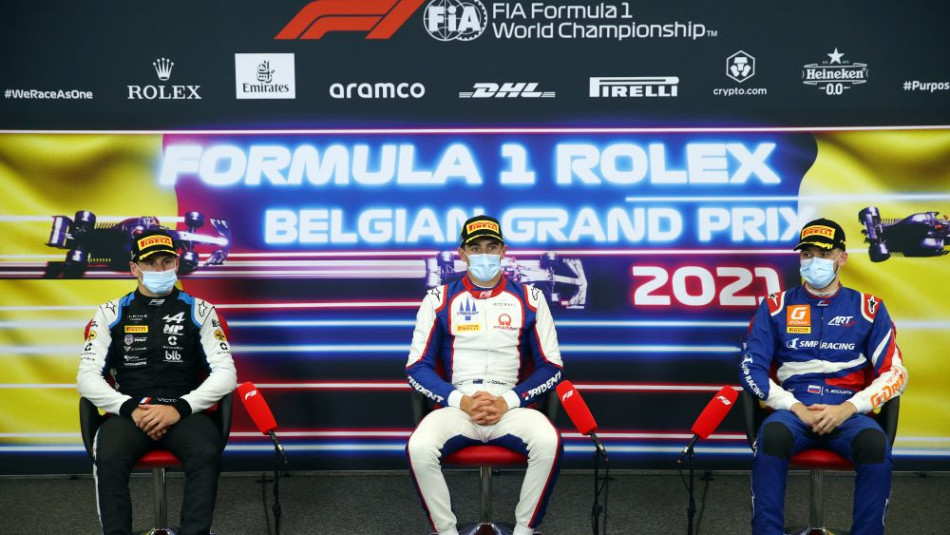 FIA Formula 3: Many congratulations to the top finishers of Race 3 of the FIA Formual 3 Championship here at Spa-Francorchamps. In 3rd place Alex Smolyar for ART Grand Prix, in second place Victor Martins for MP Motorsport, and taking his second win of the weekend Jack Doohan for Trident. Jack, so much pressure from Victor all race. How good does that make this win?
Jak Doohan: Yes, definitely. It was a very challenging race, and I did not have the pace that I was expecting. I would have liked to have put more comfortable room between Victor and myself, but you know he was driving exceptionally, and the package was very good. So, I just had to make do with what I had and pull away in sector 2 and in Turn 10 in the high-speed corners where I seemed to have bit of a better balance. I was able to then get a bit of breathing room. But he had a lot of confidence under braking in the low-speed corners, where I was struggling a lot. I am very happy to still get the win considering the pace that we had. It was very challenging which makes it a very good win.
FIA Formula 3: Talk us through that mid-race battle for the lead where at one point Victor was ahead…
Jack Doohan: Yeah so, he was very quick through 5, 6, 7, 8, giving him a good run going to 9. And I saw he was behind me. On the exit of 9, he was besides me, slightly off track, and going down into turn 10, we were side by side. I obviously wanted to maintain the position, but I didn't want to risk our chances of getting a 1-2. Because either way he was in front, and we were both in front, we're still getting very good points. When I saw he was there, I kind of just let him have the position. I knew it was a long race, and I was positive that we could come back in the end. I needed to push and abuse the tyres as much as I could do. He had to give the position back because of being off track at turn 9. From that point onwards, I was able to get back in front, get a bit of a gap. He made a slight mistake at turn 8, which enabled me to get away a bit more. From there, I just did what I had to do. I saw at one point that he started to catch up on the second last lap. I was able to do a purple sector 2 and pull away a bit more to cross the line first.
FIA Formula 3: You've had a phenomenal weekend. The gap to Dennis Hauger is down now to 25 points. With 2 rounds remaining, how do you see the lay of the land?
Jack Doohan: You know, it's all to play for now. Basically, we continue with the approach we have been going. It's worked well this weekend. I'm not going to focus on the championship. I will let it take care of itself and focus session by session. It's good to be back in fighting distance and not at that extreme distance that it was at the end of the summer break. I'm happy with that performance, but I am sure they will be back on form next weekend so that we have to push even harder.
FIA Formula 3: Thank you Jack. Victor let's come on to you. Fantastic race from you as well. A very spirited fight for second place. But first up, can you take us through that overtake for the lead?
Victor Martins: Well to be honest, I saw from the beginning of the race that I was quite fast from Turn 5 to Turn 9, and I think he did a mistake in that section so I could catch him quite a lot. And then, when I saw the gap, I decided to go around the outside. I saw that Jack was smart from the beginning of the season, so I was not worried about doing that. At the end, I saw myself at turn 9 a bit off track, so I was not fully happy about this move, so I decided to back off a little bit. So, I did just to be side by side. Maybe it was not enough to show to the Stewards that I made this, and then going into turn 10, I was around the outside. It was the best line. I decided to go to see if he would get understeer or if he wants me to pass. At the end, I was actually ready to open the line to not touch each other. At the end it's a bit frustrating, but the race was still mega.
FIA Formula 3: Were you surprised to be asked to give the position back?
Victor Martins: I was surprised because it was quite late. Maybe if it was right after, I would maybe not be that disappointed. At the end, I do not make the decision. I need to stick to it if not I would have gotten a 5s time penalty. I prefer to take P2 and take good points. I struggle to score good points in Race 3 since the beginning of the season. In the car I was a bit upset, but I remained focused to take that P2.
FIA Formula 3: This was your fourth podium of the season. What are your goals for the remaining two rounds?
Victor Martins: To be honest, I don't have any goals. Going into this weekend, together with the team we just wanted to go back to where we are capable of being, and I think it's about taking session by session, taking the experience on the track. For me and my teammates, giving the right information to the team and then we can improve step by step. That was the goal for this weekend, and it will remain the same for the future, for next week and Austin. It's a matter of learning as much as possible and improving session by session. I don't want to tell myself I need to be absolutely in the top 3. I just want to perform as best as possible and like today we can see that's it's paying off.
FIA Formula 3: Thank you Victor. Many congratulations Alex on your third podium of the season. Talk us through that battle with Caio Collet. It was very intense from start to finish…
Alex Smolyar: Yes. He never was that close to actually send it or go on the outside, but it was important to not make any mistakes, which I think I managed to do quite well. He was definitely a bit quicker than me, but maybe he was making more mistakes than me. So, it was an intense race for me, but I wanted to fight for the win… From the start, I just saw that I was simply too slow. I was losing a second per lap, I think. I was getting quite upset because I was expecting to be there with the guys for the win, especially looking at the qualifying. I think I was strong there and the team too. During the race, I was trying different things: changing my driving lap by lap, but it was just not there. I am still happy to get a podium this week… I made no mistakes which I am happy with.
FIA Formula 3: You made no mistakes. Just how difficult were the conditions out there?
Alex Smolyar: Race 1 was a great practice for today. I think we had quite similar conditions to Race 1. For sure, you never know how to take Eau Rouge. I mean, for example at the start, you don't really know if you need to be 50% or 25%. Then it started to dry, and you had to find the wet patches to clean the tyres, which I guess everyone was doing. So, in the beginning it was hard, but in the end, it was quite okay.