This page contains archived information and may not display perfectly
F3 - Post-Race 2 press conference
2020 Round 7 Belgium - Post Race 2 press conference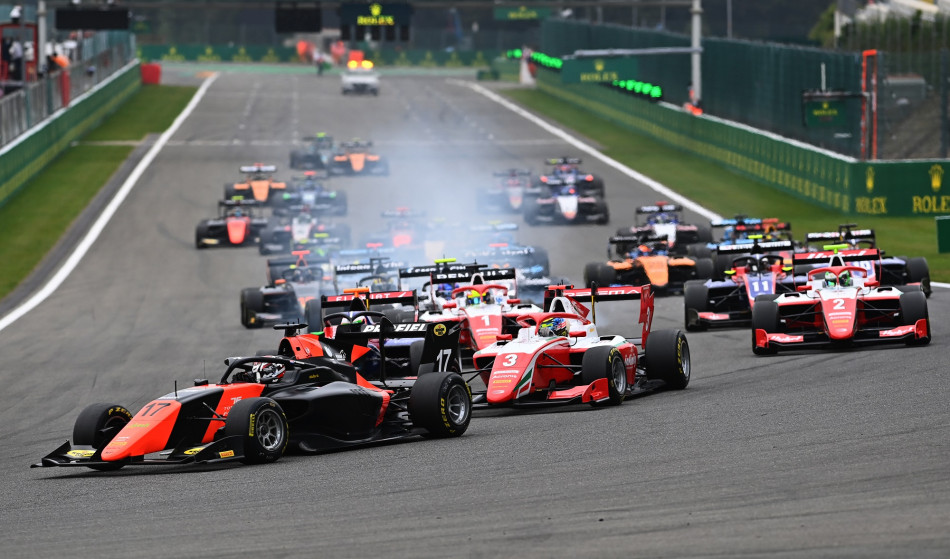 FIA Formula 3: Logan Sargeant, winner of today's FIA Formula 3 Race 2 at Spa-Francorchamps. That must feel really nice after what looked like a challenging weekend so far?
Logan Sargeant: Yeah. I think we've had the pace all weekend. We did what we could in Qualifying, considering the situation. Yesterday was extremely unfortunate with the technical issue, but anyways, we were able to bounce back today which is the most important thing. We still got a good handful of points this weekend, and I think the Championship lead, so that's definitely where we want to be. I'm confident going into the last two rounds.
FIA Formula 3: You had the pace and I think you had the fastest lap as well, so that must be the icing on the cake?
Logan :Exactly. Those extra two points, every point matters, so I'm super happy to be able to do that.
FIA Formula 3: There's no rest once again, as we head to Monza next. That will be a home race for PREMA and where they could take the Teams Championship as well. What's the plan there?
Logan: The plan is to do what we've been doing for the past seven weekends now. We're taking it a weekend at a time. We're arriving, and we're just doing the best we can with the package we have. I think we've done a really good job all year to maximise that. We just need to continue to do that.
FIA Formula 3: Frederik Vesti, P2 in today's FIA Formula 3 Race 2 at Spa-Francorchamps. It's a good result and you're back on the podium. You must be quite satisfied right now?
Frederik Vesti: Yeah, I'm definitely happy. Even in practice we had good speed, but in Quali it was a mess with all the traffic. We only qualified P9, but we came back to P6 in Race 1 and so got reverse grid P5. I had a good first five laps and got into P2 quite quickly. I think I then had a 2.5s gap to Logan, and we closed that towards the end. One more lap and I think I could have fought for the win, which feels really good. I'm very happy and I'd like to thank PREMA for all the work they've done over the last week. We've been really looking into every detail on where we can improve. I'm happy.
FIA Formula 3: There will be no rest before Monza. Do you think that you can keep the momentum into there, or until the end of the season?
Frederik: It's definitely a bit easier to keep your momentum when you finish off the weekend with a podium. We'll go back to Italy and prepare everything well, and in Monza we go again. I'm looking forward to that.
FIA Formula 3: Did you set yourself a goal for the end of the season, where you want to finish in the standings?
Frederik: Of course. I want to win. That's the only thing I'm here for. But I'm also a rookie at a lot of new tracks with a new car and new tyres. There are many things that I need to learn, and it's not easy. The top 15 here can win a race, and everyone is very strong, so if you're lacking a little bit of something, you will not be able to win. My goal is to progress, keep scoring good points and hopefully go for the win next week.
FIA Formula 3: Liam Lawson, P3 in today's FIA Formula 3 Race 2 at Spa-Francorchamps. You started from the front, and it's a podium in the end, but that result is probably not the one you really wanted is it?
Liam Lawson: No. Obviously, starting off the front row we were definitely pushing for the win. I think we potentially had the pace in the end, but we certainly got run off the start. I'm still not sure what it was, but we have been having a few clutch issues this year. Hopefully, we can sort this out, because it's costing us quite a lot every time we drop back at the start. But the pace in the end was alright. We were able to come back through, but if I'm honest it's a little bit disappointing.
FIA Formula 3: You've had a season of ups and downs. You came into the season being the quickest in pre-season testing, so you had the ambition to win this title. Do you think that's still manageable?
Liam: It will be tough, that's for sure. Very tough from here. The last three weekends, especially this weekend, were the weekends that we were trying to capitalise on as we were 30 points down. Now we're even more than that. It's going to be tough, but the goal has definitely not changed, and we will keep pushing for that. We've just got to really get on top of these little things.
FIA Formula 3: Next up is Monza. What can we expect from you there?
Liam: Hopefully we have a strong weekend. It's a track I like, obviously a very historic track like this place. They are two venues that I think everybody always looks forward to going to. For me, I'm excited. Two rounds left - it's going to be close. Anything can happen, so it will be a full push to the end, and we'll see where we end up.