F3 - Post Race 2 Press Conference
F3 - Round 5 - Post Race 2 Press Conference transcript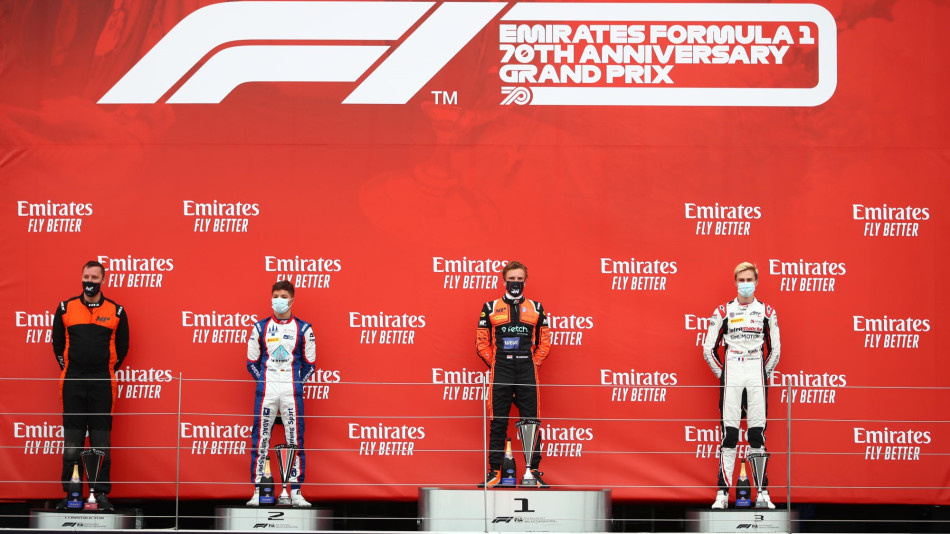 FIA Formula 3: Bent Viscaal, FIA Formula 3 race winner, how does that sound? 
Bent Viscaal: Now that I am an official race winner, that is! I was already quite close in Budapest, but to do it here in dry conditions, was of course very good for the confidence and shows that we are competitive in the dry. It was very difficult to stay in the dirty air, but we already balanced the setup a bit, so that we could follow in dirty air, which paid off in the end. I was able to manage the tyres because of this, and of course, the last lap was a bit chaotic, but it was absolutely brilliant. The fight with Lirim was incredible, it was very fair but hard. Thank you very much to Lirim for keeping it clean and fair. At the moment, I couldn't be happier with the result. 
FIA Formula 3: Talk us through the final lap, when you launched to take the lead, and then Lirim took it back and you had to do it all over again. How was it from the car? 
Bent: From the car, it was pretty hard because of the dirty air. I got a lot of understeer, but after the safety car I left a little bit of a gap, just to stay in DRS, while allowing me to still be able to fight him in the end. I knew I only had one lap to do it, and he made a bit of a mistake in Turn 6, which of course opened the gap in Copse. After that, around the outside of the last corner, was great. Before the race, you set yourself some places where you can overtake and this was one of them, so it was really nice to see the preparation play off. 
FIA Formula 3: We finish on a high for you in Silverstone. Next week will be Barcelona. What can we expect from you there? 

Bent: Barcelona last year was okay. It was my first time driving there, and I finished just outside of the top 10, but now with the flow that we have coming from this weekend, I will be aiming for another podium. 
FIA Formula 3: Lirim Zendeli, P2 in today's FIA Formula 3 Race 2 at Silverstone. A podium and a good result, but ultimately, not the one that you were gunning for.

Lirim Zendeli: Mixed feelings. I think I would get a bit of grief if I said I felt I deserved to win this race (laughs)! Bent did a great job. I had tyre issues towards the end of the race, and at some point in Turn 7, the car didn't steer and didn't turn anymore and that's when he got next to me. I hoped for DRS at the end of the straight, but I just didn't have the grip to stay next to him, or outbreak him. It is pretty unfortunate. I had 8s to P3, so I think that shows the car was really competitive. Sometimes you win, sometimes you lose. I will go again for the next races. 
FIA Formula 3: Speaking of the next race, we are moving on to Barcelona next week. It is a track that everyone knows pretty well, but we have not tested on it so far this season. What can we expect from you there?
Lirim: Barcelona last year, as a season opener, was pretty good. We had a pretty good qualifying result, even with no experience, and maybe not the best car. With good preparation and the simulator, and a good car, Trident are really competitive. We can aim for the pole. I really like the track, so I will be looking for my first F3 win. 
FIA Formula 3: Théo Pourchaire, P3 in today's FIA Formula 3 Race 2 at Silverstone. It's another podium for you. How was the race from your perspective?
Théo Pourchaire: It was really tough. It was a pretty normal start, but in Turn 3 and Turn 4 I overtook two cars so I went third. In Turn 6 I made a little mistake, and Ben Barnicoat and David Beckmann passed me again so I was back in P5 by the end of Lap 1 behind the Safety Car. When the race restarted, Barnicoat had a problem and I managed to overtake Beckmann to go P3 again, which I kept for the whole race, without DRS. It was windy in the straight too, so it was super difficult. I was giving everything, and I'm really happy with the result at the end. P3 is a mega job.
FIA Formula 3: Did the team inform you that you'd been shown the black and white flag?
Théo: Yeah, I saw it on the straight, on the panel. After that I stopped moving on the straight, because I was moving more than twice. It was dangerous, so I stopped doing it. After that, I don't there was anything dangerous from my side. I just defended my position. Not having DRS, I tried to be as aggressive as I could.
FIA Formula 3: It's a good result for you to end Silverstone with. We're moving on to Barcelona next. What can we expect from you there?
Théo: Barcelona is a really good track and I really like it. I know the track, so I think it will be easier for me, and for the team maybe. They were super fast last year, they won the race with Christian, but unfortunately he got a penalty. The team will be fast, and I think the three of us at ART will be fast. I'm really looking forward to it and to give everything.