This page contains archived information and may not display perfectly
F3 - Post Race 2 Press Conference
F3 - Race of Silverstone - Post Race 2 Press Conference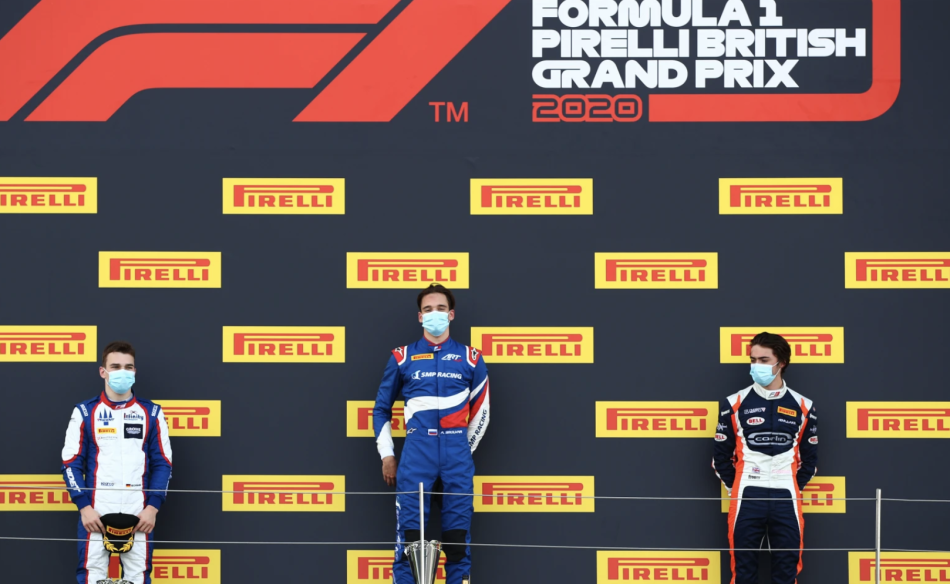 THOUGHTS FROM SMOLYAR, BECKMANN AND NOVALAK
FIA Formula 3: Alex Smolyar, Formula 3 race winner, what a great morning for you. how was the race from the car? 
Alex Smolyar: It was an amazing race. I managed to make a really good start, although I still had to defend a little bit to make sure that I didn't lose any positions. I started to lose a bit compared to David (Beckmann) after that though, and I had to find where I could improve, while managing the tyres. It is hard on the longer straight because you are facing the wind and the DRS works twice as well for the driver behind, than it does normally. I was looking in my mirrors and every time I saw David quite far away from me, but with the DRS he was catching so quickly. I had to look at my mirrors every lap to decide whether I needed to defend or not. 
FIA Formula 3: Your team told you over radio to stop moving on the straights, what are your thoughts on this?
Alex: I don't think there was anything wrong with it, and I don't think that I was moving much, but as soon as my engineer told me, I stopped straight away because I didn't want to create any problems with the stewards. I don't think it really helps, but I was just trying anything I could to not let David get close to me, and I hope everything will be okay. 
FIA Formula 3: We'll be back at this circuit next week, what will it take from you next week to turn that Race 2 win, into a Race 1 win. 
Alex: I am quite confident because this weekend was really good, it was just that I was not really able to put my laps together in Race 1 with the traffic and the mistakes, but the raw pace is really good and I know where to improve. I showed today that my pace is good, it's a leader's pace, so I can definitely fight for the podiums and for bigger points. It is a shame that the weekend started as it did, but I hope for the next one, we will start with better Free Practice and Qualy. 
FIA Formula 3: David, P2 in today's FIA Formula 3 race at Silverstone. It looked like it was a tough race, in the sense that you could never really attack Alex for the win, how was it from the car? 
David Beckmann: Yeah, it was quite hard actually. I think in the end, I had a better chance because he was struggling, but I could never get out of Becketts close enough to him because he was really fast in the middle sector. I had DRS but it was never enough, so it was really hard. I think that we have to improve with the car, as we had problems in Sector 2 right from Free Practice, so we need to get rid of that. I think that it was still a good race, with good points - second place is alright. 
FIA Formula 3: You have managed to finish on the podium in each of the last three rounds, next week we will be back on the same track and there are still things at Trident which need to be set up better, as you mentioned, so what is the plan for next week?
David: We need to improve in Sector 2, and maybe we struggle a bit in the high-speed areas of the track with the tyres. I think we force them too much and then have problems after three/four laps and can't push as confidently, which is of course hard for a driver. Then, when the dirty air kicks in, it is even harder because the car balance changes because the air is flowing around. I think with a good Qualy, we can score a top three result for Race 1, which is important for the points, I think we can do this next weekend, so let us see. 
FIA Formula 3: Clement, P3 in today's FIA Formula 3 Race 2 at Silverstone, how was the race for you? 
Clement Novalak: It was a very tight race between the three of us up front and our pace was very similar. I think we all struggled with the tyres towards the end as well. This made it very difficult to have any pace advantage on them and capitalise with a move or a mistake. Generally speaking, I am really happy. Obviously the consistency has been a bit up and down this season, so to come here and get a podium in the second race, after a good Race 1, where I got the fastest lap, I think it shows that we have clearly got a good package. I am looking forward to coming back next weekend and hopefully we can do a better job. 
FIA Formula 3: At the moment, it seems that what is lacking is the consistency in the first four rounds, so what will it take for Carlin and yourself to be a little bit more consistent in Round 5? 
Clement: It is a difficult Championship because of the limited testing. You have really got to arrive and hit the ground running, and I think that in a couple of places, we have struggle to do that, both on the driving side and also in the car. It has been tough to get everything back and ready for Qualifying. I think we made a step forward today, and we've got a better understanding of how to setup the car and how I need to drive it, which is obviously extremely important. We have just got to keep working, keep trying to understand things, keep trying to improve my driving and hopefully the results will start to come.