This page contains archived information and may not display perfectly
F3 - Post-Race 2 Press Conference
F3 - 2021 season/ Round 6 in Zandvoort - Post-race 2 press conference transcript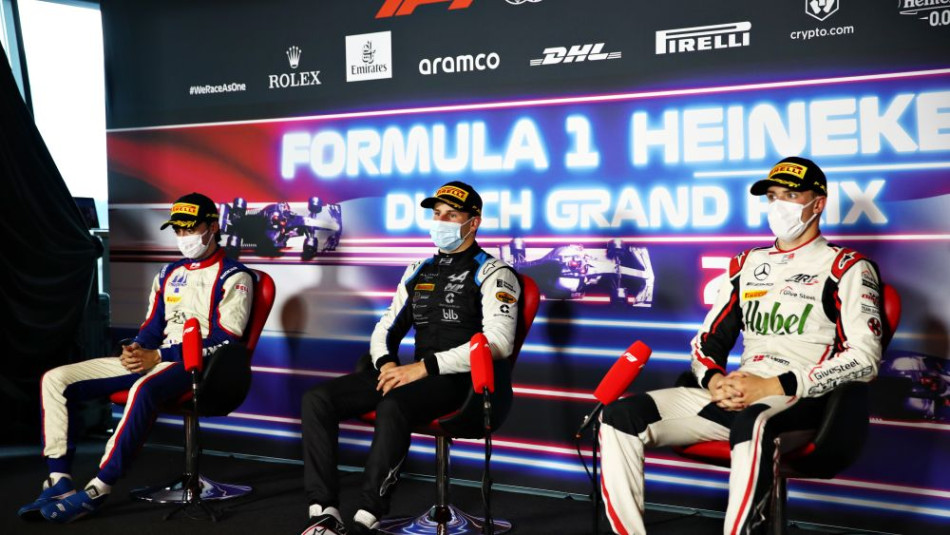 Thoughts from Martins, Novalak and Vesti
FIA Formula 3: Congratulations to the top three finishers of Race 2 of the FIA Formula 3 Championship here at Zandvoort. In third place, Frederik Vesti for ART Grand Prix, in second Clément Novalak for Trident and taking his first win in FIA Formula 3, our winner, Victor Martins for MP Motorsport. Victor, huge congratulations, you said yesterday that you wanted a win this year, and you've delivered the very next day. How sweet does this feel?
Victor Martins: It's just unbelievable, as you said, yesterday I was saying that the win was missing in my season and we just got it! I think we made a big step forward, we worked a lot on the car for sure since the beginning of the season. The race was just insane, I got a good start then I was pushing really hard. I was trying on Cohen and I couldn't at the beginning but I wanted to keep pushing, to not think about the tyres too much and in the end, it paid off. Every time I saw an opportunity I went for it, and I think that's how you get a win. You need to put everything together, and that's what we have done today. It feels good, but we need to stay focused because there is Race 3 tomorrow, and I think we have the pace for a lot more again.
FIA Formula 3: And of course this is a home race for MP Motorsport as well?
Martins: Exactly, it's why I wanted so much to win here because they have waited a lot of time to be back at the top. I give this win to them for all the people who are working in MP.
FIA Formula 3: You started fifth, you won the race, do you have a favourite overtake spot on your way to the front?
Martins: I think it's Turn 3, I think you surprise the driver when you make a move there. When you go on the inside you just need to send it and then you see what will happen. I did it a lot in Race 1 in the start, so I wanted to try again in Race 2 and it's paid off. I also tried many times round the outside of Turn 1, but when you are side-by-side it's not possible unless the other driver doesn't give up. I think we were not expecting there to not be that many overtakes on a track like this, but it feels good.
FIA Formula 3: You're now third in the points standings, how satisfying is that?
Martins: It's satisfying for sure but in the end, I don't want to be focused on that. I want to have goals, but at the end of the day, I just want to improve myself in the car to keep working with the team to improve the car, my driving, all these kind of things. I think we will be where we want to be, at the top, like we are right now.
FIA Formula 3: Thank you Victor, and well done. Clément coming to you, Victor says he made a good start, but you made an exceptional one as well. Talk us through the lead of the race first of all?
Clément Novalak: It was a good start, but I thought I had a better one this morning because I sort of bogged down I didn't expect as much grip off the line. So it was tighter than I expected it to be, with my start how good it was this morning. It was a pretty good move, I wasn't going to give up, to be honest when you're given the opportunity to go down the inside of Turn 1. It definitely felt quite good at the beginning, unfortunately, the first safety car broke the rhythm a bit as I was starting to develop a bit of gap. I tried to build it up again at the restart, but obviously once Victor got past Cohen I think he was just too quick today for us.
FIA Formula 3: Great to see you back up on the podium for your fifth in Formula 3. Tell us a little bit about the journey back to the podium in terms of the pace that you've found with Trident?
Novalak: I think this year we've been too consistent for my liking in Qualifying, after four sixes and two fifths! So it's good to be back where we want to be, of course, it's Race 2, so it's not where you score the big points but I think tomorrow like Victor said you can overtake on this track and there are plenty more opportunities to get back up here tomorrow. But I think consistency has still paid off this year, even though I haven't been on the podium that many times. I think had my Red Bull Ring round gone a little bit better I probably would be fighting with Victor and Jack and Dennis. It's a shame but we keep pushing and hopefully, we can score some more points tomorrow.
FIA Formula 3: Tell us a little bit about the track conditions, how different was it this evening compared to Race 1 this morning?
Novalak: It to be honest I generally felt it was quite similar, obviously, it was a little bit warmer this afternoon so definitely more grip for the start. In the early laps, you could get the temperatures up quite quickly, and with the safety car restarts they didn't drop as low so there was a bit less management towards that. I think the wind got stronger today as well throughout the day, and that made the DRS super powerful down the main straight so we were a bit unlucky in that sense, but it was good.
FIA Formula 3: Thanks Clément, Frederik coming to you, a great race by you. It was very exciting to watch, but you seem a little frustrated afterwards just talk us through it?
Frederik Vesti: I'm happy to finally be back on the podium, that's the first thing I want to say. The last few rounds have been quite tough for me, so it's good to be back. But I am very frustrated with a P3, I think we had the pace and also the opportunity today, but I didn't fully take the risk when I had to pass. So instead of overtaking I lost a position, and finally, I came back on the podium but it's not really where I want to be considering the opportunities I had today. But this will make me a better driver, and that's where my focus is. We've also still got four more races in this Championship, with lots of opportunities so I'm looking forward to that.
FIA Formula 3: Can you just talk us through the moment when you were trying to content P2, it didn't work and Victor got the run on you as a result. How did that happen, is it specific to Zandvoort? It is something to do with the intensity of the racing here and the fact that one corner leads to another so quickly?
Vesti: Well, first of all, I was a bit conservative on the entry of Turn 1 when I was side-by-side with Cohen I didn't exactly know how much he wanted to risk and I was not ready to finish the race so early. So I was a bit conservative, I could have used the banking a lot more because there's a lot of grip. What happened was, I was right behind Cohen going into Turn 3, Victor was right behind me and I was just fully focused on trying to overtake Cohen and Victor sent it up the inside and I was sort of locked. I could have blocked it but I was just fully focused ahead and it was the wrong choice in this situation.
FIA Formula 3: Fred, well done.