This page contains archived information and may not display perfectly
F3 - Post Race 2 Press Conference
F3 - Race of Monza - Post Race 2 Press Conference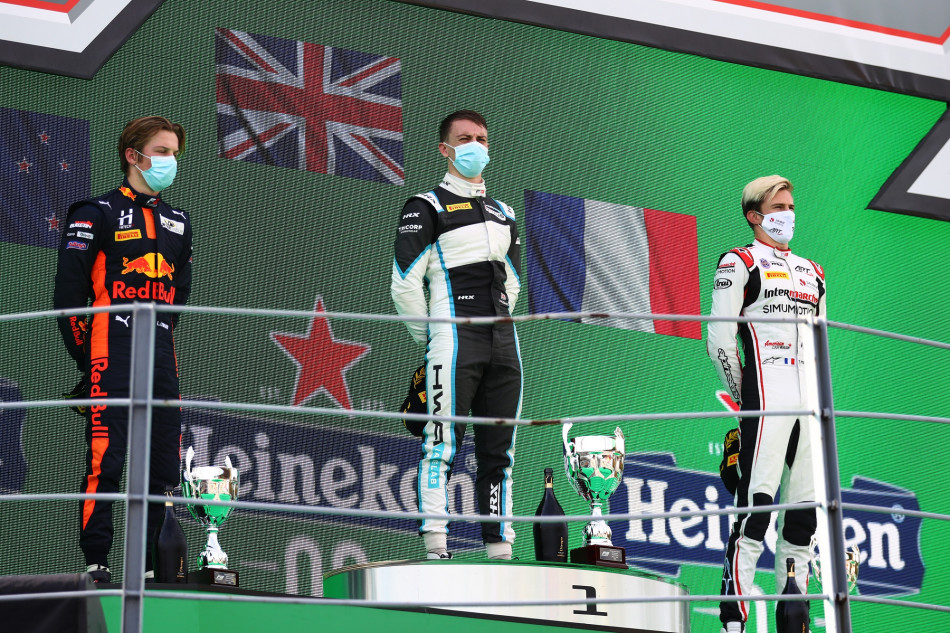 THOUGHTS FROM HUGHES, LAWSON AND POURCHAIRE
FIA Formula 3: Jake Hughes, race winner of the second race here at Monza. It was a crazy race for us to watch. How was it from the car?
Jake Hughes: The first half of the race was quite intense. It was difficult just to keep the front wing in some of the chicanes, going two wide or four wide almost - going two by two into Turn 1 occasionally. It took a lot of good driving to avoid a lot of contact, and then at some point I got lost with how the race went in the middle. I can't remember actually how I got into the lead, but once I was there the tyres came into their grove quite nicely. I was able to push every lap basically, and so credit to the team. Before Spa we had a really good run of form, and then a reliability issue stopped that run, so I'm really happy to come back and get another win on the first attempt after that.
FIA Formula 3: It's been a season of highs and lows, but towards the end of the season you're really picking up the pace and getting the results with HWA more consistently. What are you hoping for at the final round of the season next week in Mugello?
Jake: To be honest, before Spa, it looked like we might have the chance to maybe climb back into the top five, but I think Spa kind of ruined that. Through reliability and other issues, we've effectively not scored in four weekends out of eight. With the half of the championship that I've done, in terms of point scoring, I think we're on quite a good average let's say. It's seems like we're quite high up with the guys that are fighting for the Championship. It is a shame that we won't be able to do that, but for Mugello I think it's just keeping this good run of form going and hopefully try to get on the top step again.
FIA Formula 3: Liam Lawson. P2 in today's FIA Formula 3 Race 2 at Monza. It's been quite an eventful race, and you had to really fight for this result. How was it from the car?
Liam Lawson: It was okay. It's good for points, I guess. I think, yesterday, we were in a good position starting from pole and having most of our Championship contenders a little bit further back. That was the day that we needed to capitalise, and unfortunately we messed up a bit with the car in the early phase of the race. Then I got massive damage when I got collected, being torpedoed in Turn 1. From there, we had zero info on what we would normally change for Sunday. Normally, you go off what you did in the first race and make changes for the second day, and we really didn't know. Considering that, I think today's race was good. It's a shame now, because there's things that I would have loved to change on the car that would have definitely improved it for today, but I guess second is still a good result.
FIA Formula 3: Looking at the results from today, you scored some precious points as you said, and your competition, apart from Théo Pourchaire, have failed to score any points. What does that tell you going into the final round of the season in Mugello next week?
Liam: I think it's obviously possible to still win, but it's going to be very, very tough. Even though they didn't score today, they're still a lot of points ahead. It is a shame, looking back on a lot of this season, because there's a lot of times we could have definitely pounced on a lot of the issues we had. We'd be in a really good position now, but that's how it is. This weekend, we recovered well today and I guess we'll do the best job we can in Mugello and see where we end up.
FIA Formula 3: Théo Pourchaire, P3 in today's FIA Formula 3 Race 2 at Monza. What a race! What a comeback from P18. How was it from the car?
Théo Pourchaire: It was incredible. I made quite a good start, and then I tried to overtake Oscar (Piastri) at Turn 3. It was the second or third lap of the race, and I made a mistake. I locked the front left wheel and took the kerb. I went into the gravel and lost a lot of positions. I was P18. So, what a comeback! It was amazing. The feeling you have when you overtake a lot of cars, when you are faster than everyone, and you finish P3 - it's amazing. I just want to thank the team for that. I hope we can do the same in Mugello.
FIA Formula 3: Do you feel like you were maybe too impatient at the start of the race, and that's why you made a mistake? If so, how do you reset your mind to fight back through the field?
Théo: Yeah, I think it was a stupid mistake from my point of view. I'm a rookie, so I was going to say a rookie mistake! For sure, it's normal. I'm still learning the car and the category, even if it is the end of the year. I'm a rookie, so those kinds of mistakes can cost a lot more. Today was an amazing recovery. I was always focused on overtaking everyone, car by car. I was disappointed when I went into the gravel, but I stayed completely focused on my goal, and P3 at the end is perfect.
FIA Formula 3: Logan Sargeant failed to scored points this weekend, Oscar Piastri didn't score any points today. David Beckmann also had a tough day out there. That all means that you are right up there as a challenger for the title. Is that extra pressure or added determination before Mugello?
Théo: Liam Lawson is in front of me. It's really close now, and I think it's perfect for a Championship final in Mugello. It will be amazing. Just like the first race of the year, I want to win. It's my goal. I want to win the Championship. I know it will be difficult. It's been a tough year for me, even with the good results this weekend and both victories at the beginning of the year. I think we can fight for the Championship. The car is good, and I will discover the track at Mugello, and the team will do the same with the Formula 3 car - with the Pirelli tyres and everything. There are a lot of things to manage when we arrive. I don't know what to say. I'm focused on P1. It's my goal and I think we can do it.