This page contains archived information and may not display perfectly
F3 - Post Race 2 Press Conference
F3 - 2019 Race of Belgium - Race 2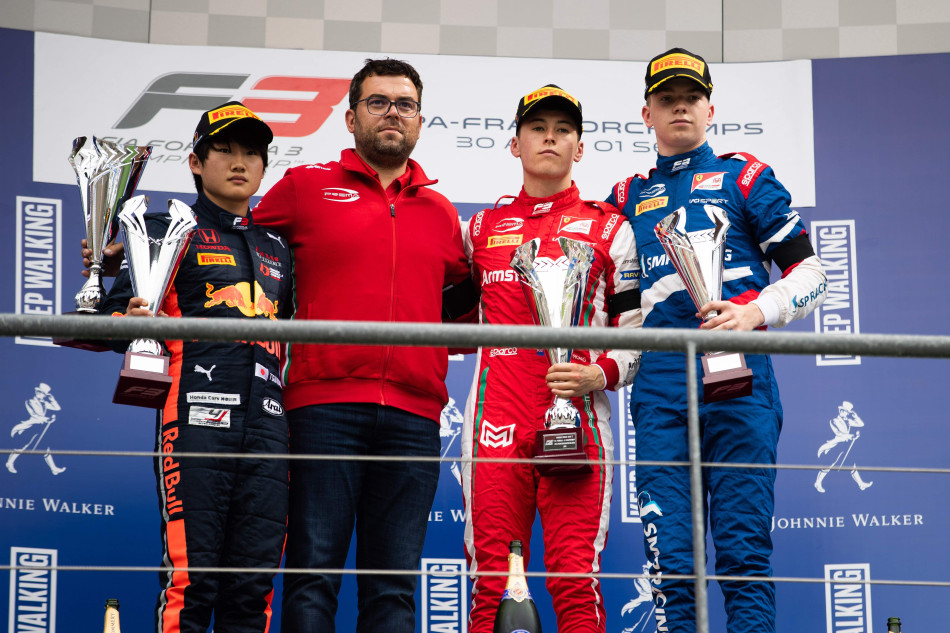 THOUGHTS FROM ARMSTRONG, TSUNODA AND SHWARTZMAN
FIA Formula 3: Marcus Armstrong, a win today for your second victory of the season. You started from pole position, how was your race today?
Marcus Armstrong: It was okay. The temperature was colder today so I could more or less push the whole way. Yuki was quite quick at the beginning, and I managed to break from him both times on the start. I was then maybe one or two tenths a lap faster but it wasn't easy, even though it might have looked easy on the TV it wasn't. I'm happy to take the points and also fastest lap, but it's very sad what happened here yesterday. My thoughts are with Anthoine Hubert's family and friends and also with Juan Manuel Correa. I'm not sure exactly how he is but he's conscious, so that's good. We don't realise how dangerous this sport is until things like this happen.
FIA Formula 3: It's a good weekend for PREMA Racing, and now we're heading to Monza. I'm guessing your plan is for another victory but this time in Race 1?
Marcus: Yeah. Monza is one of my favourite circuits. I think I've done more laps there than any other circuit, so I'm looking forward to going there. It's also a couple of hours from home, so I'm sure there'll be a lot of Italian support, not only for me but for the whole team and for Ferrari and everyone so it's going to be really cool.
---
FIA Formula 3: Yuki Tsunoda, your first podium in FIA Formula 3. How does that feel?
Yuki Tsunoda: I've waited a long time for another podium from last year, and it feels completely different from that Formula 4 podium in Japan. I'm really happy. It's also the Formula 1 podium, so it was a really good experience for the future.
FIA Formula 3: You looked very racy on the track. How was it from the car?
Yuki: The car was good. I felt really good from free practice, but yesterday was a bit tricky. The car was not good for me honestly. We improved it a lot for today and I had confidence in saving my tyres until the end. I trusted my engineer and my car and just pushed until the end. The safety car was out for four laps and I was able to save the tyres. That was quite lucky for me but my thoughts are with Anthoine Hubert.
I never talked with him but I know he was a great driver. I saw Anthoine become GP3 champion last year as I would watch it on TV in Japan. I felt then like I really wanted to battle it out on track with him and race with him. My target was to follow him, to do what he had done, and I feel like I have lost one of my inspirations. He was a great driver and he showed that again in F2 this year. I don't mean any disrespect when I say that he wasn't in the strongest of teams and yet he won twice. That was fantastic. I was really shocked yesterday when I heard the news. Rest in peace Anthoine. Rest well in heaven… I hope to be like him in that he didn't release the throttle when racing. He just pushed until the end and never gave up. He will always be in my heart and I'll race with him always.
---
FIA Formula 3: Robert Shwartzman, P3 today from P7 on the grid. It was a hard race. How was it from the car?
Robert Shwartzman: The start was quite good. I managed to get a good position in Turn 1. We got a few positions there and then we had some fighting coming into Les Combes. I took P4, and basically had some more fighting. I knew that I was in a good position, just waiting to save my tyres a bit. Then the safety car came out after quite a huge incident so I hope everybody is okay there. After the safety car restart we were all quite close to each other and were fighting for the whole race. I managed to get Christian [Lundgaard] just on the last lap. It was a tight fight, it was close, but generally the summary of the weekend was quite good because we took both podiums, we had a lot of overtaking, good points, and I also extended the championship lead so that's a good thing. The sad point is what happened yesterday. My thoughts are with the family of Anthoine Hubert. It's really depressing for all of us, the atmosphere in the paddock has changed completely and I don't really know what more I can add. It just feels really bad. My thoughts are also with Juan Manuel Correa. I know that he's conscious and luckily he's still with us.