F3 - Post-Race 1 Press Conference
2020 Race of Hungary - Post-Race 1 Press Conference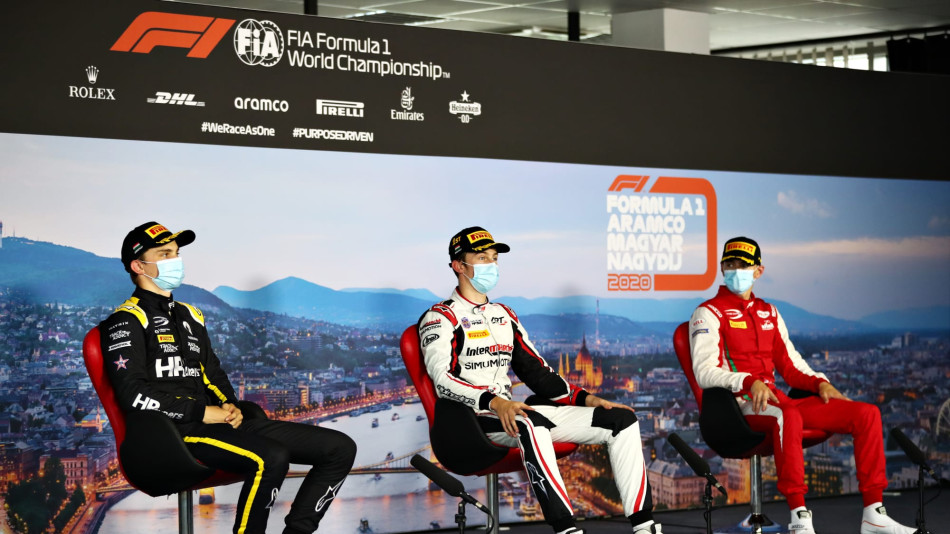 Thoughts from Pourchaire, Piastri and Sargeant 
FIA Formula 3: Hello and welcome to the press conference with the top three finishers in Race 1 of this weekend's FIA Formula 3 Championship round here in Hungary. We are joined by race winner Théo Pourchaire for ART Grand Prix, in second place is Oscar Piastri for PREMA Racing, and third is Logan Sargeant, also for PREMA Racing. Théo, another win, back-to-back wins now in Formula 3, and it was such a dominant performance by the end of that race. Just how good does that win feel?
Théo Pourchaire: It feels amazing. A second win in a row. I want to thank the team for that. It's amazing to win two races, and I won by quite a big gap. The start of the race was a bit difficult. There was the crash in front of me, and then I managed to get to P1 and was there for the whole race, so a big thanks to the Sauber Academy and of course ART Grand Prix.
FIA Formula 3: The gap was nearly 12 seconds in what was effectively a shortened race after the red flag restart. What were the opening laps like after the safety car when you had Oscar close behind? Was that the most pressure you felt during the race?
Théo: Yeah for sure. It was difficult. At that moment the track was really tricky in terms of conditions. Some parts were completely wet, so it was difficult not to make a mistake, but I managed to stay P1. After that, during the red flag, it was difficult to maintain concentration, but we did it and it was superb.
FIA Formula 3: Well done today. Oscar, moving on to you. Second place and you just about managed to escape unscathed in Turn 1. Talk us through the start from your perspective.
Oscar Piastri: I broke a little bit early. Obviously, I started from the right-hand side of the grid, which was a massive disadvantage in that race. I got the best start that I could and then I saw Logan facing towards the inside wall, so I knew some chaos was about to unfold. I thought I was going to get through it and then I think Calan Williams spun, and sort of hit Frederik Vesti as well. As I came through, he clipped my left rear so I think I had either a broken rim or a slow puncture. We had to fit a new left rear tyre during the red flag, and because the car was unbalanced I was locking up the right front a lot. We had to change that as well. The start was very chaotic and I'm pretty happy that I got up to second through all that.
FIA Formula 3: You mentioned the changes you had to make. Did that explain the big to Théo, or were you surprised by pace he was able to pull in those opening laps after the safety car?
Oscar: I was pretty surprised to be honest. If the track had stayed wet, I felt really confident in those conditions and I felt like we had the pace. Even in first couple of laps after the safety car weren't too bad, but after that I'm not sure if I still had damage to the suspension or whether we were just slow! I think tyre deg was really bad, for myself anyway, so there was nothing I could do to stay any closer.
FIA Formula 3: Still, second place, well done today. Logan, moving on to you. Oscar just mentioned it. Turn 1. Just talk us through that from your viewpoint.
Logan Sargeant: Obviously starting on the inside of the grid, like Oscar said, was a big disadvantage. There was a lot of water. I got stuck on the inside and I couldn't find my way out. I hit the brake and immediately locked up. When I knew that was happening I just tried to avoid everyone. I'm really sorry that ended up collecting Alex (Smolyar). In the rest of the race, as Oscar said, we just didn't quite have the pace today. I didn't have a good feeling with the car, so we have quite a bit to analyse tonight.
FIA Formula 3: Obviously, we had the red flag period where your car could be looked at. Did you feel any damage on the car after that collision, and did that break help your confidence that you could still push it when you restarted?
Logan: I definitely felt that something was not 100 percent, so we need to look at that. I'm not sure what, but it didn't feel quite right.
FIA Formula 3: Were you surprised not to pick up a penalty? We heard on the team radio telling you during the red flag period that you were clear to go once we restarted.
Logan: I'm not really sure. I would have respected the decision of the stewards, whatever they decided. If that's what they felt was right then I respect their decision.
FIA Formula 3: Thank you. Théo, just returning to you. You looked so comfortable out there today, and as Oscar said, he was surprised by the pace you showed. What do you think you can achieve around here tomorrow in Race 2?
Théo: We'll start from P10, so it will be a bit more difficult. We know that on this track it's almost impossible to overtake, so I will need to make a good start and then we will see what we can do. The car is good, so for sure I will try to do the best job possible.