This page contains archived information and may not display perfectly
F3 - Post Race 1 Press Conference
F3 - Race of Silverstone - Post-Race 1 Press Conference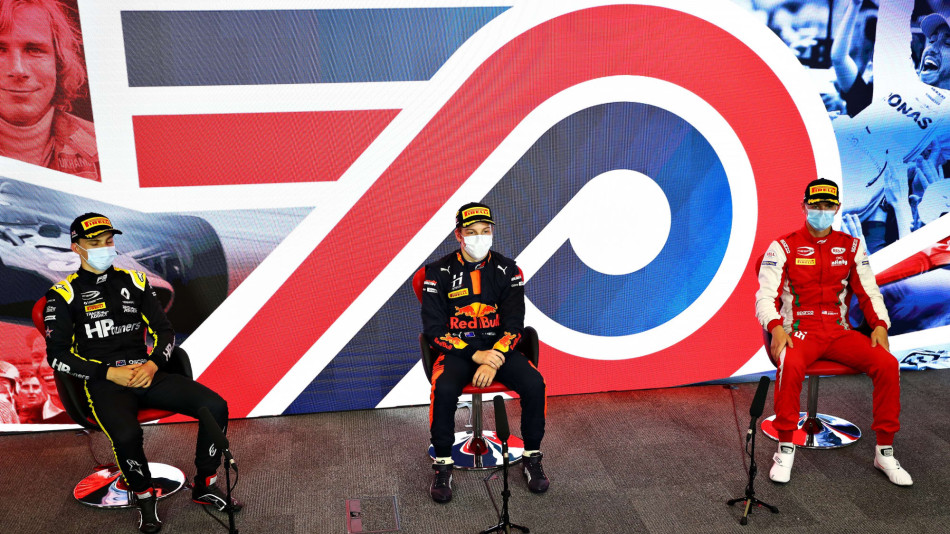 THOUGHTS FROM LAWSON, PIASTRI AND SARGEANT
FIA Formula 3: Hello and welcome to the press conference with the top three finishers in Race 1 of this weekend's FIA Formula 3 Championship round here at Silverstone. We are joined by race winner Liam Lawson for Hitech Grand Prix, in second place is Oscar Piastri for PREMA Racing, and third is Logan Sargeant, also for PREMA Racing. Liam, congratulations. Your second win of the season and done in great style, with the move on Logan and then defending from Oscar as well. Talk us through the race from your perspective.
Liam Lawson: I'm obviously very happy. As I said yesterday, we did a lot of work, mainly for Qualifying because that's where we're struggling so far this season. It was nice to have a good quali. The race car today was good. I think we definitely need to work on it. I was struggling a little bit towards the end of the race, but it was basically about managing it. We did a lot of prep for this. I'm really happy and proud of the team for all their hard work.
FIA Formula 3: It was quite a disjointed end to the race with a couple of Safety Cars in there, and then finishing behind it. Did that help today, with the pressure you were coming under, or did you feel you had it under control?
Liam: I wouldn't say that I felt like I had it completely under control, but the safety car definitely helped. It took away laps and I think we were struggling a little bit more with the tyres. It played to us a little bit today, which was good. I think tomorrow's going to be interesting with the reverse top ten. I don't know what it was like for the others following, but it should be an interesting race.
FIA Formula 3: Thank you very much. Oscar, moving on to you. P2 from third on the grid. It was so nearly P1 as you tried to take the lead around the outside. Just talk us through that fight from your perspective.
Oscar Piastri: Liam was quite fast coming onto both DRS straights. I felt that was probably where he was the strongest on the track. That was making my life very difficult. I got a good run on to the Hangar Straight, and it was the best opportunity I had to go to the outside at Stowe. I almost made it work, but it wasn't quite enough. I had in the back of my head that I didn't want a shunt there, because we still have another race tomorrow. I didn't want to throw away all my points for the weekend. It would have been nice to get the win, but it's still solid points for second.
FIA Formula 3: I was going to say, you still extend you Championship lead with this result. Is that something that's already on your mind as you look at a race weekend?
Oscar: No. I was fully trying to get that win. I was only taking it a little bit more cautiously for tomorrow's race. There was no thought about the Championship in that race, I can tell you now.
FIA Formula 3: Well done today, thanks very much. Logan, moving on to you. You started from pole and finished in third place. Still a solid podium, but was the pace slightly lacking compared to these two today?
Logan Sargeant: It was definitely a difficult beginning to the race. I actually had a great start. Came of the line beautifully. Then I struggled to find the grip early on. I was a bit gutted when the Safety Car came because I was starting to find the grip at the end. I think we could have had a strong end to the race. Anyway, it wasn't good enough in the beginning, so it's a bit disappointing. It's a learning day. I'll go back and look over everything. Starting eighth tomorrow I really need to make up some ground, so we'll have to look at that and come back better.
FIA Formula 3: Yesterday was obviously very different in the conditions. It was much hotter for Qualifying when you stuck it on pole. Do you feel that maybe had an influence in terms of the pace in the early part of this race?
Logan: It's hard to say. Like you say, it is two different tracks when you consider the temperature, but I don't think that was it. Oscar found the grip early on, and we're definitely on something similar. I think it was maybe more something to do with the warm-up procedure, or something like that. That's something I need to look at.
FIA Formula 3: Well done today. Liam, just returning to you. How important was this result specifically, given the fact that you're last three race results were all DNFs?
Liam: It's nice to finish a race for sure! I think it's been really tough, the last round especially and the last round at the Red Bull Ring. It's really good to finish a race and finish strongly. Obviously, we need points right now, so for us race wins is the focus and getting as many points as we can because we've got a lot of catching up to do. Championship-wise it's very important. We're still a long way back, but at least it's a step in the right direction.