This page contains archived information and may not display perfectly
F3 - Post Qualifying Press Conference
F3 - Race of Silverstone - Post-Qualifying Press Conference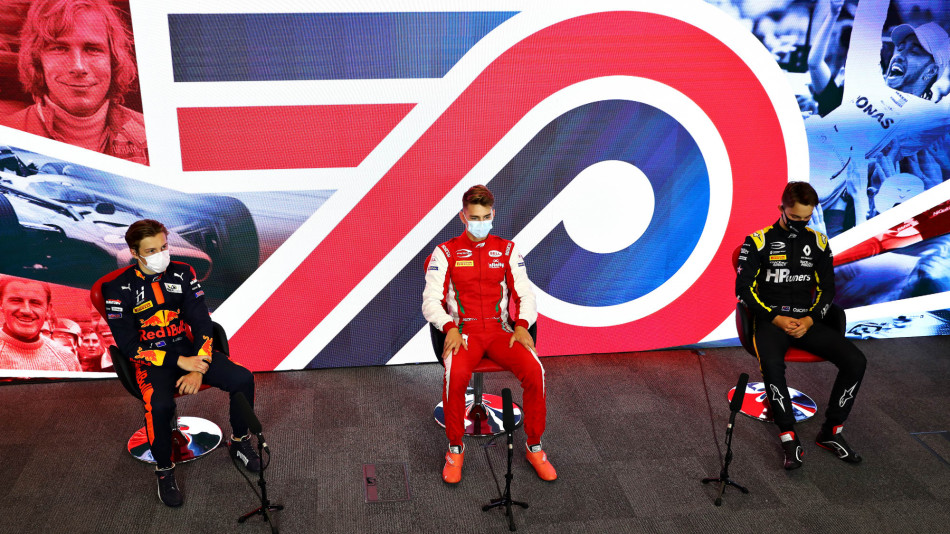 THOUGHTS FROM SARGEANT, LAWSON AND PIASTRI
FIA Formula 3: Hello and welcome to the press conference with the top three qualifiers for Race 1 of this weekend's FIA Formula 3 Championship round at Silverstone. We are joined by polesitter Logan Sargeant for PREMA Racing, in second place is Liam Lawson for Hitech Grand Prix, and third is Oscar Piastri, also for PREMA Racing. Logan, congratulations, your first pole position of the season and you were quickest in the early part of that session, but you needed that final lap to really take pole, just how pleased were you with that final effort?
Logan Sargeant: Yeah, extremely pleased. I knew that it was going to be a really close session and I knew that it was going to be about who could extract the most from the tyres. I just felt really good with the car underneath me, and delivered a pretty good lap.
FIA Formula 3: It is a long lap, in terms of laptime around here, so just how tricky is it to put all three sectors together at a circuit like this?
Logan: It is definitely not easy, especially with the extreme heat that we had today, so we really had to be cautious and have a really good feeling for the grip and utilise that.
FIA Formula 3: Congratulations, and well done for today. Liam, moving on to you, I think it was less than six hundredths of a second between the two of you in the fight for pole position, on one of the longer laps of the season. Did you think you had done enough for pole today?
Liam Lawson: I knew I hadn't to be honest. We had a really good car today. We had done a lot of work between the last round and this round, so it is really good to see that work pay off, because we did have a really strong car today, but no, I knew. I made a small mistake at the end of the lap in the last complex and lost quite a bit of time. Had that not have happened… but then again everyone can always go faster. But I am still happy with the result.
FIA Formula 3: Strong result for you, but how happy were you with the car, in terms of race trim, that you have underneath you for tomorrow?
Liam: Our race pace hasn't been too bad this year. Obviously, it is going to be interesting tomorrow as there is quite a bit deg around this track, so it is going to be tough. It depends on weather as well. Obviously today we had a really hot quali, but it should be a bit cooler in the morning, but we will see. Normally we haven't been too bad in the races.
FIA Formula 3: Good luck tomorrow. Oscar, moving on to you. You had a spell sitting provisional pole as well at one stage in that session, but ended up P3, so how satisfied are you with the result?
Oscar Piastri: A little bit disappointed to be honest. I think I was sitting second after the first run, and then I thought my fist lap on the second set was pretty strong, but I didn't improve on the second lap. I was hoping that my first lap was going to be enough, but unfortunately it wasn't quite enough to hang on.
FIA Formula 3: All three PREMAs are in the top five today. Just how important is it to have such strong teammates pushing each other on? Is that a positive aspect?
Oscar: It is definitely a positive. Obviously, we are all extremely close, and we are all working in the same direction with the car and pushing each other with our driving as well. It is beneficial for the team, trying to get the car quicker, and it is beneficial for the teammates, trying to push ourselves as well. It's been great.
FIA Formula 3: Thank you. Logan, returning to you, and a similar question. You are the one who came out on top today, but do you find yourselves being pushed hard by these guys?
Logan: For sure. I think it's good to have two strong teammates. I think, as a unit, you can improve using your teammates and helping each other. It's definitely not a bad thing.