This page contains archived information and may not display perfectly
F3 - Post-qualifying Press Conference
F3 - 2021 season/ Round 6 in Zandvoort - Post-qualifying press conference transcript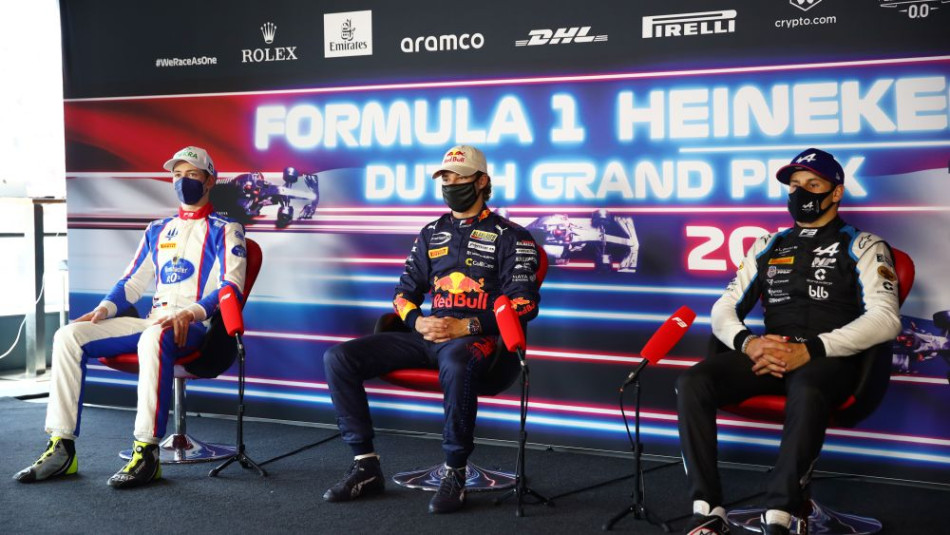 Thoughts from Hauger, Schumacher and Martins
FIA Formula 3: Congratulations to the top three qualifiers for Race 3 of the FIA Formula 3 Championship here at Zandvoort. In third place, Victor Martins for MP Motorsport, in second place David Schumacher for Trident and taking his third pole position of the 2021 campaign, Dennis Hauger for PREMA Racing. Dennis that was a wonderful lap by you right at the end of the session after a difficult weekend at Spa last weekend. How important is this pole position?
Hauger: It's a really good feeling to get a good start to the weekend. I felt really comfortable and the track is really awesome. It was nice to have a good start to it and to come back from Spa which was quite difficult for us as a team as well. So to come back and get that pole was quite important for us and we just have to try and keep that going now.
FIA Formula 3: You say the track here at Zandvoort is awesome, tell us a little bit more about what it's like to drive and the key corners around the lap?
Hauger: Honestly it's like a rollercoaster! There's so much camber and everything happening is really technical, so you really have to focus forward. It's got quite fast sequences but still technical, it's really cool to be on the edge around here. It doesn't forgive you if you make a mistake so you really have to put it all together and that's what we managed to do in quali. I'm obviously really happy with it.
FIA Formula 3: Dennis is we're now at the business end of the season, it's the penultimate round of this FIA Formula Championship. How important is it for you as the Championship leader to have a clean weekend?
Hauger: For sure it's really important to get the pole now after the difficult weekend at Spa and losing some points in the Championship. I think it was nice to bounce back and show ourselves we have the pace and the confidence to keep that title going. It was a nice way to go, but we still have to keep working. There are still a few races left so we have to give it everything.
FIA Formula 3: Good luck for the rest of the weekend. David coming to you, many congratulations on your first front row in Formula 3. What does that statistic mean to you?
David Schumacher: It means quite a lot, I was a bit disappointed after qualifying because we had the potential for pole I just made a small mistake in my last lap. I didn't close my lap properly and Dennis could snatch the pole away. It was a bit of a shame to see it on the screens while you're driving back to the pits, but I'm really happy, P2 is still really good. It's going to be difficult tomorrow in the first race, but we'll see what happens.
FIA Formula 3: How difficult were the dying moments of the session after the red flag just four minutes to go. Was it difficult to get a clear lap?
Schumacher: Yeah it was difficult. We had quite a few discussions with the Race Director so that we don't impede anyone. We weren't allowed to have such a big gap to the car in front or to slow down too much. I started my lap too close to the car in front and it wasn't good for me in the middle sector. The first sector was quite already but towards the end of the lap, it wasn't very good so that was a shame. But I take it how it is and we look forward to the races tomorrow.
FIA Formula 3: What can you do, in Race 3 in particular, from P2 on the grid?
Schumacher: I think it's difficult to overtake around here, but it means also that we can stay in our position, so the goal is to have a good start and maybe go past Dennis but we will see with that one.
FIA Formula 3: Good luck with that. Victor coming to you, you were on the front row at Spa last weekend you are now P3 on the grid here. Do you feel like you've found a really good rhythm with this car now?
Victor Martins: I think so, to be honest, but even from the beginning of the season we were there straight away from Round 1. It's just at some point we maybe lost some pace. I think we wanted to be too much at the top, and then you lose yourself. From Spa, we just wanted to come back to our base. Being calm, taking everything step-by-step. This morning was a really good Free Practice, I think I managed to give all the information to the team. I was feeling good with the car, with the track also. Then going to Qualifying with the confidence that you need, it's just a matter of getting a clean lap and a clear lap with the traffic. I feel a bit frustrated because I had a car in Turn 7 so I had to go around the outside so I lost a bit of time there, but it's still really good. Spa was a wet race weekend and now on the dry we are again back at the top, so it feels good.
FIA Formula 3: Victor what are your goals for the races this weekend?
Martins: Just to look forward, I've seen from the beginning of the season that when I look forward, and not behind me, we've had some great races. Just to be focused ahead and have a good mindset, that's for sure how we'll do some great races without mistakes. I don't have any goals, I just want to look forward and have fun.
FIA Formula 3: Good luck to you as well!