F3 - Post Qualifying Press Conference
F3 - 2021 season/ Round 4 Budapest - Post-qualifying press conference transcript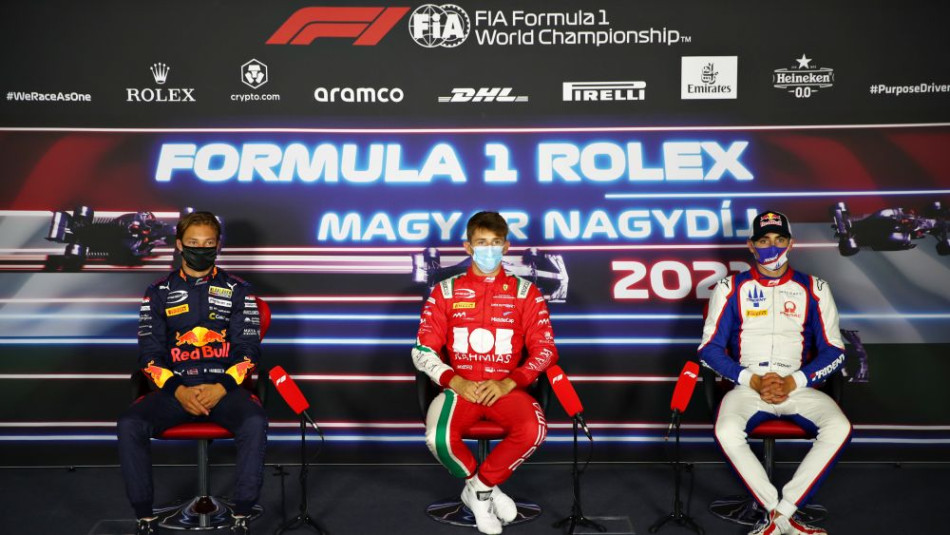 Thoughts from Leclerc, Hauger and Doohan
FIA Formula 3: Congratulations to the top three Qualifiers for Race 3 of the FIA Formula 3 Championship here at the Hungaroring. In third place, Jack Doohan for Trident. In second place Dennis Hauger for PREMA Racing and taking his first pole in Formula 3 our pole sitter Arthur Leclerc also for PREMA. Arthur, a fantastic result for you, how satisfying is this moment?
Arthur Leclerc: It's a great moment, especially on this track because I've never raced here so it's even more special. There is a lot of corners, a lot of high-speed corners, it's one of the trickiest tracks I've experienced for now so I'm really happy to get the pole here, first pole of the season. We improved quite a lot with the team and with the Ferrari Driver Academy, how to approach the things in Quali especially because it was not my strongest point in the beginning of the year, but we made it!
FIA Formula 3: Can you tell us a little bit more about that because your previous best in Qualifying was ninth. So, what have you changed in terms of your approach, and also on the car?
Leclerc: I changed quite a lot the approach. A few things on the car first, like the set-up. We found a bit better set-up for how we approach Quali and me, my mindset and how I go into Quali is really important. I think in Paul Ricard and the previous races I was maybe putting a little bit more pressure on myself, but we know that we have the pace, we've showed that we have the pace, we just need to be a bit more calm, a bit more patient, and the results will come.
FIA Formula 3: Now you're going to be taking a three-place penalty in Race 1 which is a hangover from the last race in Austria. How tough will it be to make progress given that this is a very tight track and of course you haven't been here before so in terms of find the right overtaking places?
Leclerc: I think it will not be easy, we know that this track is really really hard to overtake. It's one step more than Barcelona or Paul Ricard so for sure it will not be easy, but I'm taking it. I did a mistake in Austria, so I have to pay for it. So, we'll start P15 in Race 1 and I will do my best to come back to the top twelve to do something in Race 2.
FIA Formula 3: Great stuff Arthur! Dennis, coming to you now. Just one tenth of a second behind your teammate, how good was that lap right at the end of the session?
Dennis Hauger: It was quite a messy session overall for me there was some things in the beginning that were my mistake, but we got back in the rhythm regardless. But then I couldn't get my engine started because of the heat so the water temperature went up, we just tried to get one last lap right at the end it was quite risky because everyone was on their in-laps and had already done their lap. I really had to push and give everything, and that last one wasn't perfect. I think the potential was there to be on top, but overall, I was really happy with that last lap and getting up to the second place on the grid. I think it's a good position to start from for Sunday's race.
FIA Formula 3: The track conditions were a lot hotter in Qualifying that they've been during practice this morning, what challenges did that present?
Hauger: I think of people put their fastest lap in the beginning of the session, or on their second set, so I wasn't really sure how quick the track was in that last minute. It was quite challenging because the track was changing from Free Practice all the way to Quali so it was quite tricky. You really had to try and manage it, really give everything out there and try to maximise it although it wasn't easy because it was changing every lap.
FIA Formula 3: You have a 41-point advantage in the Championship coming into this round. What's going to be your approach this weekend?
Hauger: It's still a long season ahead so I think I'm just having the same mindset I've had all season; it's working well so far. Obviously, the Qualifying has been strong, so we just have to think about the races, stay calm and get the points at well I think that's what gained us last weekend so we just have to try and keep that rhythm going.
FIA Formula 3: Thank you Dennis. Jack coming to you, many congratulations, although you seemed a little frustrated by the traffic at the end of the session.
Jack Doohan: It wasn't ideal for me, I think a lot of people would love to be P3 but today we had the potential for much more. We couldn't get the car started when we were supposed to go for similar reasons to Dennis; too high fuel pressure, the temperature was too high. So, I didn't think I was going to get out, but luckily, we did. Then we just weren't in a good position for some reason, a lot of people were making a lot of mistakes and the four cars in front of me managed to run wide and go off the track. So, I was turning in on grassy road and then got impeded in the second sector and then also unfortunately into Turn 12. I don't know if the driver saw me or not, so I didn't know if they were going to get out of the way. So, for the optimal lap of the session to have it like that was very disappointing. The session wasn't going ideal for the first run, I wasn't completely happy, so we made an adjustment for the second run which was a lot better, but I took a bit of caution because I didn't know how it was going to react. I knew I had a plan up my sleeve after the second run but unfortunately didn't get to show it in the third run.
FIA Formula 3: Jack you say you weren't happy with your first run in Qualifying, but you'd still made what looked like quite a big step from practice? Had you changed the car much?
Doohan: No, I didn't run new tyres in practice, so I was really happy in practice actually, when everyone was on the same tyres, we were the quickest by a margin. Then everyone went for new tyres, and we stuck to our programme so it doesn't really matter there's no points awarded there's nothing to gain. As long as we do our part and stick to our programme, what matters is what we collect for Qualifying.
FIA Formula 3: Great, thank you all!