This page contains archived information and may not display perfectly
F3 - Post Qualifying Press Conference
F3 - Round 9 - Mugello - Post Qualifying Press Conference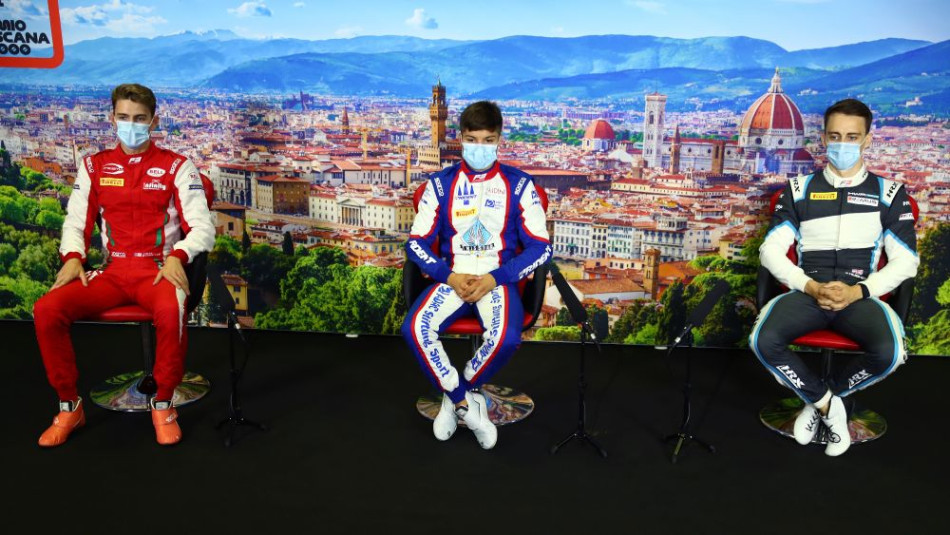 THOUGHTS FROM ZENDELI, SARGEANT AND HUGHES
FIA Formula 3: Hello and welcome to the press conference with the top three qualifiers for Race 1 of this weekend's FIA Formula 3 Championship round at Mugello. We are joined by pole-sitter Lirim Zendeli for Trident. In second place is Logan Sargeant for PREMA Racing, and third is Jake Hughes for HWA RACELAB. Lirim, your second pole position in three races, and your third front row start in a row. Just how happy are you to be ending the season like this?
Lirim Zendeli: Yeah, surely happy. We did a great job. We've had a great performance in the last few races, and I'm happy to end the last Qualifying session of the Championship in P1.
FIA Formula 3: When we look at tomorrow's race, how crucial is this Qualifying performance and to be able to start from pole, on a track that looks like it might be hard to overtake on, even in a Formula 3 car?
Lirim: You have a long straight, and you only have one DRS zone. I think tyre management will be crucial here. It will not be easy to stay behind without losing your tyres, so it will be a tyre management race. We'll have to see. I'll try to stay in front and then see what happens.
FIA Formula 3: Good luck tomorrow. Logan, moving on to you. Just 0.034 seconds off pole position, which would have been some pretty valuable points in the Championship fight. Are you happy with a top five starting position tomorrow, given your grid penalty?
Logan Sargeant: Well I couldn't score the four points with the penalty anyway, which is kind of unfortunate. But anyway, we didn't get it in the end. I was happy with the lap I put together today. I didn't quite feel as comfortable as normal. I think we went a little wrong in the middle of the session, but I'm still happy to pull out a pretty good lap. Starting P5 with my grid drop, I've got some work to do. But as I've said in the past, at this point I have nothing to lose. I'm in it to win it, so I'll be pushing.
FIA Formula 3: Oscar (Piastri) is down in 16th place I think after his penalty, so does it feel like a big opportunity tomorrow to at least close that gap?
Logan: Every weekend is a big opportunity. As we saw in Monza, anything can happen. I just need to do the best I can, maximise the car and my potential, and if that's enough in the end, that's enough. If it's not, I'll just have to live with that.
FIA Formula 3: We'll see how tomorrow goes. Good luck. Jake, just moving on to you. Another strong Qualifying, after a couple of difficult Fridays in Spa and Monza. Good to finish on a relative high, or are you frustrated not to be on pole?
Jake Hughes: To be honest I was a little bit frustrated in the immediate aftermath of the session. I think we had a really good car.  Obviously, we topped practice and quite early on felt comfortable out there. On the first set, I think I was fastest as well in Qualifying. It was very tight but nevertheless it was still P1. Then the first lap of the second set, for whatever reason, I didn't get my tyres ready. I felt like I did the same thing, but they were not ready for the first lap. The second lap was then an 'on the edge' lap, shall we say. The tyres were struggling and until the last two corners I was up on the pole time, but they couldn't hang on.
FIA Formula 3: With pole position, Lirim has gone ahead of you in the standings. What are your targets for this final round?
Jake: To be honest, I'm not interested. P7 or P8 - it doesn't really matter to me. I came here for a lot more than that. I know I'm good enough for a lot more than that. I think, realistically, it would have been nice to get the pole, and obviously it would be nice to get the win. Over this year, we've been quite strong on race pace, so hopefully that continues.
FIA Formula 3: Thank you. Lirim, just returning to you. A similar question to Jake's really. What are your targets this weekend? We know there's a Championship on the line, but you've got a great chance of winning from pole.
Lirim: For me, it's just ending the season on a high. I'm aiming for the win. Unfortunately, we didn't have some great races in mid-season, but I'll have to live with it and try to do the best tomorrow and on Sunday.