F3 - Novalak puts Trident on top on the final day of testing in Jerez
Testing in Jerez Day 2 report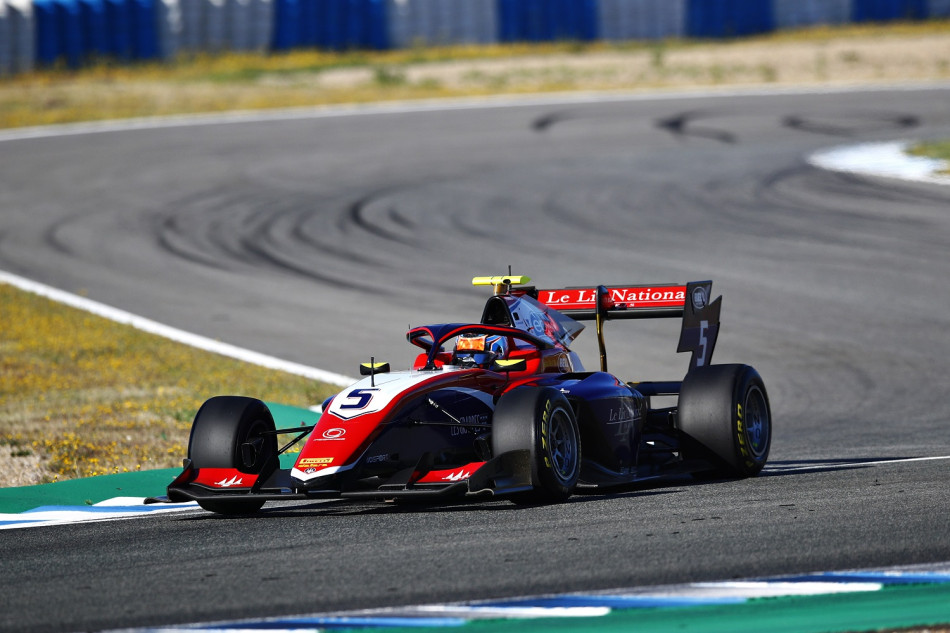 Clément Novalak put Trident at the top of the timesheet for the second day in a row at Jerez, finishing as the fastest man overall in the final test before the end of the season.
Beating out ART Grand Prix's Frederik Vesti and Charouz Racing System's Enzo Fittipaldi, Novalak broke the Formula 3 track record in Jerez, setting 1:28.677.
MORNING
The sun was shining on the final morning of pre-season testing, providing ideal conditions for a Qualifying simulation around the Circuito de Jerez. Carrying over their form from Day 1, Trident took their now customary place at the top of the order, with Novalak leading teammate Jack Doohan.
Lapping at 1:28.677, Novalak was the first driver to post a sub-1m 29s time in Jerez, breaking the previous F3 track record of 1:29.041, which had been set in cooler conditions by Doohan at the post-season test in October last year.
Novalak retained his place at the top of the order, but Doohan began to drop down, falling to fourth by the end of the morning. Vesti was the first to overtake him, with the Mercedes prodigy breaking the 1m 28s barrier as well, running 0.258s off Novalak.
Also splitting the Trident duo was Fittipaldi, whose tour of 1:29.060 proved enough for P3. MP Motorsport and Alpine Academy duo Victor Martins and Caio Collet took fifth and sixth ahead of Hitech Grand Prix's Red Bull junior Jak Crawford.
ART duo Alex Smolyar and Juan Manuel Correa took eight and ninth, while Carlin Buzz racer Jonny Edgar completed the top 10.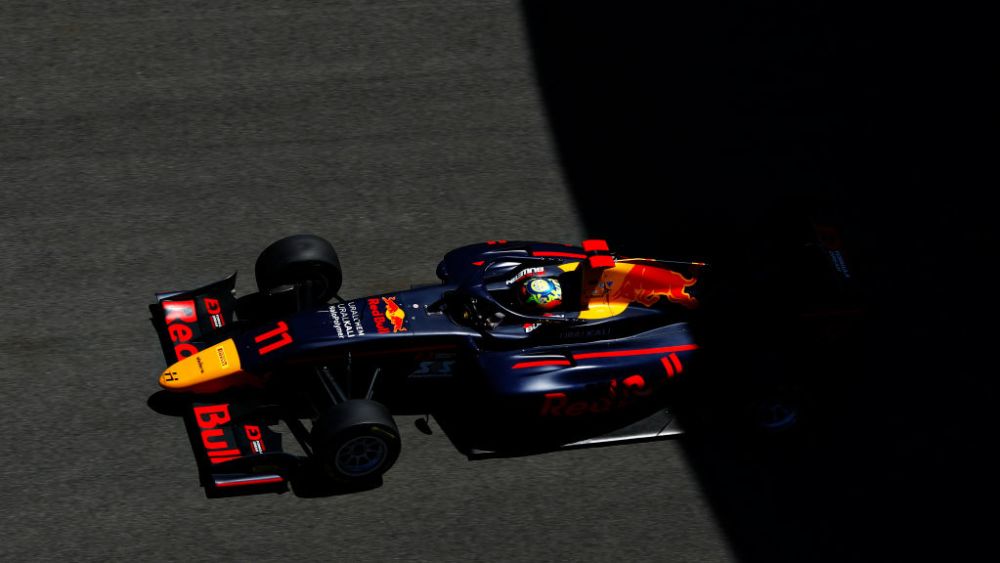 Iwasa topped the afternoon session with a time of 1:29.884
AFTERNOON
The majority of the field were focused on race runs and data gathering as they headed out for the final afternoon of testing before the end of the season. Hitech's Ayumu Iwasa leapt to the top of the leaderboard within the opening half an hour.
Setting 1:29.884 in the opening stages, the Hitech racer remained on top for the duration and was the only driver to break the 1m 30s barrier in the afternoon.
Clambering into second and third was PREMA duo Dennis Hauger and Olli Caldwell, who were 0.179s and 0.335s off the leading pace.
Iwasa's Hitech teammates Crawford and Stanek completed the top five ahead of Edgar and Calan Williams.
Lorenzo Colombo made the top 10 for the first time in Jerez, beating out the quickest man from Day 1, Doohan. The final PREMA of Arthur Leclerc completed the top 10, ahead of Pierre-Louis Chovet, who ran an impressive 56 laps in the final stint.
The field will now depart Spain with just over a month to work on the cars before the second round of the season at Le Castellet, on June 25-27.
2021 FIA FORMULA 3 CHAMPIONSHIP - JEREZ TEST, DAY 2, MORNING SESSION
|   | DRIVER | TEAM | LAPTIME | LAPS |
| --- | --- | --- | --- | --- |
| 1 | Clément Novalak | Trident | 1:28.677 | 29 |
| 2 | Frederik Vesti | ART Grand Prix | 1:28.935 | 35 |
| 3 | Enzo Fittipaldi | Charouz Racing System | 1:29.060 | 25 |
| 4 | Jack Doohan | Trident | 1:29.061 | 35 |
| 5 | Victor Martins | MP Motorsport | 1:29.144 | 44 |
| 6 | Caio Collet | MP Motorsport | 1:29.193 | 46 |
| 7 | Jak Crawford | Hitech Grand Prix | 1:29.196 | 39 |
| 8 | Alexander Smolyar | ART Grand Prix | 1:29.207 | 30 |
| 9 | Juan Manuel Correa | ART Grand Prix | 1:29.215 | 29 |
| 10 | Jonny Edgar | Carlin Buzz Racing | 1:29.219 | 35 |
| 11 | Ayumu Iwasa | Hitech Grand Prix | 1:29.223 | 35 |
| 12 | David Schumacher | Trident | 1:29.258 | 28 |
| 13 | Matteo Nannini | HWA RACELAB | 1:29.333 | 43 |
| 14 | Roman Stanek | Hitech Grand Prix | 1:29.339 | 38 |
| 15 | Calan Williams | Jenzer Motorsport | 1:29.392 | 17 |
| 16 | Lorenzo Colombo | Campos Racing | 1:29.542 | 35 |
| 17 | Kaylen Frederick | Carlin Buzz Racing | 1:29.586 | 36 |
| 18 | Pierre Louis Chovet | Jenzer Motorsport | 1:29.619 | 25 |
| 19 | Oliver Rasmussen | HWA RACELAB | 1:29.658 | 43 |
| 20 | Rafael Villagomez | HWA RACELAB | 1:29.662 | 42 |
| 21 | Ido Choen | Charouz Racing System | 1:29.697 | 33 |
| 22 | Amaury Cordeel | Campos Racing | 1:29.743 | 32 |
| 23 | Reshad de Gerus | Charouz Racing System | 1:29.959 | 23 |
| 24 | Dennis Hauger | PREMA Racing | 1:30.226 | 31 |
| 25 | Olli Caldwell | PREMA Racing | 1:30.273 | 31 |
| 26 | Filip Ugran | Jenzer Motorsport | 1:30.404 | 31 |
| 27 | Arthur Leclerc | PREMA Racing | 1:30.594 | 31 |
| 28 | Tijmen Van der Helm | MP Motorsport | 1:30.629 | 46 |
| 29 | László Tóth | Campos Racing | 1:31.144 | 15 |
2021 FIA FORMULA 3 CHAMPIONSHIP - JEREZ TEST, DAY 2, AFTERNOON SESSION
| DRIVER | TEAM | LAPTIME | LAPS |
| --- | --- | --- | --- |
| Ayumu Iwasa | Hitech Grand Prix | 1:29.884 | 35 |
| Dennis Hauger | PREMA Racing | 1:30.063 | 39 |
| Olli Caldwell | PREMA Racing | 1:30.218 | 36 |
| Jak Crawford | Hitech Grand Prix | 1:30.265 | 38 |
| Roman Stanek | Hitech Grand Prix | 1:30.520 | 29 |
| Jonny Edgar | Carlin Buzz Racing | 1:30.632 | 32 |
| Calan Williams | Jenzer Motorsport | 1:30.724 | 22 |
| Lorenzo Colombo | Campos Racing | 1:30.920 | 35 |
| Jack Doohan | Trident | 1:30.947 | 33 |
| Arthur Leclerc | PREMA Racing | 1:30.974 | 38 |
| Pierre Louis Chovet | Jenzer Motorsport | 1:31.220 | 56 |
| Amaury Cordeel | Campos Racing | 1:31.280 | 34 |
| Oliver Rasmussen | HWA RACELAB | 1:31.325 | 37 |
| Matteo Nannini | HWA RACELAB | 1:31.391 | 37 |
| Ido Cohen | Carlin Buzz Racing | 1:31.438 | 34 |
| Rafael Villagomez | HWA RACELAB | 1:31.663 | 36 |
| Kaylen Frederick | Carlin Buzz Racing | 1:31.736 | 33 |
| Filip Ugran | Jenzer Motorsport | 1:31.822 | 53 |
| László Tóth | Campos Racing | 1:31.978 | 23 |
| Clément Novalak | Trident | 1:32.545 | 51 |
| Frederik Vesti | ART Grand Prix | 1:32.625 | 49 |
| Alexander Smolyar | ART Grand Prix | 1:32.674 | 47 |
| David Schumacher | Trident | 1:32.759 | 25 |
| Enzo Fittipaldi | Charouz Racing System | 1:32.868 | 50 |
| Caio Collet | MP Motorsport | 1:32.965 | 51 |
| Juan Manuel Correa | ART Grand Prix | 1:33.002 | 48 |
| Victor Martins | MP Motorsport | 1:33.055 | 48 |
| Reshad de Gerus | Charouz Racing System | 1:33.308 | 47 |
| Tijmen Van der Helm | MP Motorsport | 1:33.462 | 47 |