F3 - Bortoleto keeps perfect Feature Race record with Melbourne win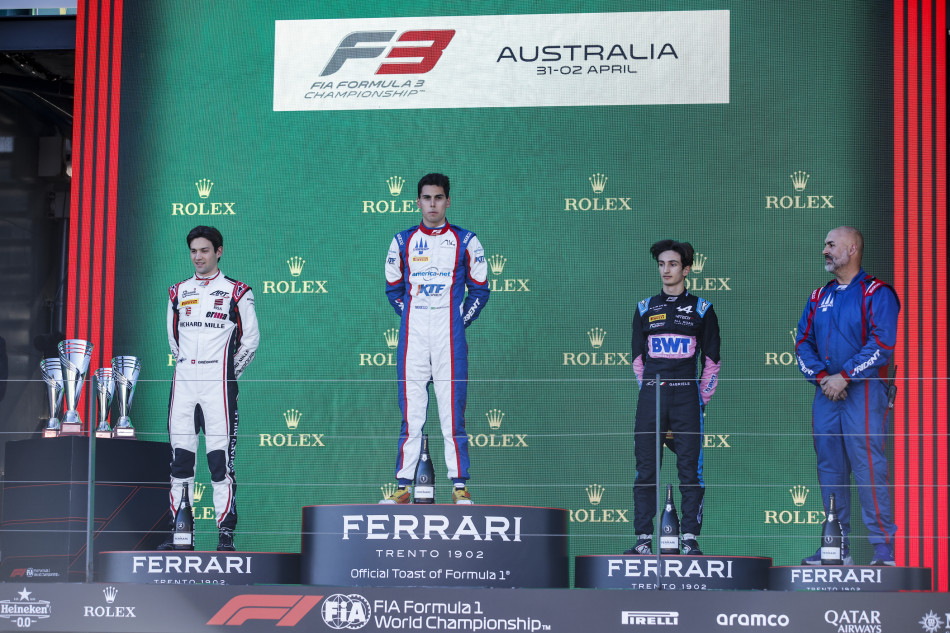 Gabriel Bortoleto made it two Feature Race wins in Formula 3 out of two, keeping Grégoire Saucy at bay for his second victory of the year. The Trident driver led every lap from pole position, leading through two Safety Car restarts in what was a measured performance.
Saucy was on the podium for ART Grand Prix for the first time this season in second, finishing just 0.5s down on the winner. Gabriele Minì was third for Hitech Pulse-Eight.
AS IT HAPPENED
Bortoleto got a great launch to immediately cover off any threat for the lead into the first corner as the top five remained as they were on the grid. Contact between Sebastián Montoya and Christian Mansell into Turn 11 left the Hitech Pulse-Eight driver out of the race.
On Lap 2, Franco Colapinto claimed seventh from Luke Browning on the run to Turn 3 but his joy was short-lived. The MP Motorsport driver made brief contact with the Briton completing the move and sustained a puncture. That sent him into the barriers at Turn 5 and out of the race.
Mari Boya was also off, making contact with Nikola Tsolov approaching Turn 9 and speeding off the track into the gravel. The Safety Car was subsequently deployed with Boya out on the spot. Kaylen Frederick was out before racing got back to green. He made contact with Tsolov and was out on Lap 5.
Racing got back underway entering Lap 6 with Bortoleto keeping his closest rivals at bay, but he couldn't escape from DRS range of Saucy. Browning claimed sixth place from Paul Aron with DRS assistance into Turn 1 on Lap 10, while Josep María Martí was on a charge.
The Spaniard went from 30th to 21st on the first lap alone, and he was battling Campos Racing teammate Mansell for 12th. Martí took the position out of Turn 11 on Lap 12, taking advantage of Mansell's baulked momentum after the Australian tried to overtake Trident's Oliver Goethe.
Contact between Ido Cohen and Rafael Villagómez out of Turn 4 the following lap spun the Rodin Carlin man into the barriers, bringing out the Safety Car once more. The Van Amersfoort Racing man was handed a 10-second time penalty for the incident.
Back to racing conditions on Lap 16 and Martí was on the move again, clearing Goethe into Turn 4 to take 11th position. That became 10th on Lap 18 after he put a brave move on Jonny Edgar, going around the outside at Turn 9.
Saucy began to close the gap to Bortoleto ahead with a fastest lap on Lap 17 and he was within half a second with three laps to go. Unfortunately for the Swiss, Bortoleto managed the gap to the end to take the victory.
Minì held on to third after coming under late-race pressure from Leonardo Fornaroli, who finished fourth to put two Trident's in the top five.
Zak O'Sullivan was fifth for PREMA Racing ahead of Browning. Contact on the final lap between Dino Beganovic and Caio Collet left them both with damage three corners from home, but the PREMA driver was able to take P8 ahead of a resurgent Martí in ninth. Taylor Barnard rounded out the points for Jenzer Motorsport in 10th position, taking his maiden F3 point.
KEY QUOTE – Gabriel Bortoleto, Trident
"P1 in the Feature Race today, very very happy. It was a tough race, Grégoire was quick behind me. I had to do a race without many mistakes. We have done it, the car was great and thank you to everyone supporting me this weekend."
THE CHAMPIONSHIP STANDINGS
Gabriel Bortoleto extends his Championship lead following his victory, now on 58 points. Grégoire Saucy's P2 finish moves him up to second and 38 points. Dino Beganovic falls to third ahead of Gabriele Minì and Oliver Goethe, each on 32, 28 and 23 points respectively.
Trident's lead in the Teams' Standings grows with the Italian team now on 100 points. PREMA Racing heads up the rest with 72 points and Hitech Pulse-Eight are now on 58 points in third.
UP NEXT
Formula 3 heads back to Europe and Imola for Round 3 of the 2023 season, taking place from 19-21 May.