F2 - Sprint Race Press Conference
F2 - 2018 Race of Barcelona - Sprint Race press conference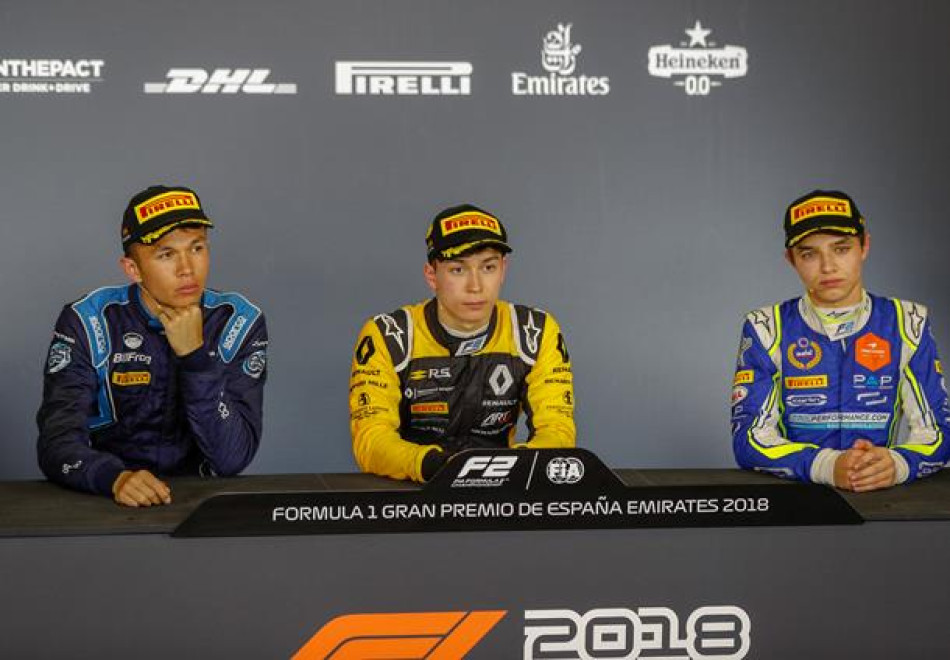 2018 Round 3 Sprint Race Press Conference
 
FIA Formula 2: Welcome to the post-Sprint Race Press Conference for the FIA Formula 2 Championship. Joining us today are: race winner Jack Aitken for ART Grand Prix, second place is Alexander Albon for DAMS, and third place is Lando Norris for Carlin. Jack, not only is this your first win in Formula 2 but it's also a double win for ART this weekend. How does that double celebration make you feel?
Jack Aitken: Yeah, it's obviously a great achievement for the team. I think that we've proven that we can have really good race pace over the last couple of rounds; we were probably the quickest team in Baku as well. Even though we were a little bit behind yesterday we made some really good changes, and today we were faultless.
FIA Formula 2: We saw a great start from you, and over the next laps you pulled out a nearly six second lead. How was it managing the race out in front in what were quite tricky track conditions?
Jack: It was very tricky, you're obviously the first one to see the conditions and it was a difficult balance to strike when you have a lot to lose if you get it wrong. To be honest I was really pleased to be in the lead at the first corner because I knew it would be difficult to overtake with it being wet offline. I just tried to put the hammer down, and get a really big lead. Unfortunately the VSCs and the safety didn't really help, but it did mean I could look in the mirror, look at the lines the other guys were taking which helped me out a bit. So yeah, overall it wasn't too bad, especially when it started to dry out halfway through.
FIA Formula 2: Coming to you, Alexander, we saw a really confident performance from you today – not so much action, but managing gaps consistently. Have you found your confidence boosted with the confirmation of your full season drive?
Alexander Albon: I wouldn't say that it gave me extra confidence going into the race, at the start my confidence was very low, but we did our homework last night and we made a big improvement – I have to give full credit to DAMS, we were obviously very stressed after race 1 because we lost the race off the start. Today, even though we were starting on a wet track, it was probably my best start of the championship so after that, the conditions were wet and dry. It's a lot easier to stay behind and see the lines, I could choose where I wanted to go. I really like the conditions when they're mixed, it's that kind of driving where you have to use the track and have to be willing to put it on the line. With that, we've managed to get P2, and after that it was just a case of managing the tyres. I didn't want it to be like it was yesterday, where I hit the cliff, so it was a bit of a different strategy and I just kept it calmer than I did in race 1. We did a big setup change, which helped a lot, and then after that I wanted to chase Jack down, but I knew he also had some tyres in the bank so we settled for P2.
FIA Formula 2: Lando, coming to you, we saw that you had some delta issues under the virtual safety car. What actually happened with that?
Lando Norris: I don't know really! I wasn't so far behind Alex, not close, but not too far. But when we went green again we were stopped in a chicane and I was still 2 seconds behind my delta. I was miles back from where I should have been, and then Luca Ghiotto was right behind me at the same time as well, so I don't know what happened but I lost three seconds or something. It was quite annoying, even though there was a lot of VSCs and safety cars there was still a fair bit of tyre deg so I had to try and catch up on the time; I got a bit lucky with the safety car which bunched everything back up. But yeah, I'm not too sure what happened, it didn't seem to work as well as it did yesterday – it was fine on my side then, but today maybe there were a few more problems. I don't think it really cost me a win, at some points I had more pace than Alex in certain areas, but I don't think I was really close enough to overtake. As Jack said, it was damp offline so it made it that little bit more difficult to overtake. It was a bit annoying, but I'm happy with third.
FIA Formula 2: Jack, coming back to you on the subject of the safety car. You had an 11s lead, and then that was wiped out by the safety car – how does that affect you in the cockpit?
Jack: It's not a pleasant sight, obviously, as the other guys said there was still an element of tyre management today which we knew would be quite on the edge, even under a wet start. So when we had the safety car, I wasn't pleased, it was definitely difficult and then you have to judge where you tyres are afterwards, which was tricky because I didn't know how much I had in the bank. We didn't have any problems, which was quite lucky. There's maybe still a bit of work to do on the VSC, but it's nice to have it because if you have the safety car you lose quite a lot, so I'm sure F2 will do what they can on that. We still had the pace to manage the restarts, which was good.
FIA Formula 2: Back to you Alexander, you said you had to make very careful decisions where you go offline. Were you keeping an eye on things to see where everyone else was at?
Alexander: I was looking ahead at Jack and behind at Lando. I could see that Lando was quicker in some corners, but I didn't really know why other than the racing line. Basically, you have an eye looking forward and one eye looking back and driving, not just to look past to see if Lando's going to overtake me, but also what lines they're going to take. It was quite an interesting race in that sense, because there were portions where some of us were losing almost half a second in one corner.
FIA Formula 2: You mentioned tyre deg, Lando, were you always confident that you'd be able to get through to the end?
Lando Norris: There were a few points where I thought…well, I was on a different line in Turn 9 compared to Alex, he was going a little bit wider so I tried to go tighter, but it was still wet, next time I went even tighter, it was dry again. I was having to push a lot more in that corner, but using my tyres a bit more. By about three-quarters of the way in, my front left was graining fairly badly, and I'd picked up a lot of understeer going into Turn 3, before the rears started to go as well. It was difficult, I thought I'd start to struggle in the last few laps, and I definitely did in the last two. I think I was lucky with the safety cars and the VSCs which helped me to cool the tyres. I think I'd used my tyres up too much in the opening/middle part of the race, where I was able to make up more time so it was probably worth it to make up the places I did, but there was a bit of a drop-off. It was difficult, but I gained places.