This page contains archived information and may not display perfectly
F2 - Rowland: "I'm second in the championship, I've closed the gap a little bit to Charles, but we've still got a bit of work to do on qualifying"
F2 - 2017 Race of Hungaroring - Post feature race press conference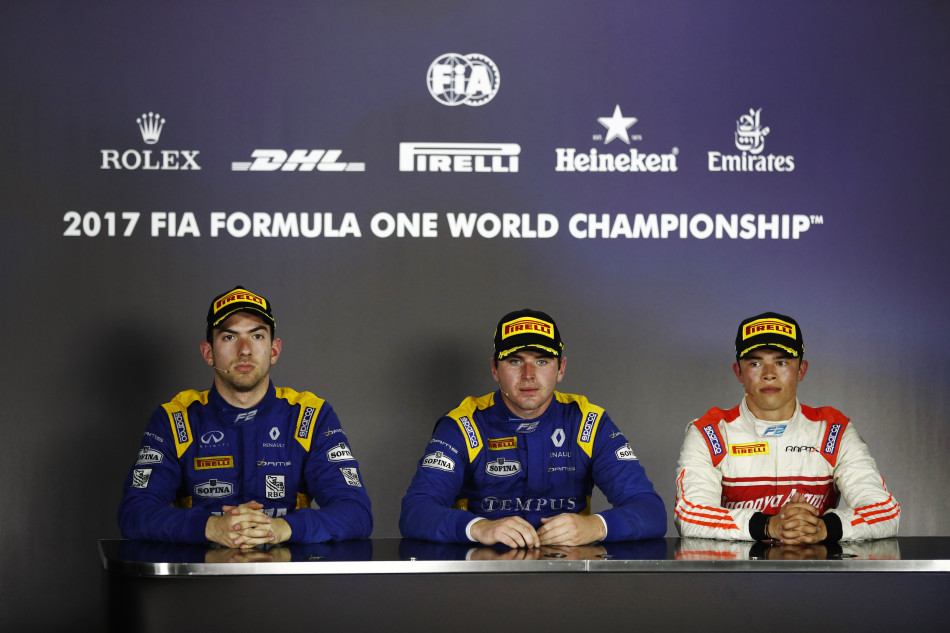 FIA Formula 2: Ladies and gentlemen, welcome to the press conference for today's FIA Formula 2 feature race here in Budapest: joining us are race winner Oliver Rowland from DAMS, in second we have his teammate Nicholas Latifi, and in third is Nyck De Vries from Rapax. Oliver, congratulations on the win, but most people will be talking about the incident with Artem Markelov late in the race: talk us through it from your seat.
Oliver Rowland: He got a pretty good run out of the last corner, and I was struggling a bit with my tyres: he got a good run up the inside, I defended and I'm not sure where he was going to go, I went all the way to the inside and I guess he was expecting me to maybe leave a car [width] but there was nothing there and he went on the grass. I think the rule is if there is any part of the car is alongside you've got to leave a car [width], but he was still behind me when I closed the gap. He had quite a lot of momentum when he committed to it I think, and he went on the grass: he couldn't go left at that moment.
FIA Formula 2: You had good pace after the stop, but couldn't pull away from Artem after the safety car: was that just down to tyres, or something else?
Oliver Rowland: I'm really not sure, and it's something I'll look into tonight because I didn't understand it when I was driving either. Before the safety car I was literally cruising around and saving the tyres, and everything was really comfortable, but afterwards I just lost everything in the rear left tyre, whether I just ran out of rubber or what I don't know. It was just overheating straight after the safety car, and usually it's too cold, so maybe that's an issue too.
FIA Formula 2: Your second win of the year, and you haven't had the easiest of events since Monaco: is this a bit of a relief for you to get another one now?
Oliver: Yeah I think so. We've been on the podium consistently since then, and I had a bit of bad luck in Baku when I broke down when I was leading, but I think the qualifying recently has been extremely positive and we came second here, only Charles was better than me, so I'm quite happy: I'm second in the championship, I've closed the gap a little bit to Charles, but we've still got a bit of work to do on qualifying. As a team and a car the result of the 1-2 shows we've come a long way and done a good job.
FIA Formula 2: Congratulations. Nicholas, you started sixth today: would you have taken this result if it was offered beforehand?
Nicholas Latifi: I'd have taken a podium! For sure I'd have taken it, and it's really difficult to overtake at this track as we've seen in past races, so I didn't think I'd move up so quickly today. We were helped by taking a position off the line, and then the pace was really good on the prime tyre, and I'm obviously very pleased for the team to get the 1-2. There's also a bit of disappointment, because I know I had the pace and, okay, the safety car didn't help Oliver and without it he would have held the lead, and I think I was on for P2 today anyway because I was a lot quicker than Artem before the safety car and I was saving my tyres to attack at the end of the race. Had I not been blocked in qualifying I know I had the pace to have started on the front row with Oli, and then who knows what could have happened, we could have challenged for the win. So obviously I'm disappointed, but Artem is in front of me in the championship and this is a chunk of points we gained on him, so I'm happy with that.
FIA Formula 2: You mentioned you were fast all race long: did you make any changes to the car today, or was that the pace you already had?
Nicholas: For the race we don't really change our approach: we've been quite strong in the last few races, and as a team we've made quite a big step forward from last year on race pace, and the guys are continuing to put the work in to keep us moving up to the front.
FIA Formula 2: Can you talk us through the incident with Markelov and Sergio Sette Camara, where you came together?
Nicholas: Obviously Sergio was on the other strategy, so he was quite slow at that stage and at that corner it's quite difficult to pass: they just braked really, really early and that caught me off guard, because they'd been quite far ahead of me. I braked at my normal point but the speed I caught them was far quicker than it should have been because they braked so early. It happened very quickly and I brushed him: I don't know what happened to him after that and I didn't know if I had any damage, so I actually asked the engineer to check my front wing. But in the end there was no harm, it was just a hairy moment.
FIA Formula 2: Congratulations. Nyck, you started from P7 today, so did you think you could get on the podium today?
Nyck De Vries: No! [laughs] Our race pace has been a bit inconsistent this year, and we've had some difficult weekends after Baku: I threw it away in race 2 there, and we had some unfortunate issues in race 1 at the Red Bull Ring. I felt this weekend we had the pace: in free practice we were quick, although in qualy we didn't really get it together, but I knew we had the potential to put a good result together. But 7th to the podium, I wouldn't have believed that was possible before the race! Our first run on options was really strong, probably one of the strongest, but our run on primes was a little worse. I'm well aware we had a bit of good luck today with Norman not taking the start and then Artem crashing towards the end, but nevertheless I'm extremely happy with this podium before the summer break, and that we are up here again.
FIA Formula 2: You mentioned the inconsistency: does this result suggest that you're heading towards more consistency?
Nyck: I do think we're going in the right direction: at the Red Bull Ring and especially in Silverstone we had a decent package for the race, but unfortunately if you don't start race 1 the whole weekend is pretty much gone so we didn't have a chance to show it, although in Silverstone we did an extremely good race 2. So I'm happy with today's result, and thank you to the team as we're all working together in a difficult situation, and I'm proud to be up here with them today.
FIA Formula 2: Congratulations. Oliver, you're back in P2 and have closed the gap a little to Charles: are you thinking about the championship at all at the moment?
Oliver: I think it's always in the background: you always want to make sure you're still in the fight, and the aim is to try and win it, although it's going to be extremely difficult from here. It's a little bit frustrating to see that he finished 4th from last! I took more points, and obviously if we have a good race tomorrow then as a round we take points from him, and hopefully his diff will slow him down a bit now [laughs] and he won't be as fast in the next few races! But we'll see.