This page contains archived information and may not display perfectly
F2 - Race of Belgium - Post-Qualifying press conference
2020 Round 7 - post-Qualifying press conference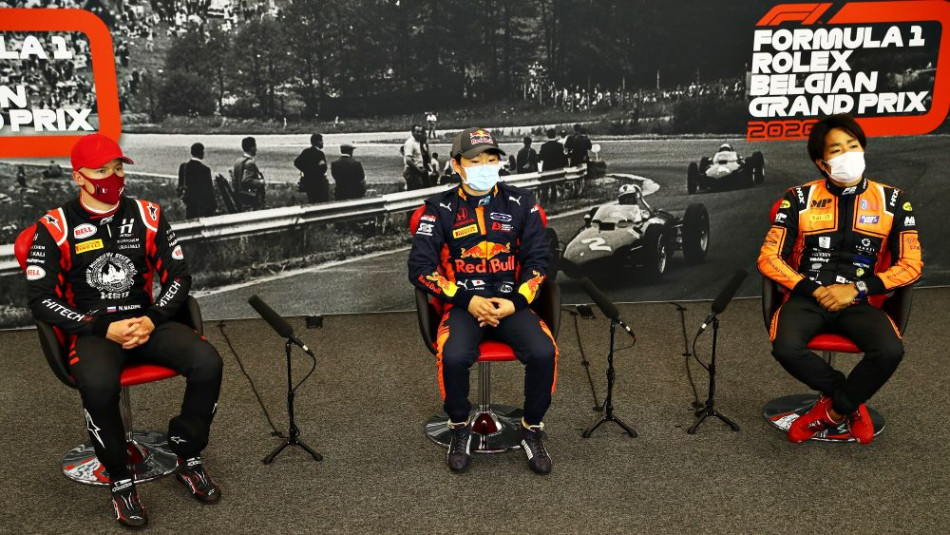 THOUGHTS FROM TSUNODA, MAZEPIN AND MATSUSHITA
FIA Formula 2: Hello and welcome to the press conference with the top three qualifiers for tomorrow's FIA Formula 2 Feature Race here in Belgium. We are joined by pole-sitter Yuki Tsunoda for Carlin, in second is Nikita Mazepin for Hitech Grand Prix, and third is Nobuharu Matsushita for MP Motorsport. Yuki, your second pole position of the season, and at an iconic track like Spa. How good does that feel?
Yuki Tsunoda: Of course, I'm really happy to take pole. It's a really exciting track, more so the corners at high speed. For me, this round is special. A special motivation compared to others. This race is honestly only for Anthoine. I just race for Anthoine and do my best. I need to give a big thanks to Carlin, making a good car, and also to Red Bull and Honda for supporting me. I'm looking forward to tomorrow.
FIA Formula 2: You mentioned there how good the car was. You were quickest throughout that session. Just how comfortable did you feel in the car today?
Yuki: On the first set it was quite a messy session. There were a few red flags and it was hard to put it all together. Also, the track position was a little bit messy. I still tried to stay calm and focused for the second set. I was confident with the car setup and the car balance, and I just put it all together and delivered for them. Finally, I got P1. We're in a good position for tomorrow. I don't know what the conditions are going to be, but I'm looking forward to it.
FIA Formula 2: Thank you and well done today. Nikita, moving on to you. Second place is your best Qualifying position of the season so far, by quite some distance. Just how happy are you with that performance?
Nikita Mazepin: Very happy obviously. P2, like you said, is the best Qualifying position for me so far in Formula 2. I have mainly struggled with the one lap pace so far this year, although our race pace has mostly been strong. For me to make that step forward in Qualifying will hopefully make the job a little bit easier tomorrow, without having to go on the alternative strategy or try something big. Hopefully, that will contribute to a good race tomorrow.
FIA Formula 2: I know we talk about this result as the standout Qualifying performance so far, but your performances have been improving in Qualifying in recent weeks. Is it something you've been focusing on?
Nikita: As a racing driver, you always try and go out and perform to your maximum. After you've done it you have a look and evaluate where you are, compared to your competitors. You judge yourself based on the others. We've mainly been focusing on ticking every, single box out of the weekend. Making a good Free Practice and learning. Making a good Qualifying, and then going on to good races. It's just nice to see things come together. You also have to remember that the team that I'm racing for is a new team, and while I'm learning and getting settled in, they're learning as well. The mechanics are getting used to the car, to the jobs that they're having to do, and we just bond together. I think that's probably why you saw some weekends that could have been better in the beginning. Slowly, an improvement comes, but I would say that I'm happy with the progress. I feel at home in the team, and I'm looking forward to continuing that working path.
FIA Formula 2: Thank you very much and well done today. Nobu, moving on to you. It's a very similar question really. By far your best Qualifying performance as well. I don't think you've been in the top 10 yet this season before today. Where did that performance come from?
Nobuharu Matsushita: Obviously, this is my best result so far. I was really struggling with the new tyre, which was really, how can I say it... Every time we compared it to the data, something was missing. We knew that it was going to be tough in Qualifying for me here, but we keep improving every time. The team is really pushing for me to improve as well, and together with the sim, finally I made it P3 today. It was a really happy moment today.
FIA Formula 2: It looks like that stunning win in Spain has really turned your season around. Was it a big confidence boost for you?
Nobuharu: Ah yes. Obviously yes. We had a really good weekend in Barcelona. Not only me, but for Felipe as well. We have a really good momentum now, and I wanted to try and keep that until the end of the season. We've done that today at least. Normally I'm strong in the race as well, so I think starting from P3 is a really good opportunity to fight for the win tomorrow. It's a very happy day.
FIA Formula 2: Thank you very much. Yuki, just returning to you. If I look at my notes, I think Callum Ilott is starting from 12th tomorrow. Does this look like a big opportunity to make some progress in the championship fight?
Yuki: Yes of course. Honestly, it's a bit surprising that Callum is in P12. Recently, he's been really strong in Qualifying. Maybe it's a time to recover my points from the beginning of the season, because I lost quite a lot. I'll just race, like I said, for Anthoine tomorrow and I'll do my best. Carlin always have quite a strong pace in the race, so I'll just deliver for them. No mistakes. Hopefully, I can get P1 and come back here again tomorrow.