This page contains archived information and may not display perfectly
F2 - Post-Sprint Race Press Conference 
F2 - 2019 Race of Sakhir - Post-Sprint Race Press Conference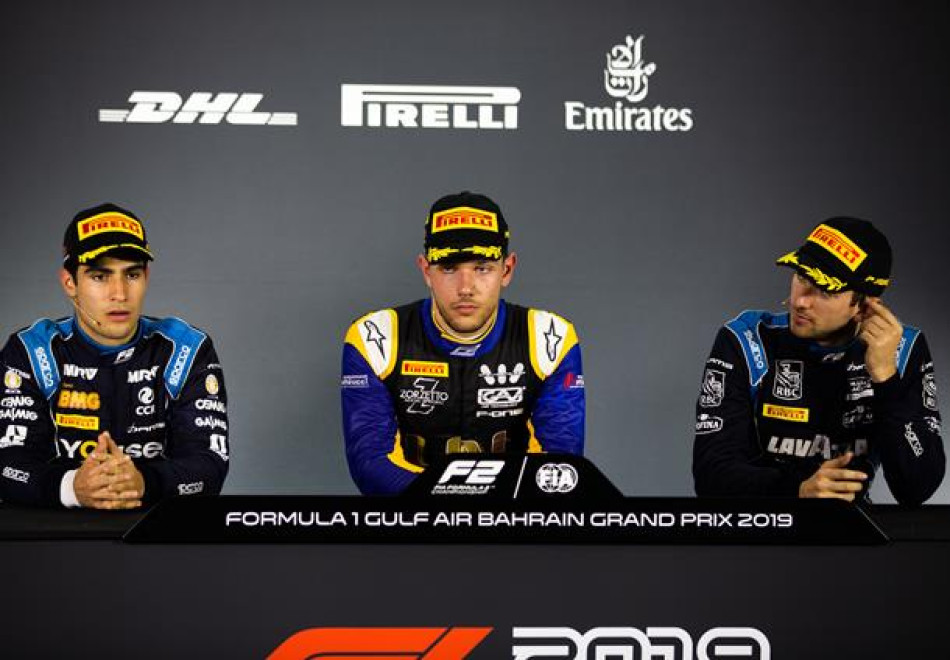 FIA Formula 2: Welcome to today's press conference following the FIA Formula 2 Sprint Race at the Bahrain International Circuit. Joining us is the winner of the race Luca Ghiotto for UNI-Virtuosi Racing. In second place we have Sérgio Sette Câmara for DAMS and in third place, we have Nicholas Latifi also for DAMS. Luca, pole position, P2, P1 for this weekend. Almost a perfect Round for you…
Luca Ghiotto: Had I been P1 in the Feature Race it would have been better, but yeah today was a really good race. We gambled with the pit stop and it worked out very well. We were not sure about it but the team worked really hard with the calculation and checking if it was possible or not. We were not sure before the race. As I had quite a good first lap, I was P4, I said let's try it. We've seen some drivers in the past doing it and worked out. Yesterday the tyre degradation was quite high so we decided to do it and it worked quite well for us so it was the right decision. I don't know what the result would have been if I had stayed out like the others did. I'm happy about the decision: it was the right call.
FIA Formula 2: How important was that first lap to making that choice?
Luca: It was like 50/50. The team wanted to know how I felt with the car straight away. It was quite scary at the beginning to see if it would work well or not. We said if I was P5 or higher after lap 1 we would do it, otherwise I would have stayed out on track.
FIA Formula 2: Congratulations, it was a great call. Sérgio, moving on to you: you also had a great start, quickly moved up to second. Did you feel the win was there for your taking?
Sérgio Sette Câmara: I was definitely there to take…I think I passed De Vries? Or I think it was Mick. I passed him after a few laps and I was first by then. If you are leading the sprint race for the first few laps, you are the favourite to win the race. It's a bit disappointing. I think Luca was quite clever to give the tyre conditions to the team. I was a bit indecisive at that moment. We had only seen this strategy work once and even then Charles [Leclerc] overtook I think it was Rowland on the very last lap…
Luca: It was me [laughs]
Sérgio: Oh it was you actually! He only overtook on the very last lap. I just decided to stay with the normal strategy which is no pit during the sprint race and yeah…we had a good pace. Luca chose the best strategy. For that reason, it is a bit disappointing. Anyway, I am still happy with second place. Obviously I was third yesterday, second today. We scored a lot of points. We showed that we are quick. That's very important for the championship.
FIA Formula 2: We saw you fight on track with your teammate. Talk us through that… There was a radio message from your team.
Sérgio: I'm not sure about that radio message with the team since we speak quite a lot especially with the doubt of the pit stop or not. And also there is always delay on the radio with the broadcast. I think Nicky did the right thing: once Luca pitted he knew potentially the strategy of Luca could not work so he was in a positon to win. I would have done the same. It was similar with Lando in the sprint race last year: he put some pressure. Here if you cannot pass after a few laps your tyres are not as good and you need to give up. Sometimes in turn 1 Nicky came a bit too close for comfort but I knew no one can keep the same pace as you without the fresh air. It was not easy, but after that the biggest worry was Luca…
FIA Formula 2: Nicholas, how about that fight with Sérgio from your perspective?
Nicholas Latifi: Yeah it was pretty standard attacking and defending from both parts. Obviously he's my teammate so the last thing you want is crash. I think I was too far back to go for a launch. It was more about trying to put pressure on him. He defended really well and made no mistake. I had to settle for P3 in the end.
FIA Formula 2: Had you had been able to pass your teammate do you think you could have made it harder for Luca?
Nicholas: There was one lap when I could have passed Sérgio. I think he made a mistake and locked up and I went right back into DRS range. I thought 'that's it'. I honestly thought I had the pace to win the race. For me I was compromising at the beginning: just like Sérgio I was a bit indecisive with the strategy call. When Luca came by me I knew 100% right away the alternative strategy was better. I thought if anybody could get at the front and manage the tyres, making a no stopper, it could probably be me. I pushed a bit more than I wanted to. I think if I had gone past Sérgio at the start – because we battled at Turn 1 – I honestly think we could have won the race. The clean air would have made a big difference. But it's racing: so many things happen…
FIA Formula 2: Well done for this weekend. Luca, coming back to you: it's the same top 3 as yesterday. Are these two drivers your main title rivals? Are your thoughts on the championship?
Luca: Well, this weekend I think our cars have been clearly faster on the race pace. Also my teammate has had quite good weekend apart from a tough qualifying for him. Our cars all finished on points in both races. I still believe the others are going to recover: we've seen some teams that did really good results in 2018 who were struggling a bit this weekend. I don't think they are completely out of set-up window. I think they will come back strongly at Baku.