This page contains archived information and may not display perfectly
F2 - Post-Sprint Race Press Conference
F2 - 2018 Race of Belgium - Post-Sprint Race Press conference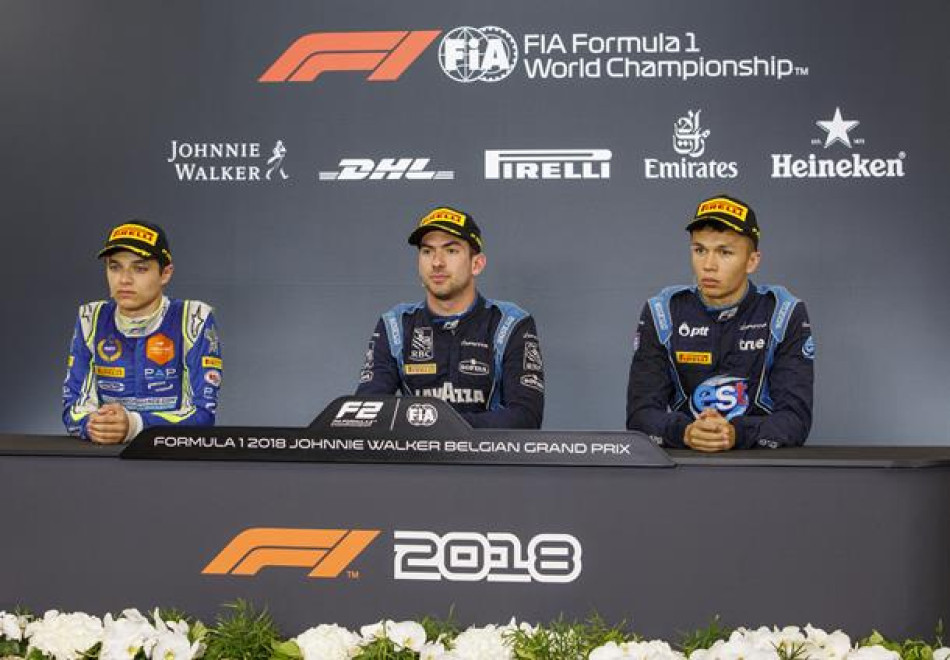 Latifi, Norris and Albon discuss Sunday's Spa Sprint
FIA Formula 2: Welcome to the FIA Formula 2 Press Conference following the Sprint Race here in Spa-Francorchamps. Joining me are race winner Nicholas Latifi for DAMS, in second Lando Norris for Carlin, and in third, Alexander Albon also for DAMS. Nicholas, starting with you – it's your first race win of 2018 and your second podium this year – congratulations. You had great pace this morning, how was it for you?
Nicholas Latifi: These races are never easy with the Pirelli tyres, as much as it looked quite straight forward. The biggest challenge was the first laps as we know the DRS is quite powerful here. Once I'd managed to pull a bit of a gap, it was all about managing the tyres. The last five or six laps were pretty straightforward, it was just about cruising in case there was a safety car so I was looking after the tyres. But yeah, I'm really happy to get the win, especially after a lot of struggles this season. It's the complete opposite of how it was last season, so to be back on the podium and on the top step feels pretty nice. I also just want to give a special mention for Robert Wickens, my fellow Canadian – it's not something you want to see happen to a fellow driver, so best wishes to him and his family, and I'm hoping for a speedy recovery for him.
FIA Formula 2: We saw you briefly lose the lead on the start, but you reclaimed it very quickly and it was a perfect performance from then on – is there anything else you could have done behind the wheel?
Nicholas: Probably just getting a better start really, it would have made my turn 1 a lot easier. Thankfully I managed to stay beside so he couldn't close the door fully, and I got quite close! Yeah, I probably could have won the race by more of a margin if I'd pushed a bit more, but it's just about the risk management so it wasn't really necessary – it's so easy to make a mistake if you have kind of lead and everything to lose. I'm pretty happy with the race and the pace, and happy with the double podium.
FIA Formula 2: Lando, coming to you. It was a great race for you and an excellent result in the championship, do you think this'll prove to be a decisive weekend in your championship aspirations, or is the best yet to come?
Lando Norris: It's difficult to say, I think there's been a lot of pivotal points in the championship, which has gone massively in one way or massively in the other. I think luckily in Budapest it came back my way, so it's good to be back on the podium I guess. In the championship yesterday I lost a tiny bit to George, but today I managed to get a decent amount of points back and yeah, it was a tough race but it was enjoyable. It's good to be back in second.
FIA Formula 2: We saw tyre deg was a factor in today's race, and early on you had a bit of a lock-up. We also saw you manage to preserve your tyres enough to challenge Nyck. How was your tyre management?
Lando: It was difficult, and off the start I got a pretty decent start – the initial phase was good, but the second phase wasn't so good, but as soon as I saw Nyck ahead I knew he was the only guy I had to be ahead of in terms of pace to beat him. I did what I could in the first few laps to try and stay with him, but I was battling with Artem quite a bit. The main thing was that yesterday, we struggled quite a bit of tyre deg, so we made some setup changes which went in a pretty positive direction. It's good for us to know, and yeah, it's difficult, I had a bit of front deg, a bit of rear deg, so I had to manage one thing. I didn't think I'd manage to catch Nyck towards the end because I thought he'd be saving quite a bit, because he had a decent gap over me, so slowly I was told I was catching him more and more. The last few laps, I was getting worried because my pace was getting worse and I was starting to hit a rough pace with the tyres. I'd heard Alex had overtaken Artem as well, which was bad news because he was very quick at the end of the race yesterday, so I knew it would be the same today. But Nyck kinda seemed to let me past, and I think he was thinking about his race and not battle and lose time. But I seemed to do everything right in the last lap, I think it was one of the slowest laps I've done all weekend, and I held off Alex at the same time. It was enjoyable, but difficult to manage at the same time.
FIA Formula 2: Coming to you Alex, you're another driver who's had another bit of a boost in the championship today. What was your key move, because you were quite busy passing people?
Alexander Albon: It was probably at the end, because in the beginning I was losing places! It was kind of a strange race, at the beginning I didn't have the pace at all and I was kind of stuck in my own spot. Lando was pushing on quite a bit ahead of me, so what saved me was George not having particularly great pace as well, so I had a bit of a safety buffer. During the race, the gaps were staying the same, and thought it would be one of those races where everyone's managing tyres and we'll just stay in the same order. But then Artem made a mistake in the second sector, and it enabled me to get quite close to him. I got past him, and around that stage it was when Lando started to hit the cliff, and I had a bit more in reserve. It was an enjoyable bit of the race when you know you've got better tyres than those around you. It was good fun, I enjoyed it and I would have liked to get past Lando but he defended well. P3 isn't too bad, but it's not ideal.
FIA Formula 2: Towards the end it got quite close between you and Lando. Did you think you'd be able to overhaul him at any point, or were you hanging on for P3?
Alexander: Oh no, I was going for second! Once I'd got past Nyck, I thought I could get Lando straight away. But I made a couple of wrong decisions on where to place the car on the last lap, and it stopped me really. I struggling on the brakes in the final corner as well, and if I wanted to get him there it would have been a bit…chaotic. So I'd settled for third at that point.
FIA Formula 2: Coming back to you, Nicholas – we've got a different but equally iconic circuit coming up. What are your expectations for Monza – can we expect a repeat?
Nicholas: That's obviously the goal, to be more of the same. Monza has been a bit of a tricky track for us in the past two years, so obviously we have to analyse what went wrong and make sure it doesn't happen again. The goal is to keep the momentum, and Monza's always a mixture – it's an exciting race given the nature of the track with the long straights, and nothing's ever a given whether you have the pace or not, it can be quite chaotic. Obviously I'm very exciting, and we'll look to end that weekend on a high.