F2 - Post-Sprint Race press conference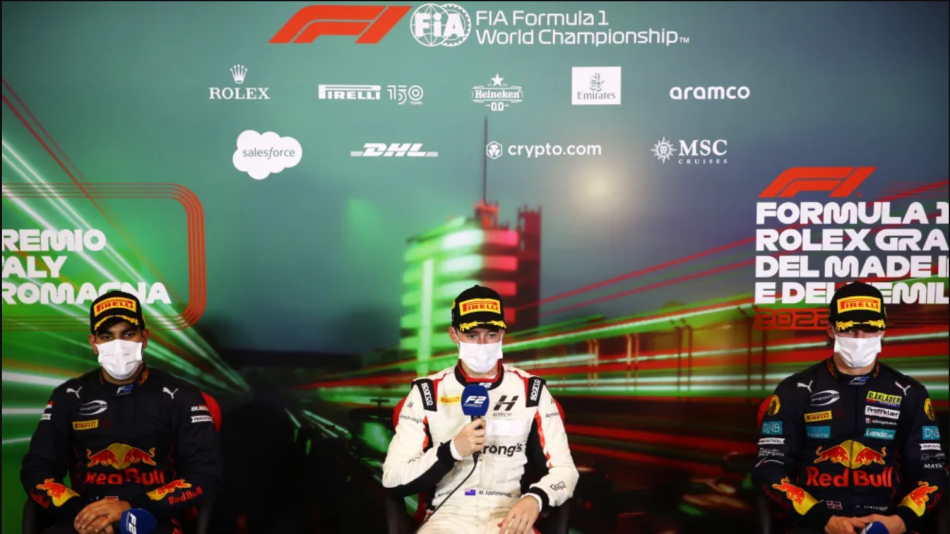 FIA Formula 2: Many congratulations to the top three finishers of the FIA Formula 2 Sprint Race here at Imola. In third place, Dennis Hauger for PREMA Racing, in second place, Jahandar Daruvala, also for PREMA and taking his second win in FIA Formula 2, our winner Marcus Armstrong, for Hitech Grand Prix. Marcus, many congratulations, that was a perfectly judged race. Just how tough was it to withstand all that pressure from Jehan?
Marcus Armstrong: Well firstly the start was not as clean as I would have liked. I don't know why Logan started on a completely new tyre for the race because normally we warm them up before the start and as soon as I saw him starting on a brand new tyre I thought I'd be in the lead before the first corner. I didn't do a very good start, but luckily still kept the lead and then the rest of the race. Jehan was super fast and I expected him to be fast at the end. I feel as though I know more or less what he wants to do. We've talked about this a lot because we're quite good mates and I knew that he'd try and back off, save his tyres a bit and then attack at the end and apply some pressure. So I always kept a bit of margin with my rear tyres, just to make sure that I could defend him if he came strong at the end. So yeah, I'm happy to finally get a win this season.
FIA Formula 2: How much of a hindrance was the lack of a radio?
Armstrong: Ah, you'll laugh, but I quite enjoyed it. It was very peaceful. It was sort of alone with my thoughts, so to speak. But then again, it's always nice to know the gap behind and what's happening generally. Luckily, there's a lot of TVs around the track, so I sort of kep an eye on all the TVs when I'm driving. Also, I could see that he was never really that close on the TV, so I didn't stress too much. On the VSC restart that was quite stressful, I must say, because you sort of need your engineer to tell you "the Virtual Safety Car is ending, be ready to go" and in this case, I had no clue and so I was always sitting in second gear ready to go. Even if you know the Virtual Safety Car was still going so. Yeah, that was stressful and luckily it went green when there was a TV above. So yeah, quite lucky.
FIA Formula 2: That was a nervous moment, and for people who aren't aware, tell us about your connection with Italy. Does it feel especially good to win here?
Armstrong: Yeah, so Imola is about 45 minutes away from Marinello and I lived there for five years, so this place is very familiar to me. It's cool to be back here and a lot of the fans for whatever reason, are here supporting me this weekend. I think because I was in the FDA for so many years, it feels really cool to have so much support. And also my dad and my sister are here now. This is the first race that my sister has seen so yeah, boom, a win.
FIA Formula 2: Well done to you. Jehan, let's come to you now. You were very quick in this race and applied a lot of pressure on Marcus, but how close did you get to pulling a pass on him?
Jehan Daruvala: To be honest, I was always just close enough but never quite there. I was waiting for him to make a mistake. Which he didn't the whole race. I was applying as much pressure as I could, especially a few laps after the Safety Car I was pushing a lot, trying to stay in DRS and trying to force an error because it was quite hard to follow him, especially in the last two corners. I used a lot of my rear tires early on in the race. Kind of took a breather and tried to come back at the end. But yeah, like one or two laps before the end, I lost my tires again, so it was difficult. I think we had a lot of pace, but we just couldn't use it because it was hard to follow him in the middle sector.
FIA Formula 2: Jehan it has been a very consistent start to the year for you. How much are you thinking about the Championship at this stage in this season?
Daruvala: To be honest, it's a really, really long championship. I'm not really thinking about it too much. All through the race I wanted to win the whole time, I wasn't thinking about finishing second and scoring good points. Obviously, it's good, but you know when I was in the car I was pushing as hard as I could to try and overtake Marcus.
FIA Formula 2: Many congratulations to you and Dennis coming to you now. Your first podium in FIA Formula 2. How much confidence does this result give?
Dennis Hauger: Yeah, definitely a good start to the weekend. Honestly, after the test, I've been feeling more at home with the F2 car and everything. So, I was happy that I could make that step on the dry today and the pace was looking really good, especially at the beginning of the race. But I think I was a bit too keen and started dropping slightly in the middle of the race, and I came a bit back at the end. Overall, what made the race for me was a pretty good start. I got up the third straight away. Overall, I have to be happy with it, and it's a good starting point for tomorrow, starting P5 and knowing everything works. I just have to have a bit more knowledge about everything, but it felt pretty good overall.
FIA Formula 2: There's so much for you to get used to at the minute being your first season in Formula 2. How difficult is it to nail the start in the way that you did?
Hauger: Honestly, I've been feeling pretty good with starts the whole season. It's quite different compared to F3, but I felt like I've nailed it most of the time this season. So hopefully, we can keep it that way.
FIA Formula 2: We saw some bodywork coming loose late in the race. Did that affect performance?
Hauger: No, not to be honest, not too much. It was a bit weird because especially when I came up to high speeds the side pod was sort of bending a bit and made the balance a bit weird on brakes but other than that it didn't really affect too much. Obviously, I tried to drive a bit too much to the right side to not let it wind up so much, but other than that no. I just tried to focus on the driving and keep clean through the race.
FIA Formula 2: Well, well done to you.