This page contains archived information and may not display perfectly
F2 - Post-Sprint Race Press Conference 
F2 - Race of Monza - Post-Sprint Race Press Conference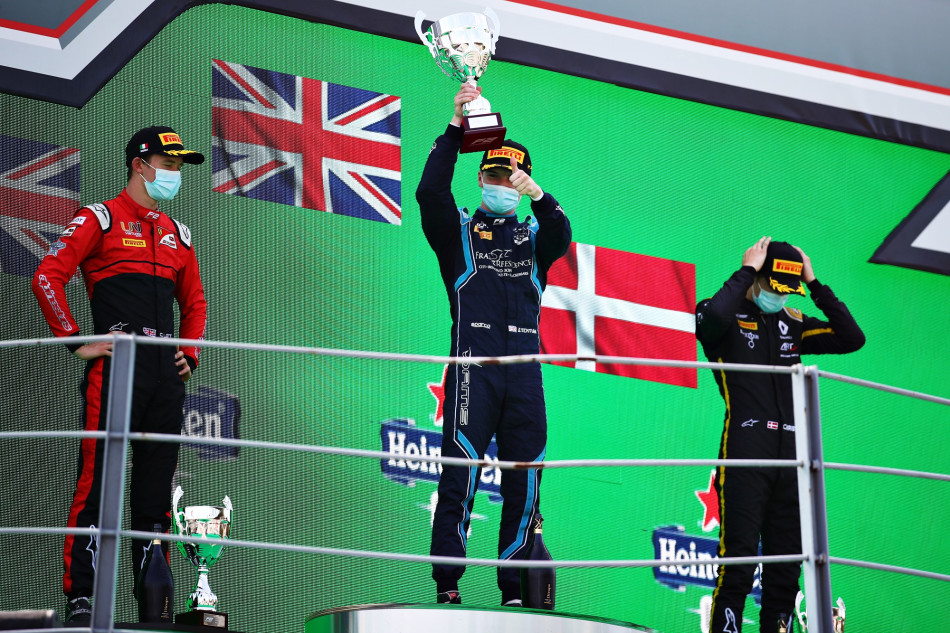 THOUGHTS FROM TICKTUM, ILOTT AND LUNDGAARD
FIA Formula 2: Hello and welcome to the press conference with the top three finishers in today's FIA Formula 2 Sprint Race here at Monza. We are joined by race winner Dan Ticktum for DAMS, in second place is Callum Ilott for UNI-Virtuosi, and third is Christian Lundgaard for ART Grand Prix. Dan, your second win of the season, and your second Sprint Race victory. You controlled that one from the front with relative ease it looked like. Was it all based on the start?
Dan Ticktum: Yeah, largely. The first five laps were very tense, because as soon as you break the DRS the chances of you winning go up quite a lot. I was pretty flat out in the first five laps to be honest. I was a bit worried that I was going to get deg at the end of the race because of that, but it's never a dull moment. After Lap 7 or 8, and I heard in that in the Sectors I was starting to edge away a little bit, then I was able to relax a little bit more. You know, keep an eye on my temperatures and just control the race basically. I don't know what the problem was as I crossed the line, obviously I stopped. We'll have to have a look at that after, I don't know. I have my ideas, but I'm not going to say anything at the moment. It sort of ruined the moment a little bit, I'm not going to lie. It is what it is. I crossed the line first, so whatever happens, in my mind I won. There we go.
FIA Formula 2: I was going to say, climbing out of the medical car in the P1 slot in parc fermé... Is that a new one for you?
Dan: I thought that was quite good when he parked in the P1 spot. I liked that. It was quite funny. I enjoyed the lap in that. It sounds good! All I can say really is that we have had a tough season so far, but I finally believe that after a lot of consistent work, we're beginning to get our head around everything a little bit more from track to track. We're consistently going forward really, so I have to thank the team a lot for that, because they've worked their, you know, behinds off, and I've tried to help them as best I can of course. Like I said, I feel like we're more or less in the window now, it's a bit late in the season unfortunately, I think going for the Championship win is out of the window, but I can still get some strong results in the last few rounds and maybe hit the ground running next season if I am still here.
FIA Formula 2: Well done today, thanks very much. Callum, moving on to you. Back into the Championship lead with that result - a solid second place. Do you think you had the pace to challenge Dan for the win if you could have cleared Louis (Delétraz) a bit earlier? Or was that lacking a bit today?
Callum Ilott: I tried to manage the pace quite early on to Louis, but then Dan and Louis pushed quite hard at the beginning. Then Mick was putting me under quite a bit of pressure, so I used a bit
more of the tyres than I really wanted to after that stage. Probably, if I'd have been in a little bit of a different situation, I maybe would have caught Dan a little bit, but he had good pace. I'm sure he was managing as well, so not easy. We held off at the end, and in the middle I did have good pace. Especially over Louis at that time. I was waiting for the right moment, for him to make a little mistake, and then I went past. A good race from my side. Almost a solid weekend, without yesterday, but these things happen. It's good to be back into the lead, and we'll see what we can do.
FIA Formula 2: That leads me on to the second question. You looked in relative control of yesterday's race before that pit stop issue. From that point on, are you happy with the points return you've managed to pick up?
Callum: Yeah, I mean I came out P21. I was the last car on the track. I was very annoyed, to say the least. I get frustrated, and I get annoyed, but I don't say anything and I just go. I put on some good moves, killed my tyres, had quite a bit of fun, and just enjoyed the moment I guess! We had really strong pace yesterday. It was another missed opportunity this year, but I don't know what to say really, other than that. It was a great race, and it's a shame. It's always spectacular, but it never really goes completely my way in the end.
FIA Formula 2: Well done today, back on the podium. Christian, same for you. Back-to-back podiums. Did you think second place might be on the cards after that VSC?
Christian Lundgaard: Yes and no. I was hoping, but I don't think we really had the pace to really go for it. Louis (Delétraz) had a really good VSC restart, and I was a bit worried to drop behind him at that point. I managed to stay ahead, and then was trying to attack Callum, but I didn't seem to quite have the pace. In the end, you want to finish P1 or P2 definitely, but considering our previous races, I'm happy to have back-to-back podiums. We've scored more points this weekend than we have in the last three or four weekends, so I'm fairly satisfied with this weekend.
FIA Formula 2: You said you'd made some improvements with the car. Do these two results reinforce that, or do you think it's a bit circuit specific?
Christian: I still think we have something to find, definitely. I think everyone does. Everyone wants to find more. But considering where we've been at the last two race weekends, we did find something which obviously worked. There's more to find and we won't stop working. We've got another race again next week, and then we've got the last three race weekends after that. The fight is still on. We've caught up to the leaders in the Championship, with a bit of luck as well, but you need that sometimes. I think this was our weekend.
FIA Formula 2: Well done today. Dan, returning to you. You mentioned it before about the Championship picture, but there's still four rounds remaining. What's the target going to be over those eight races?
Dan: It's never over. There are massive points in the Feature Race if you win. Two or three weekends of scoring 25 points, and it changes everything quite a lot. Obviously, referring back to what I said earlier, I'm not giving up on the Championship, but it's very unlikely that I can be in one of the top places with the gap that I've got at the moment. I'm more looking towards next year. Nothing's confirmed, so I don't know, but if we hit the ground running with the rough pace that we have now at the start of next year, then I'm going to be one of the contenders through the year I think. It's just a shame that we took a little bit of a while to get used to it. It's a bit in me as well. It's definitely not all the team. There's definitely lessons I've learned, and I've improved. It's the whole package. But there we are. They'd been good in Bahrain in recent years, so it's nice to have two races there. I don't know what will happen on the oval, but I'm quite looking forward to that to be honest.