This page contains archived information and may not display perfectly
F2 - Post-Sprint Race Press Conference 
F2 - Race of Barcelona - Post-Sprint Race Press Conference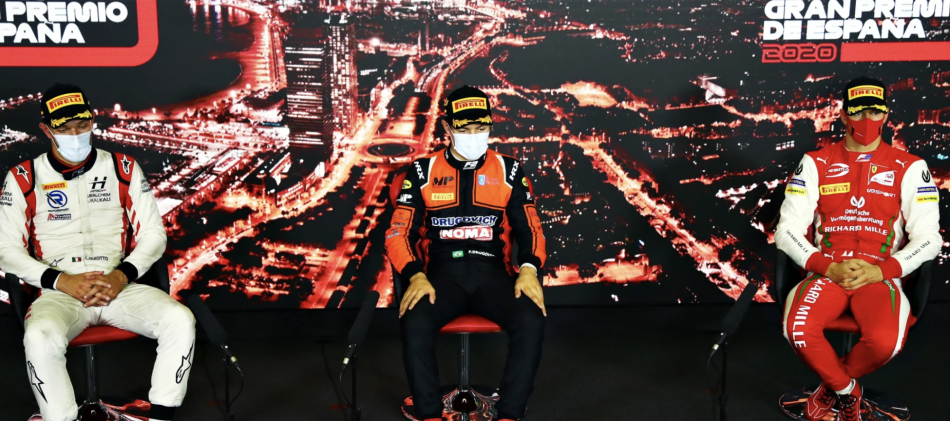 FIA Formula 2: Hello and welcome to the press conference with the top three finishers in today's FIA Formula 2 Sprint Race here in Spain. We are joined by race winner Felipe Drugovich for MP Motorsport, in second place is Luca Ghiotto for Hitech Grand Prix, and third is Mick Schumacher for PREMA Racing. Felipe, your second win of the season and you made it look so easy. Was it like that in the car today?
Felipe Drugovich: Of course not. You're always trying to build the gap and manage the tyres, which is really difficult, especially at this track. The car was awesome, so that did make it easier for me, and I was controlling everything, not using the tyres that much. Of course, here the front left is the main problem and I was taking care of that. The result shows how far we've come with the team so I'm really happy.
FIA Formula 2: You broke away very quickly, and already had a nice gap at the end of the first lap. You continued to extend that lead. Was there ever a point that you were concerned you might have been going a bit too quickly.
Felipe: Yes, there was actually. You can feel if you're going over the limit of the tyre or not, and I didn't think I was. I just kept doing my job. Of course, in the end, I didn't have as much in them as I had at the beginning, same as everyone else, but the gap I pulled at the beginning was really important to just keep me calm and treat the tyres like I wanted to.
FIA Formula 2: Congratulations, well done today. Luca, moving on to you. Your race looked a little bit more stressful than Felipe's. Can you just talk us through the start, and also that fight with Callum you had in the middle of the race?
Luca Ghiotto: The start was not great, which was unluckily because from both Silverstone and yesterday we always had good starts. Today, that I had to have one - it happened. But I don't really think that was the key to my race. If you have the pace you can always overtake, and I think even if I had still be P1 after the first lap Felipe was always going to pass and pull away with the pace he had today. It was a bit of a stressful race, especially from Lap 7 or 8 to 15, where Callum (Ilott) was really close to me. He tried to pass me twice. My front left at that point was completely destroyed, which is honestly something that I did not expect considering that, as you said before, Felipe was pushing quite hard at the beginning and I was not. That was on purpose to try and manage the front left and have it in better shape at the end, but it was actually worse for me. We need to study that and try to understand what happened, because that's not what I planned for. Luckily, at least for me, after the second fight with Callum the front left cleaned up a bit and I could keep up the pace a bit more, especially to the cars behind. That was enough to finish P2.
FIA Formula 2: There's been times this weekend where it looked like you've been struggling. You started 20th in the Feature Race. Then there's other times, like you say, towards the end of that race where you've looked strong. Why is that?
Luca: It's something that I cannot tell you. We had quite a big issue in Qualifying where basically something broke out of the pits, so I drove with a broken car which is why we were P20. Then the race yesterday was okay I would say. Today we were struggling again. Okay, I finished P2, but if you take Felipe as a reference we were struggling. We were all struggling because the cars behind me were in a worse shape than I was probably. It's not where I want to be. I want to be the fastest car on track, as every driver does. It's something that we need to work on. I need to work as well as I'm still struggling to understand the new tyres. Hopefully, Spa will be a better weekend for us.
FIA Formula 2: Thank you very much. Mick, luck wasn't really on your side yesterday with the timing of the safety car and the strategy you were going for. Are you satisfied to finish the weekend with a P3?
Mick Schumacher: Yeah, obviously. It's good points. Good job to the team who have managed to give me a car with which I was able to be quite close and still manage to save my tyres until the end. I think that the pace in the very last lap showed that we still had some tyre life left. I was a bit afraid of going over the edge, similar to Callum, and then drop off way out of the points. Definitely, I think after yesterday's race, where even the pace there at first didn't seem too good but in general, if you look at it, it's really not too bad. I think that we would have managed to get a few positions out of it, but nevertheless, I'm happy to be here now and looking forward to Spa.
FIA Formula 2: You've managed to outscore Callum over this weekend. Do you feel like there's still a championship challenge you can mount this season?
Mick: My focus is definitely on my driving on race weekends, how I approach them and how I use what I have. Championship is a word which is very difficult to take into context at the moment, because we about halfway through the season right now. I'm looking forward to the second part. There are a few racetracks that I really like, such as Spa which is my favourite track. All eyes are on that now. Try and get the best preparation that I can and rock up there with good knowledge.
FIA Formula 2: Thank you. Felipe, just returning to you. Similar to Mick slightly. I know you were expecting more from yesterday's race, but it's a double win for MP Motorsport this weekend. Do you feel you're in a position where you can regularly fight for Feature Race wins now?
Felipe: We never know. I think we made a step forward as a team this weekend, but I think it's quite track dependant, so we'll have to see at other tracks how it's going to be and how it's going to work. The aim is to fight for Feature Races. We have to aim for that and try to win, try to be in front. I don't think we can predict anything else for the next races. As you can see, yesterday we were really fast during the whole race and today we've shown the pace. I'm confident for the next races, but I cannot predict anything.