This page contains archived information and may not display perfectly
F2 - Post-Sprint Race Press Conference 
F2 - 2019 Race of Silverstone - Post-Sprint Race Press Conference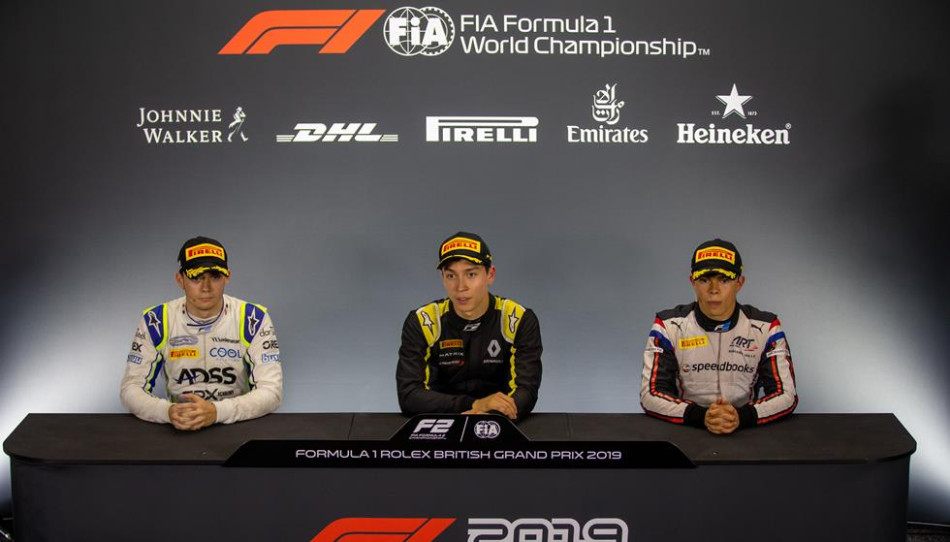 Thoughts from Aitken, Delétraz and De Vries
FIA Formula 2: Hello and welcome to the press conference with the top three finishers in today's FIA Formula 2 Sprint Race here at Silverstone. We are joined by race winner Jack Aitken for Campos Racing, in second place is Louis Delétraz for Carlin and in third place is Nyck de Vries for ART Grand Prix. Jack, a win at home. Nothing must come close to that feeling this weekend for you?
Jack Aitken: No. It's what I've been hoping for, for the last two weeks pretty much. We struggled a bit in quali so that wasn't the best start to our weekend but we had a good Feature Race and thought the pace was alright. We just managed to get it done today. We had a decent start and was able to make the moves. I was just thinking that I might not get many chances when I was behind Louis especially, so I just had to go for it.
FIA Formula 2: Speaking of those moves, you had some great battles with both drivers on either side of you. Can you just talk us through the fight with Nyck first, and that overtake, and then racing move on Louis?
Jack: [To Nyck] I don't remember our move --
Nyck de Vries: -- Yeah I don't even remember what it was! [Laughs]
FIA Formula 2: Around the outside of Brooklands I believe?
Jack: Yes! --
Nyck: -- Oh yes!
Jack: I had a go up the inside into Turn 4... [To Nyck] Did I? [Laughs]
Nyck: [Laughs] Yeah and then I crossed underneath and we stayed next to each other for a bit!
Jack: I had a go into Turn 4 because I was close to Nyck and got a run, but I went in a bit too deep and he cut back. I just tried to hold it around the outside of Turn 5. I managed to stay there and I knew that I had the DRS so if he just gave me a car's width on the exit, which was all I needed, then it was just making sure I got nice and late on the brakes and got the move done. That was quite nice because obviously Callum [Ilott] was quite close as well. It was getting a bit busy at that time of the race so to get a bit of a gap was nice. Then on Louis, like I said I wasn't sure how much he had left in the tank. I was pushing quite hard at that point. I thought I couldn't spend a lot of time behind him because these high-speed corners just destroy the tyres if you're behind another car. I got the DRS into the Brooklands and he left half a gap or so [laughs], and I just took it. It was good racing and he gave me just enough space which was pretty awesome.
FIA Formula 2: Well done today. Louis moving on to you. Your second podium of this season. You led for so long but was Jack just a bit too quick today?
Louis Delétraz: It was a great race. I had a good start and created a nice gap which I was able to hold for pretty much half the race I think. When I was leading I wasn't really pushing in order to try and save the tyres, but I think Jack found some sort of second life in his or some more pace suddenly and got me back. As he said, there was not much space inside but he found the gap. I really didn't expect him to go there. Honestly he was so quick in the last three laps that was no way I was able to hold on towards the end.
FIA Formula 2: We saw a few spots of rain on the on-board cameras and it was pretty cold out there. How tricky were conditions, especially as the race leader and the first one to come across them?
Louis: I didn't really notice any raindrops to be fair. I was quite focused on driving and nothing really disturbed me. When I was ahead I wanted to keep Jack away from my DRS and keep a nice gap, but at the same time I didn't want to destroy my tyres because I was a bit worried about them. I just tried manage the gap but he was too quick. I think I was quite safe in P2 but I'll go for it next time.
FIA Formula 2: Well done today thank you. Nyck moving on to you. P3 today after another really strong start but then you had to get your elbows out and be a bit defensive. Are you satisfied with a podium today?
Nyck de Vries: I think all in all it's been a very tough weekend for us. Both races were very intense towards the end. Early in the race I was just counting down almost and still trying to hold on and keep up the pace. It was a difficult weekend for us but I think we should be satisfied with the podium today because we maximised our points from a difficult situation. We did a bit of damage limitation. It just proves that it's very difficult and very competitive. You have to keep on pushing all the time to stay at the front.
FIA Formula 2: You mentioned it was pretty difficult but you had some good battles during that race as well. How much was the championship picture on your mind when you were going wheel-to-wheel with other drivers?
Nyck: Not at all. The approach is the same for every race weekend. We're here to win. Unfortunately this weekend we were not competitive enough to do that so in that case you need to try and bring home as many points as possible. We do that through fighting. Today was a very intense race for me, not only fighting, but also managing the balance with everything I have in my hands to influence it. It was very intense but I think we should be satisfied with P3 today.
FIA Formula 2: Thank you. Jack just returning to you. You must have worked really hard after yesterday's race to prepare for today and get this win. How are you going to celebrate after this one, a home victory?
Jack: No comment [laughs]. There's no flight to go home so I can't have a beer at the airport, that's the usual one isn't it? We've got some stuff planned in the fan zone later so it will be nice to spend a bit of time as a fan hopefully. We'll see.