This page contains archived information and may not display perfectly
F2 - Post-Sprint Race Press Conference 
F2 - 2019 Race of France - Post-Sprint Race Press Conference Transcript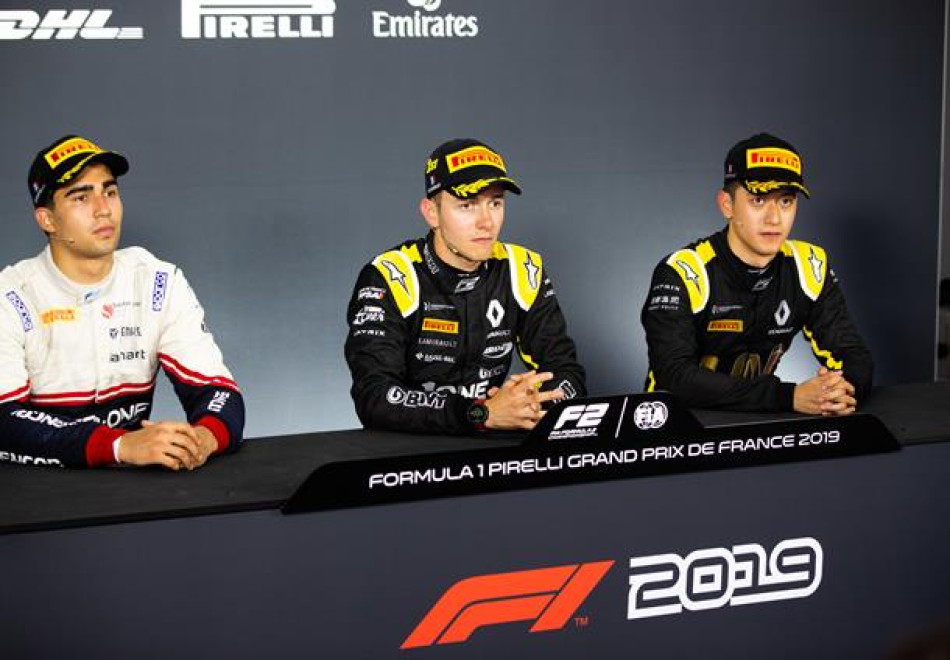 Thoughts from Hubert, Correa and Zhou
FIA Formula 2: Hello and welcome to the press conference with the top three finishers in today's FIA Formula 2 Sprint Race here in France. We are joined by race winner Anthoine Hubert for BWT Arden, in second place is Juan Manuel Correa for Sauber Junior Team by Charouz and in third place is Guanyu Zhou for UNI- Virtuosi Racing. Anthoine you've stood on the top step of the podium before in Formula 2 this season, but a win at your home race must feel really special.
Anthoine Hubert: Yeah that's true. Monaco was maybe half of a home race but this is 100% a home race so I'm really, really happy. I'm really proud. It was such a nice feeling to hear La Marseillaise on the top step and see all of the French flags around the track. I saw them yesterday so I was really motivated to get that win today. The weekend didn't start very well but today the car was really good. We managed well and I had a good start. The race just seemed a bit long [laughs]. I just wanted it to end! I'm really, really happy with this win.
FIA Formula 2: You mentioned it was a long race. You looked comfortable in the lead. What was the hardest aspect for you to deal with today?
Anthoine: To stay focused, because the car was good and the tyre wear was good. I was just trying to keep the gap which was a bit more than two second to Juan Manuel. I had to respond to him when he was putting in a bit more effort and trying to catch me, but it was quite comfortable so as soon as I was told that he was catching me a bit I just pushed a bit more. That was good. In the laps few laps I was just trying to make sure I did not make any mistakes. I tried to push a bit more to see if I could maybe get the fastest lap but in the end I thought it was better just to make sure I won the race and leave those two points.
FIA Formula 2: Congratulations. JM moving on to you. Your second podium of the season and it matches your result from Baku with seventh and then second. Talk us through the race from your perspective. You mentioned the start, did that catch you out a little bit?
Juan Manuel Correa: Yeah definitely. The start is where we lost the race in my opinion. We need to see what happened exactly, I'm not sure. I nearly stalled so just to actually get off the line was really good. I had to fight quite a bit to come back. That was not ideal for the tyres. Obviously Anthoine had clean air the whole race so when I was behind him I pushed quite hard to see if I could catch him, but like he said, he would just respond. After about seven laps I realised there was probably not going to be any chance to catch him so I kind of saved the tyres a bit. I tried to go for the fastest lap on the last lap but there was a yellow flag unfortunately so I had to abort it. Overall it was pretty positive, the car was very, very good. We struggled a bit in qualifying this weekend so to come away with good points and a podium is a very positive weekend.
FIA Formula 2: You mentioned how much you had to push at certain times during that race, just how much risk were you taking in the early laps, especially when you had to get past Jack and get back to up to second place?
Juan Manuel: The moves were definitely not easy because everyone was covering quite hard. I was surprised about how, I think it was Nicholas Latifi at first and then Jack, were quite aggressive quite early in the race. I saw the gap and I went for it, I didn't hesitate and I got the move done. In the end it was a clean move so there was no risk.
FIA Formula 2: Well done today. Guanyu moving on to you. You were in the top three in Qualifying, two top four finishes and now back on the podium. Is this a successful weekend from your point of view?
Guanyu Zhou: Yeah definitely. Yesterday we definitely struggled a bit with the car pace, especially when we changed to the second compound. During the night we had a pretty good look and it seems to have been fixed today so I'm pretty happy. The start was one of the weak points this weekend for me. I worked my way up every lap. In the beginning I was behind Nicholas and I was scrapping my tyres by staying really close to him. The first sector was always one of my strong points so when I saw a gap I just went for it. I got a nice move done and after that Juan and Jack were fighting. They seemed to be pushing each other quite hard so I saw a gap and made my way through quite cleanly as well. After that it was about controlling my pace. I saw the guys in front were pushing quite hard and I was basically just following their pace to keep that two second gap while at the same time looking after my tyres. I'm extremely happy to be back here.
FIA Formula 2: I just want to pick up on those overtakes you mentioned on both Nicholas and Jack, you did them in maybe more unorthodox positions. Were you trying to catch them unaware?
Guanyu: In the beginning I knew that behind Nicholas we could always stay around three or four-tenths the whole lap, and everybody's using DRS so it's difficult in Turn 8. In Turn 3 I was carrying a little bit more speed and in Turn 4 I just basically went for it. That was nicely done. With Jack it was a bit harder because he was a bit further ahead. I watched the Formula 3 race and I saw that if you did a good move into the last corner you still get DRS on the straight so I just went for it and everything went pretty well.
FIA Formula 2: Well done today. Anthoine we'll return to you. You mentioned the difficult start to the weekend, practice didn't seem to go that smoothly, so what have you learned over this weekend that's resulted in this win today?
Anthoine: It's true that Free Practice and Qualifying weren't that good at all. We're missing some pace and in qualy I also had an overheating engine, so that didn't help us, but there are still some parts of the weekend that we need to work on. We still don't really know why we were missing so much pace. The car felt quite good but obviously we are missing some grip. We need to work on this because our Feature Races are always good but if we start from a better position they will still be good [laughs]. We could maybe finish in the top five or maybe on the podium in the first race. We need to work on this and then like I said, my first race was good which is quite often the case. We have a good race pace, we are good in tyre management. We still miss something in the pit stops but I was happy to get back to P8 and I knew I had the pace for today. In the end it's such a great feeling after a really bad start to the weekend to go away with a win and 19 points I think. It's a really great achievement for sure.