This page contains archived information and may not display perfectly
F2 - Post-Sprint Race Press Conference 
F2 - 2019 Race of Monaco - Post Sprint Race Press Conference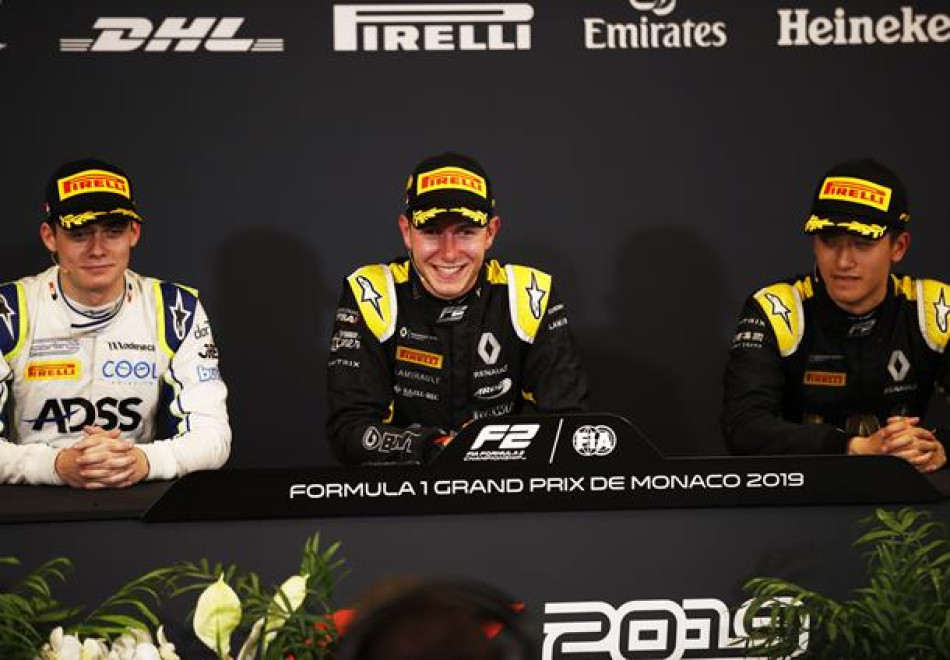 Thoughts from Hubert, Delétraz and Matsushita
FIA Formula 2: Hello and welcome to the press conference with the top three finishers in today's FIA Formula 2 Sprint Race here in Monaco. We are joined by race winner Anthoine Hubert for BWT Arden, in second place is Louis Delétraz for Carlin, and third is Guanyu Zhou for UNI-Virtuosi Racing. Anthoine, your first win at Formula 2 level, but just how tense was it inside the car?
Anthoine Hubert: Yeah it was quite tense, a tough race, especially in the end. I can still feel my heart beating quite hard to be honest! I'm very happy with this first victory of course, especially getting it in Monaco. I think there's no better place to get my first win, except maybe Le Castellet [laughs]. A big thanks to my team. Everyone has worked really hard. Yesterday was a tough race but they did a good job today. I'm really happy to drive for them and I'm really happy to share the good memories with them.
FIA Formula 2: Just talk us through the final few laps where Louis was putting the pressure on you, especially coming out of that final corner when he got a run.
Anthoine: I knew he was going to be pushing and racing to get up on me, especially when I began to struggle with tyres in the end because in Monaco you don't get so much tyre degradation, but fortunately for me there were not enough safety cars! I struggled with my rear tyres in the end and he was really catching me a lot, putting me under a lot of pressure. I lost control twice in the exit of a corner and touched the rail a bit in the swimming pool. It didn't help with traction, especially in the last corner. I knew the victory was in my hands because it's really difficult to overtake here. Still, he [Louis] nearly did it and my engineer was a bit angry at me for making his heart beat so hard [laughs]!
FIA Formula 2: Well congratulations today. Louis, second place. You put on the pressure for so much of that race, just talk us through the closing stages from your perspective.
Louis Delétraz: It was a great race. The start for me was pretty difficult, we didn't get the pace straight away. It was quite difficult with fighting oversteer in the car which is never very fun in Monaco. The car settled down and after that I had really good pace to come back to Anthoine, but he was definitely holding the gap until that last lap where I thought I was close, especially when I crossed the line. I'm very happy about the first podium of the year, I wanted it earlier but still, hopefully we can use this moment to kick-start our season now.
FIA Formula 2: Just on that final lap, when you pulled out alongside him did you think you might have done it or did you know that the line came too soon?
Louis: I saw the line so I knew I didn't win, but I thought 'wow, that was really close!' I think if there was one more lap of racing then maybe I could have taken P1. I was really pushing and chasing Anthoine. When he touched the railings I could really see the sparks coming into my face, that's how close I was behind him.
FIA Formula 2: Well done today. Guanyu, moving on to you. Your second podium of the season. It looks like getting third place all came down to the start and getting a good get away.
Guanyu Zhou: Yeah, after the race was over yesterday we talked about the rhythm and also having a great start. I'm normally pretty okay with the start so the plan was to get the jump, which I did, and then in Turn 1 I got hit by Artem [Markelov] and the weight was a bit scary. It was quite oversteery as well in the corners because of it. In the first few laps I thought I might have had a puncture, but in the end it was fine so I was sensible. Having him behind me for the whole race is definitely one of my most intense races so far. I knew he was going for it, it's the only F2 race he's scheduled to do. I just had to cover my position and make no mistakes. He locked up a few times, after the safety car restart, which gave me a chance to attack. In the end the race worked out very well, especially the last four laps. I saw Anthoine struggling and they were fighting, it all got pretty close, and then Artem started eating into the gap I'd made, so it was really intense. I'm really happy. It's my first time here in Monaco and I didn't expect to be on the podium at the beginning of the weekend. Congrats to the guys here on the podium as well.
FIA Formula 2: We know it's hard to overtake here but when you closed up on the leading two when you had Artem behind you were you still thinking that you might make a move while having to defend? What was your mindset at that time?
Guanyu: To be honest I was just trying to keep my position and wait to see if anything happened, because with such a tight circuit I knew if tried to make a move and I made a mistake I might hit both cars in front, not just the car ahead of me. I just tried to keep position and hope that something happened in front.
FIA Formula 2: Thank you very much. Anthoine, returning to you. We've seen a run of good consistency so far from you this season, now capped off with this win. What's going to be the key to continuing this and maybe even getting yourself into the title race this year?
Anthoine: Since the beginning of the year that's always been my target, to be consistent, always be in the points, and when there is an opportunity like today to take it and try and get some podiums. But I know I'm a rookie, I'm in a team that's kind-of rebuilding so we are not going to be really strong every time. I just try to always fight hard for points and to get on the reverse grid. We've done some really good feature races in Bahrain and Barcelona, so I think we can fight for a good position in the Championship. To be honest I think it may be a bit optimistic to say I'm fighting for the title. I'm already quite far from the leaders and they are experienced, in their third or fourth years, so it's not easy to challenge these guys. But I'm really happy about our start to the season, to be honest I did not expect it to be like it is. I thought we were going to struggle a bit more, so I'm really, really happy but I want more. Yesterday I finished P8 but I was not happy at all because I felt like we should have done much better. I'm pushing for more and hopefully more will come soon. More podiums and maybe more wins.