This page contains archived information and may not display perfectly
F2 - Post Sprint Race Press Conference 
F2 - 2019 Race of Barcelona - Post Sprint Race Press Conference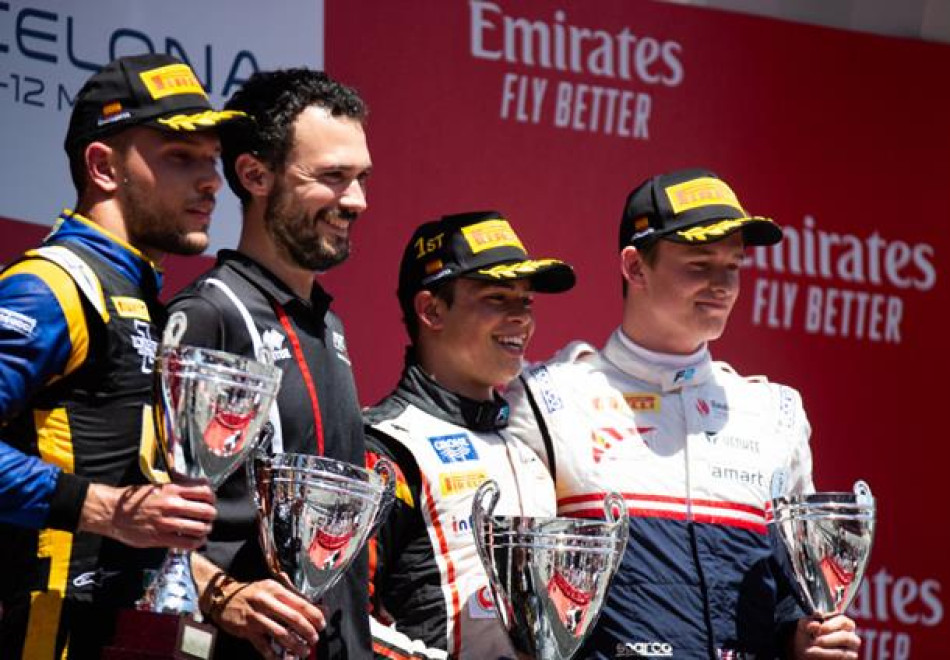 Thoughts from De Vries, Ghiotto and Ilott
FIA Formula 2: Hello and welcome to the FIA Formula 2 press conference with the top three finishers in today's FIA Formula 2 Sprint Race here in Spain. We are joined by race winner Nyck De Vries for ART Grand Prix, in second place is Luca Ghiotto for UNI-Virtuosi Racing and in third place is Callum Ilott for Sauber Junior Team by Charouz. Nyck, your fifth win at Formula 2 level but your first of the season. Have you had be a bit patient waiting for this one?
Nyck De Vries: I'm just so relieved. I can't wait to just go back to the guys and thank them because it's been a tough weekend. We've been there all the time but we were just not really able to turn it into proper results. We've been taking points but the win was really missing out. Not so much the result, but actually the pace was not good enough, so I guess we just didn't deserve it up until now. We worked pretty hard last night and we did a really good job turning it around. This is just the best reward for the whole team and myself to win today. The race was so long. When you're leading from the beginning and you're just counting down the laps and just praying everything holds on until the end. I'm just very happy.
FIA Formula 2: You mentioned the work you had to do overnight. How soon today did you realise you had the car that was quick enough to hold on for the win, or were you not confident until those closing laps?
Nyck: Even when we were leading you don't really know what the others are doing, so you're just trying to push within your limits and hope it's good enough. Surely, they are very strong but I think we made a good step up and I think this just a good reward for everyone.
FIA Formula 2: Well done today. Luca, moving on to you. We're going to start with one of the highlights of the race. Can you just talk us through your move on Callum on the start of the final lap there?
Luca Ghiotto: First of all I didn't think I was going to make it because my exit on the last corner was really bad, but it looks like DRS here is having quite a big effect and the gap to the car behind was quite big so I just said 'I'll try around the outside, even if I go out I'll get P3.' So I tried it and it worked out well, he was really good and solid with his pace. He's one of those drivers who's really good to fight with, that always leaves space. Clean racing as it should be. It was a nice move but it wasn't for P1 unfortunately! It was good yeah.
FIA Formula 2: You mention no win but if you look back to where you were sat at the end of the first lap yesterday, is fourth place and then second today a good recovery, or are you frustrated at the lack of a victory?
Luca: I'm frustrated and you can't really understand how much really because I think we've been quick all weekend. Friday was a clean day for us, pole position was a good day and then yesterday the problem at the start and then the crash. It's nothing that we could really avoid. Nothing we could do. But it's one of those weekends where I'm happy still because it could have been much worse yesterday, P4 is better than out of the points, but of course considering where we started it's not where I want to be. It's good to know at least that we have the pace. Nyck proved that they are quick again. He's back where I expected him to be. He's going to be a good fighter this year from Monaco on. I cannot wait to be in Monaco and see how it goes.
FIA Formula 2: Well done today. Callum moving on to you. You couldn't quite hold off Luca on that final lap but you must be happy to finally pick up your first Formula 2 podium?
Callum Ilott: Yeah. I pushed really hard to sort of maintain the gap to him. I was catching Nyck a little bit and then two laps to go I started to feel the tyres just drop off. It was close and I just kept managing to get the exit out of the last chicane. That lap I had a little bit more wheel spin, a bad gear shift out of it on the bumps and the DRS. He just got close enough and I was still breaking late but obviously not late enough, left him enough space to get round, but I tried. Unfortunately it wasn't good enough. It was a little mistake at the end, a bit disappointing, but otherwise I think we did a really strong race, stronger than what I thought we could do. That's a bit of a relief because in reality I thought he'd pass me a lot sooner so we held him off quite well. Yeah, first podium, that's good, I'm happy with that obviously. Starting pole with these guys it's always going to be tough. I didn't have the best of starts. We changed the whole clutch from yesterday, we had a bit of a problem with it, and I missed a little bit of my feeling, so unfortunately it didn't go completely the way we wanted to, but you know, it was a good race. I'm finally starting to get the rhythm after the first two rounds we had. I'm looking forward to Monaco and the rest of the season.
FIA Formula 2: You mentioned the start there, dropping back into Turn 1, but from that point onward were you happy with the pace you showed? Is there an added pressure when you're going for your first podium, knowing that it's at stake?
Callum: It took a while to get past Anthoine. When everyone's got fresh tyres you know it's hard to get past without really killing your tyres, so I was trying to wait a little bit until he dropped off and then went for it. Then I just maintained the gap to Nyck. I probably could have pushed a little bit harder at that point, but when Luca passed Anthoine that was when it was the time to sort of start pushing. I lasted longer than I thought I would have, and I had a gap to the guys further behind, so it was more just trying to see what I could do. I think the race pace overall really wasn't too bad. I'm happy with the progress we've made.
FIA Formula 2: Well done today. Nyck, just returning to you. Luca's mentioned that he was expecting you to be a threat this season and to still be one from Monaco onward. Does this feel like a bit of a turning point for you and ART?
Nyck: I just got that question asked when I jumped out of the car, but I don't really look at it that way. We just take it weekend by weekend and try to extract the maximum points we can in every race, in every situation, and I'm just very proud of our team that we made it turn around this weekend. For sure, it's something we will take with us for the future, but you're as good as your last race. When we kick off in Monaco, everything is back to zero.