F2 - Post-Sprint Race 1 press conference
F2 - Monza Event - Post-Sprint Race 1 press conference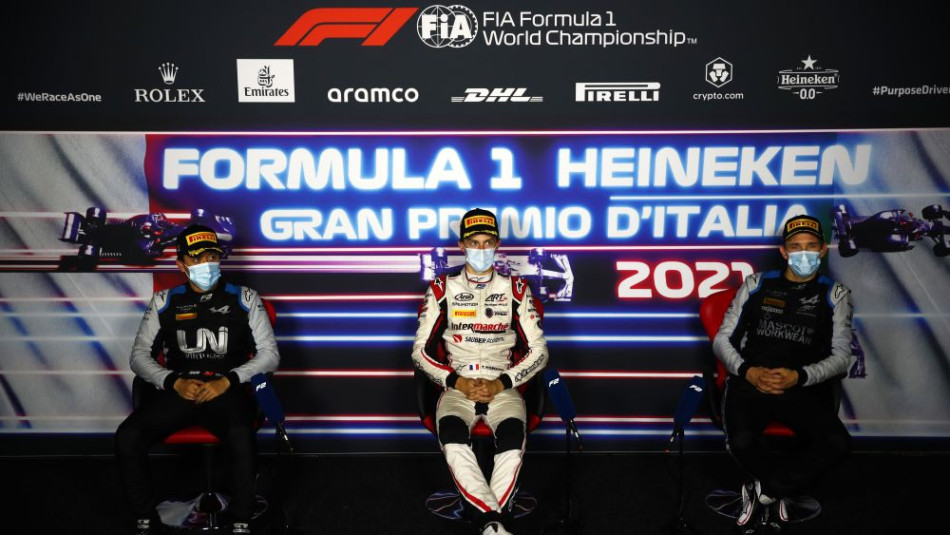 Thoughts from Pourchaire, Zhou and Christian
FIA Formula 2: Many congratulations to the top three finishers of Sprint Race 1 of the FIA Formula 2 Championship here at Monza. Finishing in third place Christian Lundgaard for ART Grand Prix, in second place, Guanyu Zhou for UNI-Virtuosi, and taking his second win of the season Théo Pourchaire, also for ART. Théo, huge congratulations, it was slight chaotic race but it seemed that no one was going to stop you this morning?
Théo Pourchaire: It was a great race for me. I started P4 and the start was not so bad, I kept my position, which was good. Then I made some great overtakes and the pace was amazing, I was quite surprised by that. I knew we fast but Qualifying yesterday was a bit messy and we were not in a good position so that's why we were a bit far back. Today we showed that the pace was there, we just need to do it again in Race 2 later on, but overall I'm quite happy, and quite confident for the future!
FIA Formula 2: Well with two ART drivers on the podium you clearly have a good car here, what can you achieve over the rest of this weekend?
Pourchaire: To be honest, I don't know, we'll have to see. I will start P10 for Sprint Race 2 and Christian will start P8, so I think we can do a similar race. We have to avoid contact, that's the most important thing. We know we are fast so we also have to make great overtakes, and to not make any mistakes. We are confident, the car is good, and it's a great job by the team.
FIA Formula 2: You did well to avoid contact right at the start of the race. At the beginning of Lap 2, you had to avoid Dan Ticktum's spinning car. How close was that from inside the cockpit?
Pourchaire: I don't know what happened to Dan, for me I just tried to overtake him. I broke late and then I couldn't see him anymore. I cut the chicane because I locked the front right, but then I saw nobody in my mirrors so I don't know what happened to him. It was close racing, but nothing to do with me, I think maybe he made a mistake or someone hit him.
FIA Formula 2: The Formula 1 paddock is watching, there is still one seat available at Alfa Romeo, you are part of the Sauber Academy. Do you feel this result will have helped your chances of getting that seat next year?
Pourchaire: It's difficult to answer. I think the best person to ask is the boss of Alfa Romeo Racing, not me. I'm a Formula 2 racer and I just want to win races like the one today. I take so much pleasure from winning races like that, from making a lot of overtakes. I'm happy to be in F2 and I don't care so much about the future.
FIA Formula 2: Well done Théo. Guanyu, coming to you, a brilliant race by you as well to go from eighth on the grid to second. You and the car were flying, what did you think was possible before the start of this race?
Guanyu Zhou: I think everything is possible because it's Monza. To be honest, you never know what it's going to be like with the DRS train, and cars following close to each other. Coming to the podium is definitely better than what we expecting because normally when you start a little bit further back, you try to finish the position you started, or maybe gain a position or two. Then you have a better chance for Sprint Race 2, but today that wasn't the case. I was able to move forward with quite a good speed, and there was quite a lot of battling. Some moves I wasn't too happy about with people squeezing me too much, but once I got to P2 I was quite confident that I was able to keep Robert far enough back that he wasn't able to attack me.
FIA Formula 2: It was a delicate balance wasn't it, being aggressive while also not wanting the contact because of the Championship. You say some people were squeezing you, how close did it get with some of those overtakes?
Zhou: On Lap 2 I had quite a close call because I was defending to Robert and then Ticktum spun right in front of me in the chicanes and I was really close too him, but I made the right decision to put my car where I did without cutting any corners. Then at the end when Théo got into the lead I tried to get past Jüri and he was waving a little bit too much. If I put my nose on the inside he would stay mid-track and squeeze me to the inside and then go to the outside a bit too far in my opinion. In the end we got the move done by forcing him into a mistake, so I can't complain really.
FIA Formula 2: This has been a good race for you from a Championship point of view, just five points in it now between yourself and Oscar?
Zhou: It's still early, we're only in the fifth round but we're in a good position to be fighting for the title. As we've said I think this weekend will really play out for some people's Championships and could destroy some others' chances. Consistency is the key, because having three victories and being P2 in the Championship is not somewhere I want to stay, and I think consitency is going to be key for the second part of the season.
FIA Formula 2: Well done, thank you. Christian coming to you, what just happened? Nineteenth on the grid to third, talk us through it?
Christian Lundgaard: Like Zhou just mentioned it's about staying out of trouble and keeping your nose clean. The whole race we saw cars pitting for a new front wing, I think there alot compared to what I expected before the race. It was about staying out of trouble and keeping my nose clean, trying to do the moves that I could. I'm pretty sure I did some nice moves myself, but as well I just stayed out of trouble. With the two PREMAs squeezing each other that's one position you gain there from the penalty of Robert, because I didn't finish third on track. I knew he had a penalty so there was no point for me to fight him and put myself at the risk of losing another position, so it was secured then. I think we were extremely lucky with VSCs and safety cars as well today.
FIA Formula 2: It's been eight weeks since the last Formula 2 race, during that time you've done a race in IndyCar, do you think that's helped keep you sharp because we've seen a lot of mistakes elsewhere today?
Lundgaard: Yes and no. Considering we were P19 in Qualifying, to stay sharp you need to be sharp in quali and the race, but it's definitely something that has helped me to stay more confident and comfortable. I wouldn't say it's made a huge difference, because it is different tyres and Pirelli are different compared to any other tyre. I probably had the best weekend of F2 last year here at Monza, and we've started out the same way this weekend. Now we've actually put ourselves in a position to fight in Sprint Race 2, but we also need to do this in the Feature Race as well which will be a slightly tougher task I think.
FIA Formula 2: Well done all.