This page contains archived information and may not display perfectly
F2 - Post-Quallifying Press Conference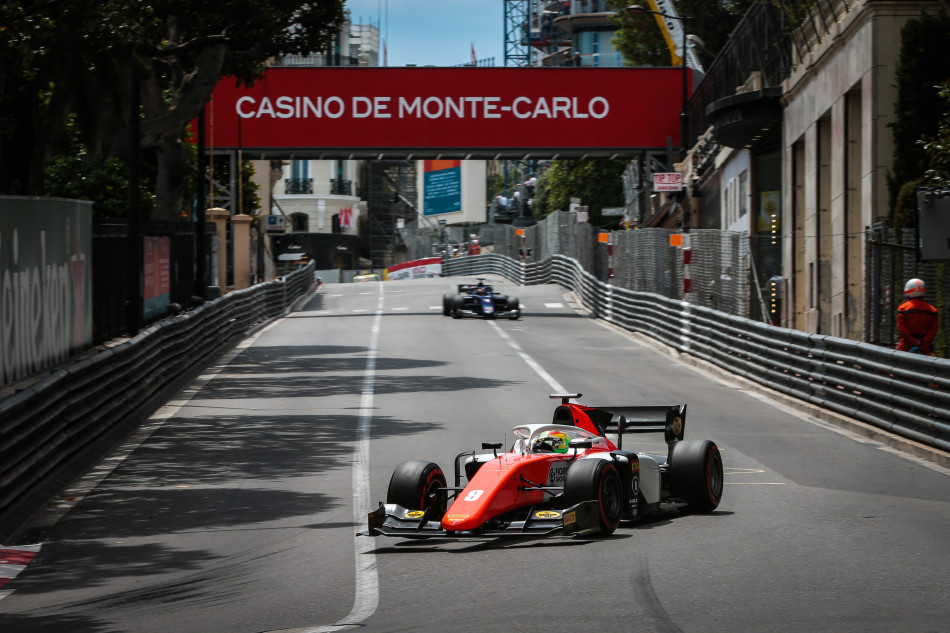 FIA Formula 2: Hello and welcome to the FIA Formula 2 Championship press conference following the qualifying session in Monaco. Joining me are polesitter Alexander Albon for DAMS, in second is Nyck de Vries for PERTAMINA PREMA Theodore Racing, and in third is Artem Markelov for RUSSIAN TIME. Alexander, starting with you; third pole position in a row – and in Monaco, no less. How does that feel?
Alexander Albon: Really good, to be honest! I think it was the hardest qualifying out of the three, I really struggled in free practice to get confident with the car and I really felt qualifying was going to be hard. The usual run plan is normally we use the first set of tyres from free practice, and then we change to the tyres that we start the race on. On the first set, I had the biggest scare of my life into turn 1 and locked up, and it was almost similar to Sette Camara's crash. I cut the inside corner, and from then I thought "maybe it's better just to do a decent lap rather than go for pole". So I was struggling, but once I put the new set on I had a lot of confidence, and in the end we did really well. My lap wasn't the cleanest lap I could have done, but I think it was quite similar for a lot of people; Nyck gave the same kind of feedback. With the traffic and everything, it's really difficult in Monaco, but I'm really happy and we made some great steps from free practice to quali.
FIA Formula 2: How nervous were you watching the qualifying unfold?
Alexander: Well, I'd had the previous experience in Barcelona, but in this one I had in my head that the other group was going to go quicker, so I expected to be P2. This time, I was hoping for the chance to be first rather than just trying to hang on, and that's what it was really like in Barcelona. Here, I thought I'd done everything I could do, and if I get pole then it's a bonus. So I wasn't too stressed, it was more of a happy surprise than anything else. PREMA are very strong this weekend though, so we'll see that probably in the race.
FIA Formula 2: You've had experience in starting from pole position before, how much of an advantage is that?
Alexander: I think it's definitely an advantage to be starting on the front row, but I think you still need to have good race pace because the undercut – or the overcut – is always possible. So whoever's in front or behind, if you're slower than them you just have to wait until the pitstops. The pitstops are going to be the moments which decide the race; we saw how many safety cars and VSCs we had in Barcelona, and it's going to add strategy to the race. It's not going to be easy, that's for sure, but before and after pitstops are the points you'll be managing the tyres. It's those moments when you're changing tyres, or under a VSC or safety car, that will make or break the race. You just have to keeping your head cool and staying focused.
FIA Formula 2: Nyck, coming on to you. Your free practice time would have been good enough for pole today; how did you find the track conditions evolving between the two sessions?
Nyck de Vries: Thank you for reminding me! Of course, I'm very disappointed that we didn't deliver the pole today, I think we had the pace to do it. We were quickest in practice and quickest in our qualifying group, but I just messed up the second-to-last corner on my fastest – and only - lap. Unfortunately we had a bit of a messy session and I was out of sequence, in my first push lap I caught traffic as I came across Luca [Ghiotto] on his cooldown lap, so I had to abort it and I pushed on the following one. It wasn't ideal, but it would have been easily good enough for pole but I didn't do a good job so I'm very disappointed with that today.
FIA Formula 2: One of the things that we noticed is that you went purple in sector one before hitting the traffic that you mentioned. Does that frustrate you or motivate you; what's it like in the cockpit?
Nyck: I think there are no real excuses today, it's my own mistake in the second to last corner. That's it.
FIA Formula 2: Coming to you, Artem. We've seen a really good result for you today following some difficult qualifying performances. Has much of that been down to the new chassis?
Artem Markelov: It was feeling pretty good, the team got a really nice setup on the car so there was a really good feeling as well. I was trying to deliver the best possible result in qualifying – it could be better, on the push lap I lost time in the final sector, but I'm P3 for tomorrow so I'm pretty happy.
FIA Formula 2: And how are you finding the new chassis? Is the balance better, and is the car more predictable in terms of using the tyres?
Artem: Before I had a lot of problems with the car, in quali the car would oversteer then understeer pretty quickly, but today it was really amazing and I feel better with the F2 car now.
FIA Formula 2: Nyck, just on the split quali concept; you're watching the half of the grid out there looking to protect positions or set their own times. How does it make you feel, seeing the benchmarks ahead of you?
Nyck: I wasn't paying much attention to the first group, but I think it's needed otherwise there would be way too much traffic and a big mess. So yeah, I think it's really useful and it's been going on for the past few years so it's the right approach.
FIA Formula 2: And Artem, you were a driver having to protect your time. What's it like watching the second group of drivers go out?
Artem: I was second in my group so I knew I'd be on the second row already, I was really happy with it so I was feeling that I might be quicker than the second group. I was also supporting my teammate, he did a good job as well for his first time here as well.