This page contains archived information and may not display perfectly
F2 - Post Qualifying Press Conference
F2 - 2019 Race of Sakhir - Post Qualifying Press Conference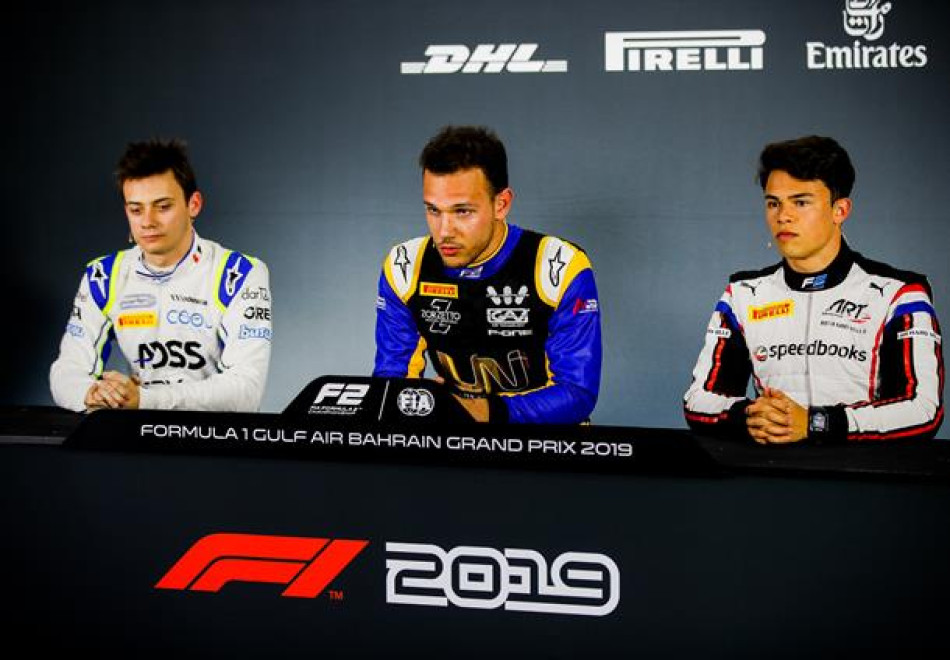 Thoughts from Ghiotto, Delétraz and De Vries
FIA Formula 2: Welcome to today's FIA Formula 2 press conference following the qualifying session here at the Bahrain International Circuit. Joining us is poleman Luca Ghiotto from UNI-Virtuosi Racing. In second place we have Louis Delétraz from Carlin and in third place we have Nyck De Vries from ART Grand Prix. Luca, congratulations on your first F2 pole position. That must feel really good…
Luca Ghiotto: Yeah, it feels really good of course to start 2019 like this and also because finally it is my first pole position in F2 after almost four years… That's one box ticked let's say [laughs]… It feels really good: the team and I did some good job during pre-season testing. We've always been quite quick and consistent. Coming into this weekend, I had a good feeling: the atmosphere is really good in the box. We knew we had the chance to do something good. It's only qualifying, but it's great to start the season with a pole so I'm really happy today.
FIA Formula 2: A lot of your advantage today seemed to have been in the middle sector on your second stint.
Luca: Bahrain is quite a tough track and especially sector 2 is where you need to keep the momentum. I didn't change anything between the first and second stint. I just drove better and I found my rhythm. If you do all the corners right, then you can find a lot of time without even realising it.
FIA Formula 2: Congratulations again. Louis, this is your first front row at the end of qualifying. How good was your lap?
Louis Delétraz: It felt really good. It is my best result in quali in F2 so it's a great start to the year. I was pretty happy with my lap but obviously I was one of the first drivers to do my push lap so I was on provisional pole, but there were still some guys who had to finish theirs. Luca did his just at the end and it was better than mine. Congratulations to him and next time, let's switch places [laughs]!
FIA Formula 2: We also had that red flag interruption. Did that change your approach to your session?
Louis: The red flag came just after my second push lap of my first stint so it did not bugger me at all. I believe the majority of the drivers were in the same situation as me so it was not so bad.
FIA Formula 2; Thanks Louis. Nyck, moving on to you, you were very briefly on provisional pole position. We saw a lock-up so it was not the perfect lap…
Nyck De Vries: No, you are right. I think I lost a bit in sector 2 which probably would have been enough for P2, but not for pole today. Congratulations to Luca and his team: they have been strong all day. We could already see in free practice their potential. Well done to them and I think we are kind of satisfied with third. We are in good position for tomorrow.
FIA Formula 2: After the red flag interruption, we saw some drivers going early to set their final laps and others waiting to go a bit later. How difficult was the decision to time?
Nyck: Yeah because the red flag basically gave us the opportunity to go in the middle of the session – in qualifying the clock stops when there's a red flag unlike in free practice – there was a bit more time in the end. We could choose between two strategies. However, this year's quali was scheduled earlier than in the previous years and the longer we waited to go back out today, the more the track temperature was coming down. We were in a better position for better laptimes going out as late as possible. Looking at our top 3 today that was the right call…
FIA Formula 2: Luca, returning to you. It's a long run down to Turn 1. You've got these two guys next to you. What will be your approach to the start tomorrow?
Luca: Well it's a long way down to Turn 1 and it's a long race. Bahrain always proves that the win can be decided in the last few laps. The tyres are hard to manage here. The start will be important: I think the only thing to do is to have a good getaway, keep first position going into Turn 1, keep the clean air. If you follow other cars here it's harder. We worked a lot on the start with the team so hopefully it should be good enough to be in a good place after Turn 1 tomorrow…