This page contains archived information and may not display perfectly
F2 - Post-qualifying press conference
F2 - 2018 Race of Abu Dhabi - Post-Qualifying press conference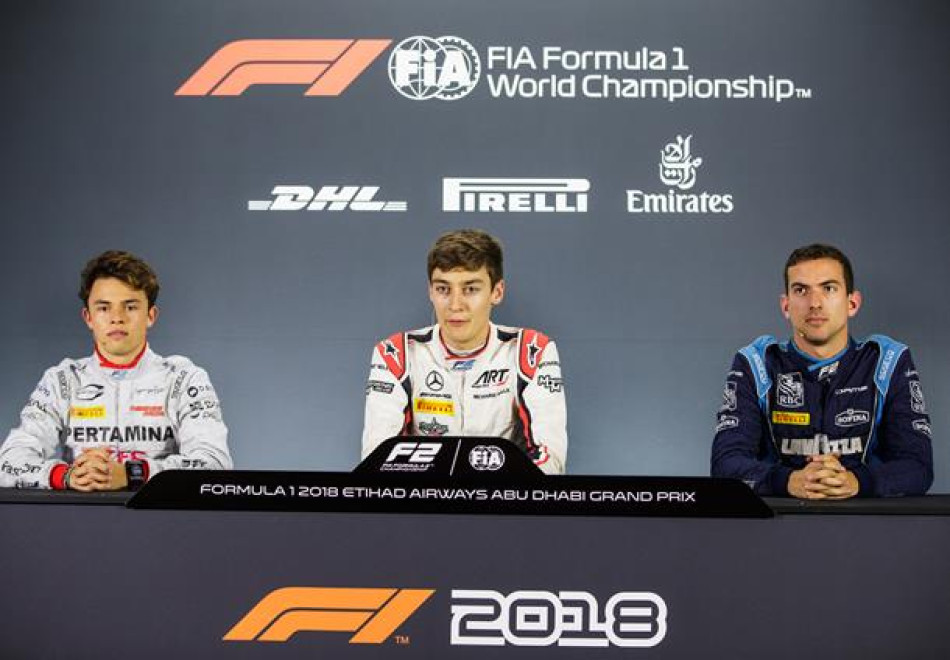 FIA Formula 2: Welcome to the FIA Formula 2 Championship press conference for this evening's qualifying session here in Abu Dhabi: joining us are polesitter and championship leader George Russell from ART Grand Prix, and next to him is Nyck de Vries from PERTAMINA PREMA Theodore Racing and Nicholas Latifi from DAMS. George, congratulations on your fifth pole of the season, which puts you in a great position tomorrow for the race and the title fight: can you please talk us through your lap?
George Russell: Firstly I am very, very pleased about that pole position: coming into this weekend obviously I had a very healthy points margin, but I knew that there was a potential 8 point swing after qualifying depending on whether Alex or I got pole, so clinching that is great for me and the team: it was incredible.
FIA Formula 2: How was your lap, considering the tyre problems so many people had today?
George: I didn't fully optimise the lap on my first run, I made just 2 little mistakes which cost me a bit of time but I knew the rest of the lap was great. And then I managed to get it all together for my second run and really managed to nail that lap, but I think it's difficult for all of us F2 drivers that we get an FP session in the middle of the day on harder tyres and then we go into a night session where the car is quicker, the engine runs faster, you've got softer tyres, and we get 1 lap on each set of tyres! We've got to go in blind and nail it basically, and if you don't then you're finished, as we saw with a couple of the drivers.
FIA Formula 2: Nyck, congratulations on your fifth front row qualifying of the season: you put together a good lap on your first set but you said to the team that you didn't think it was enough, so how much was left out there?
Nyck de Vries: We chose the alternative strategy and I think it worked out well for us: we had a good improvement from free practice and we were definitely in the battle for pole. When I crossed the line I was quite surprised because I knew it wasn't enough for pole, as although we did a clean lap I knew there was more time in there. We made some changes but I think George just found more pace than us: we had a hectic situation because we were quite late to get ready, and then we had to stay in front of the others who were coming out for their 2nd run and we had to push quite hard on our 2nd set to not get out of sequence. It was a bit tricky but I was quite happy with the lap, it's just that George did a better job than us throughout the session, but I'm happy about the front row start and the battle ahead.
FIA Formula 2: Did you learn anything about the tyres from the rush for the second set?
Nyck: It taught me that mechanics need to hurry up! I was forced to push, which was not ideal, but I don't think it cost us any performance.
FIA Formula 2: Nicholas, congratulations on your best qualifying of the season: where did you pace come from this evening?
Nicholas Latifi: Honestly I don't know! It was one of our worst free practices in P17 and 2 seconds off George, and nothing went right with the performance of the car or the driving so I would have been happy with the top 8 in qualifying really. People at the front were improving in qualifying by 2 seconds: on my first run I improved by 4 seconds over my practice run! It's a big jump, and it's worse when you have a bad performance and then have a lot of traffic in qualifying, and it's at night and on super softs, but I'm really happy with our performance in qualifying and the jump we made: the team did an amazing job, and put the car in a good window for me. I was surprised when I crossed the line and we were so quick: I had pole for a few seconds until Nyck went by me! And we improved again on the second set: I think I had the chance to go by Nyck, but George was just too far ahead. Nevertheless, I'm totally pleased.
FIA Formula 2: You had a lot of handling issues with the car, and we saw Alex go off in qualifying: was handling the main problem for you and the team today?
Nicholas: From practice to qualifying there was nothing fundamentally wrong with the car, it was just getting a better set up to give us drivers a bit more confidence: I haven't had a proper debrief yet, so I don't know what problems Alex had with it.
FIA Formula 2: Coming back to you George, what are your expectations for tomorrow?
George: I'm not too sure: like today we're going into the unknown a bit. We're racing into the night, we haven't tested all year in the night either, so our only previous experience was Bahrain qualifying. My goal is just to get a good start, get into the lead, and manage the race from there, but as we've seen earlier in the year anything can happen in Formula 2, so you've just got to be clean, not make any silly mistakes, and obviously my main objection is to win the championship and keep Alex behind me.