This page contains archived information and may not display perfectly
F2 - Post-qualifying press conference
F2 - 2018 Race of Italy - Post-Qualifying press conference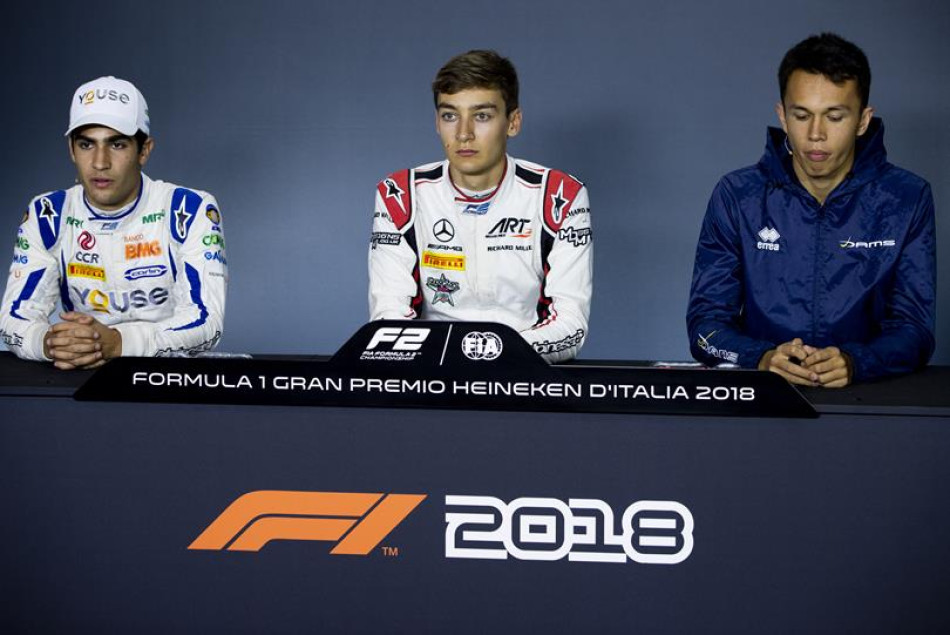 FIA Formula 2: Welcome to the FIA Formula 2 Championship Press Conference following the Qualifying session at Monza. Joining us today is polesitter George Russell from ART Grand Prix, in second place we have Sergio Sette Camara from Carlin, and in third place is Alexander Albon from DAMS. George, congratulations on your fourth pole of the 2018 season: could you talk us through the lap that put you there?
George Russell: Thank you, I was very pleased with my second lap as I struggled a bit to get my confidence on the lap in free practice so I just went for it, and really nailed the lap I think. I had a great position behind the DAMS cars and everything just came together, so I was really pleased with that. I was surprised that Sergio was so close to me, although he's had great pace all weekend, and three tenths ahead of P3 on a track like this, which has only got about 6 corners, is a great achievement I think.
FIA Formula 2: How important is pole here? We have seen races won here from as far back as 21st, so are you worried about the other guys?
George: I think in Formula 2 anything can happen! I don't think it's going to be as easy to race on this circuit as people may expect, as we're all running very low downforce so therefore the slipstream gained is much less than it would be on a circuit with high downforce. With the current situation at the starts, as we saw in a track such as Spa with such a short run to turn 1, De Vries managed to go from P8 to P3 in turn 1. I'm just happy to get the 4 points, and not so worried about tomorrow at the moment.
FIA Formula 2: Moving to you Sergio, it must be frustrating to be so close when you were dominant in free practice and you led in the early part of the session: how was your lap for you?
Sergio Sette Camara: I was quite close to my maximum, although as always in the series it's difficult to do the perfect lap like they do in Formula 1, where to get to Q3 you still have all the free practice and then Q1 and Q2, and it ends up in Q3 pretty perfect, whereas here it's a bit more difficult. But still considering that, it was very close to my limit and George did a really good lap: maybe I could have done better if I got a bit more of a slipstream, where I was relatively alone compared to some others, but it paid off to be alone because I got purple in sector 3, and you never know how much I would have lost if there had been others following, or if you get a bit close to the one in front and you can't focus on your warm up procedure. I preferred to be alone and focus on my work and do a good, clean lap: I knew I had the pace, but it was not enough.
FIA Formula 2: How about in the race tomorrow: you've mentioned slipstreaming here in the past, so are you planning on using it to get an advantage?
Sergio: Yeah, I think when I was talking about it before I was thinking more about Formula 3, because you do pay a price when you get to the Parabolica or Ascari, so maybe I exaggerated it a bit in the past! In the race hopefully not: hopefully I will get to P1 and not need it! In the race it's not really an option: you might maybe slipstream less to save your tyres, and it's not as under control as it is in qualifying. Let's see how it goes, but there are definitely a lot of overtakes here, and we need to be careful of tyre deg because if someone comes quicker he will have an overtaking point, so it should be an interesting race.
FIA Formula 2: Alexander, we did see a lot of degradation today, especially on the super softs: how was tyre wear for you today, and how will it be tomorrow?
Alexander Albon: It should be okay: there's quite a bit delta from our first push to our second push in qualifying, and it's going to be one of those races where the super softs are going to be very short, so I'd say it will be quite a simple strategy for all the teams. The mediums are going to be the tyres that everyone tries to do the best balance in the car for, but we'll see.
FIA Formula 2: We're closing on the end of the championship, and you're currently in 3rd place and been very consistent: do you consider yourself a patient driver?
Alexander: Maybe, maybe not, I don't know! Obviously the main goal is to beat George, and that's not really what's happened [laughs], but we are coming to the end of the season and consistency won't be enough: I have to finish in front of him, consistently! I need to be mistake free, and I'm only finishing 1 position in front of him it won't be enough.
FIA Formula 2: Back to you George, and your other main rival for the title starts down in P7: given the nature of the track here, do you expect to be fighting Lando tomorrow?
George: I'm not too sure, to be honest: I'm just here to put in good performances and it's been a tricky season this year, and Sergio is one of the few drivers to have even more misfortune than me! I'm not here to focus on him, I'm here to put in good performances and impress people in the Formula 1 paddock because that's where I'm aiming to be next year: I'm not focusing on Lando, I'm focusing on winning the race.