F2 - Post-Qualifying press conference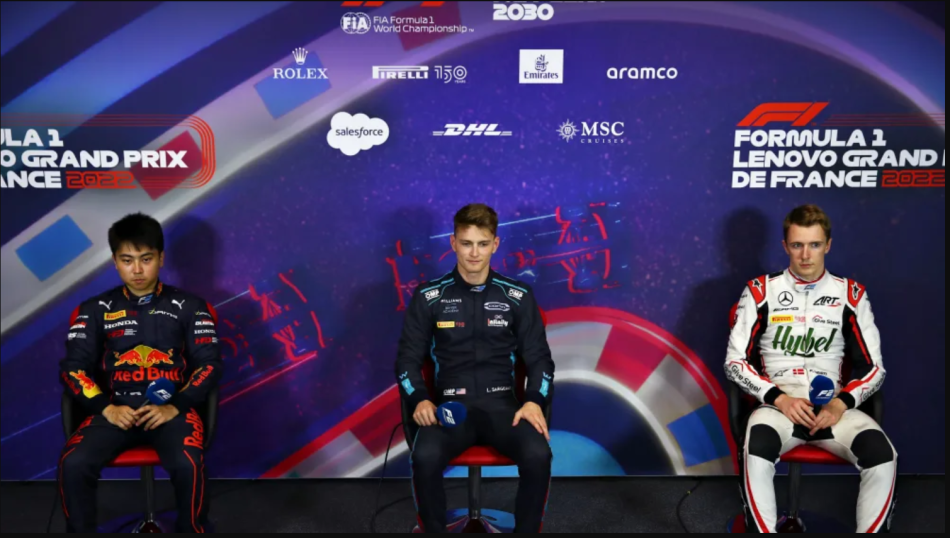 Thoughts from Sargeant, Iwasa and Vesti
FIA Formula 2: A very warm welcome to the top three qualifiers for the FIA Formula 2 Feature Race here at Circuit Paul Ricard. In third place, Frederik Vesti for ART Grand Prix, in second place Ayumu Iwasa for DAMS and taking his second FIA Formula 2 pole position, Logan Sargent for Carlin. Logan, many congratulations on another pole position. It was super tight in the end. How good was that?
Logan Sargeant: There was a little bit more in it, that's for sure. However, I'm sure we could all say the same. It's a track that's hard to put absolutely everything together on. I felt good. Carlin also gave me a great car today, a big thank you to them.
FIA Formula 2: Now, after the first set of tyres, you said that you had a couple of tenths in the bag in the first sector? Is that where you found the time in the end?
Sargeant: I think I just did a pretty good lap through all three sectors. I still had a little mistake still at the end in Sector 1, so I thought I wasn't quite gonna get it. But fortunately, it was enough.
FIA Formula 2: Can you put us in the driving seat? You've got seven minutes to go of a session, you just had a Red Flag? What is the strategy right at the end of a Qualifying session like that?
Sargeant: Obviously, we know we need to go 'out-push' in order to get two push laps in so that's the priority, to make sure the tyres and brakes are in the window. Then you just have to remind yourself to stay locked in, you can't overthink it. You just got to stay in the moment and get it done.
FIA Formula 2: So you're starting the Feature Race in the best place, but you're going to have a bit of work to do in the Sprint Race tomorrow. Do you think overtaking is possible here at Paul Ricard?
Sargeant: I have a pretty strong feeling tyre management is going to be quite a big player in both the races. So I think we're going to need to look heavily into that. If we make sure we're doing the right things tomorrow, hopefully, we can make our way through the field.
FIA Formula 2: Many congratulations to you. Well done. Logan. Now, Ayumu let's come to you. Congratulations on another front-row start. How are you feeling after that one? Do you feel pole position was possible today, had you got that final run?
Ayumu Iwasa: I think it was possible, this P2 is quite a big frustration because I couldn't go for a second push due to traffic before the push lap. I think did quite a good lap in the first push, but I was missing a little bit in Sector 2 because the car in front of me was a bit too close. I lost a little bit of downforce on the chicane, but I could do a little bit again after the chicane. So maybe it was 50/50. I wanted to try the second push to be honest.
FIA Formula 2: Sorry to bring back the bad memory of not being able to do that final push lap. But can you tell us what happened in the build-up to that, why do you think you weren't able to cross the line in time?
Iwasa: Basically, I was pushing quite hard from the box. Everyone was pushing in front of me, but I got big traffic, just on the last two corners. I was trying to overtake some cars, but also the car behind me was trying to overtake. Then I stuck behind them. I crossed the chequered flag, maybe just two seconds too late, so it was really close.
FIA Formula 2: Now you've had a couple of Sprint Race second places this year, what are the chances of winning the Feature Race on Sunday? Do you think you've got the car to beat Logan?
Iwasa: I'm not sure, to be honest. The speed is really good this year, but I'm losing the result in Feature Race quite a lot in every event. I think as a team, we have to put everything together, pit stop, start, tyre management, everything. So I think we just need to put it all together and we will go forward.
FIA Formula 2: All right. Best of luck with that. Now Frederik coming to you, very well done to you as well. You've had a bit of a day, haven't you after getting no laps in Practice. How pleased are you with third?
Frederik Vesti: I'm very pleased with P3 in Quali. I would say I dreamed of being in the top three before Quali, but making it happen is very difficult with no laps. I'm lucky that I know this track very well from previous experience. To get it done meant a lot to the team also because it's frustrating to have a broken car during the first push lap in Free Practice. To get it done and to recover the weekend from a bad start, that's very important.
FIA Formula 2: How much did you have to dial in the car during the session itself?
Vesti: Not a lot, actually, we didn't make any changes. I was lucky that Théo did a good job in FP and they managed to dial the car in. We went for the same setup and that worked very well. I just had to focus on my driving. The biggest step was definitely coming from my side as I didn't do FP.
FIA Formula 2: What can you do from third place on the grid, you must be very keen to make amends after what was a frustrating Sunday in Austria?
Vesti: It's my third time in a row being good in Qualifying, in the top three, but we still haven't scored any points in the Feature Race for a long time. It's a bit to do with the start and probably a bit of an unlucky race in Austria but I'm very motivated to make it happen on Sunday, and I know the team is too.
FIA Formula 2: Do you agree with Logan that these races are going to be big on tyre management?
Vesti: Definitely, on Sunday it will be important. Of course, tomorrow also, but tomorrow's race is a bit shorter. Also, you need to make up positions if you want to score good points, so we need to push. We can't sit around and save too much tyre. Definitely, if you do a good job on the tyre on Sunday you can make a difference in the race.
FIA Formula 2: Thank you, Fred