F2 - Post-Qualifying press conference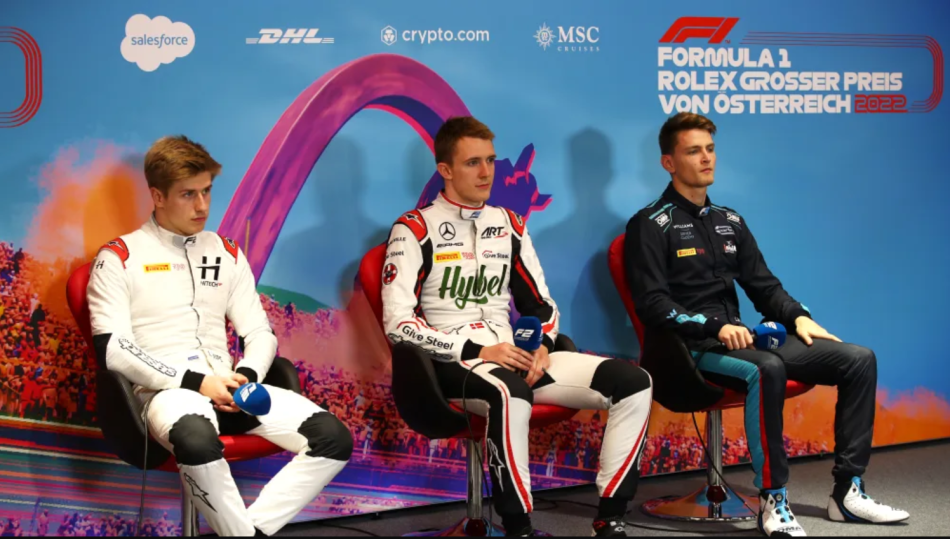 Thoughts from Vesti, Vips and Sargeant
FIA Formula 2: Let's speak to the top three qualifiers for the FIA Formula 2 Feature Race at the Red Bull Ring. Starting in third place, Logan Sargeant for Carlin, in second place, Jüri Vips for Hitech Grand Prix, and taking his first pole position in FIA Formula 2, Frederik Vesti for ART Grand Prix. Fred, a front row start at Silverstone last weekend, and now your first F2 pole at the Red Bull Ring. How special is this?
Frederik Vesti: First of all, it's really special. Today we managed to do what we didn't do in Silverstone. The car has been strong all day straight away from Free Practice it was strong. That's a good confidence boost going into Qualifying, and I think it showed. I had some track limits violations, which meant I actually only had one lap that counted, but it was good enough for pole which is all that counts.
FIA Formula 2: You say the car is getting stronger. But what about you Fred? You seem to be getting stronger and stronger as well.
Vesti: Yeah, I'm working very hard to improve. We all know that the start of the season was not good for me. Théo did really well in the first few rounds, and I was nowhere, which was very frustrating. But ever since Jeddah or Imola, I've been on a climb, and it's been going better and better. That's why we're here.
FIA Formula 2: So, what is the plan in the Feature Race, in particular, to make a better start than Silverstone? I imagine that's job number one. But tell us about the race as a whole.
Vesti: We'll see tomorrow and Sunday, the weather seems a bit unpredictable so let's see how it is. For sure doing a better start than Silverstone will help me to get that first win in a Feature Race.
FIA Formula 2: All right. Best of luck with that, and well done today. Jüri, coming to you now. You were quick throughout the Qualifying session and ended up just three-hundredths of a second behind Fred. How good was that? Was there any more on the table?
Jüri Vips: There was. It was a little bit frustrating when I saw the gap to Fred because I think the car was very, very good today. Hitech definitely did its job. It's still a good starting position, we just miss out on two additional points for pole. I'm just looking forward from here.
FIA Formula 2: And with so many overtaking opportunities here, how strategic is this race going to be?
Vips: Very! I think even more because the weather is looking a bit shaky for Sunday. So, I think it could be quite interesting.
FIA Formula 2: Jüri, we haven't seen you on the podium since Monaco. How good is your race car here? How confident are you for the rest of the weekend?
Vips: I guess we'll find out tomorrow, but both myself and the team are working hard to make sure that it's good tomorrow. Then we just have to make little adjustments for Sunday, if needed.
FIA Formula 2: Best of luck to you. Logan coming to you now. After your tremendous weekend at Silverstone, you're competitive again here. How did that session play out for you?
Logan Sargeant: I think, for the most part, it went really well. We had a really good car underneath us today, one that was arguably good enough for pole. So, it's slightly frustrating to miss out on that, but I think with the amount of track limit violations today we have be happy that we put a good lap on the board. It's a good position for the next couple of races.
FIA Formula 2: So, the car was good. Where do you feel you missed out?
Sargeant: Well, compared to my lap time on the previous lap, I left a bit on the table in the middle sector. So, it's a little annoying.
FIA Formula 2: But you were fastest in Sector 1. Is that a useful place to be quick in terms of overtaking and not being overtaken in the race?
Sargeant: Definitely. Comparing Qualifying to the race, they are extremely different in the way the car needs to be driven. But I think we can be confident that we can go forwards in both races.
FIA Formula 2: All right. Best of luck to you. Thank you very much.