This page contains archived information and may not display perfectly
F2 - Post Qualifying Press Conference
F2 - 2020 Race of Bahrain - Qualifying Press Conference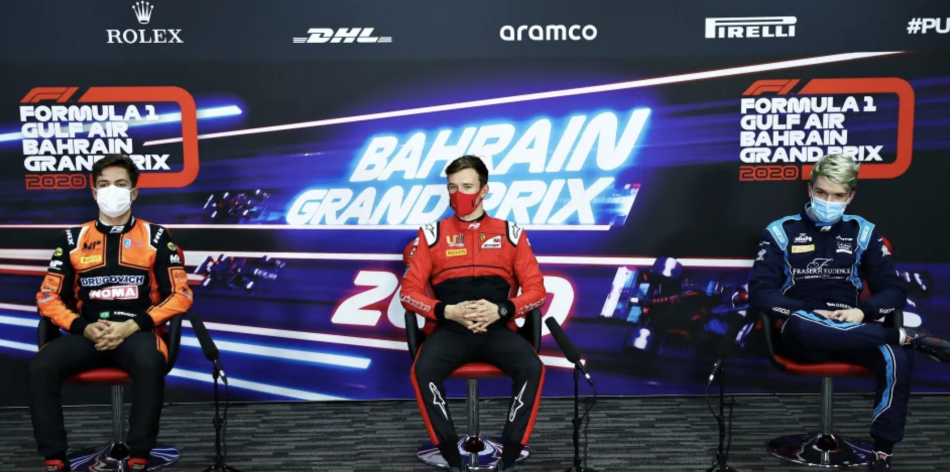 THOUGHTS FROM ILOTT, DRUGOVICH AND TICKTUM
FIA Formula 2: Hello and welcome to the press conference with the top three qualifiers for this weekend's FIA Formula 2 Feature Race here in Bahrain. We are joined by pole-sitter Callum Ilott for UNI-Virtuosi, in second place is Felipe Drugovich for MP Motorsport, and third is Dan Ticktum for DAMS. Callum, pole position and perhaps more importantly, four points for you in the Championship fight. You were nearly 0.4s clear of the whole field. You must be delighted with that lap?
Callum Ilott: Yeah. It made the rest of the session slightly more relaxed, from a position point of view. Obviously, I think a lot of people had issues trying to improve. I think either the wind or the track conditions changed a lot. For me to pull out a lap like that, after not having a great practice, was really good. Big thanks to the team for putting everything together, making it work for me and giving me a car that I can set some good lap times in.
FIA Formula 2: When we look at the Championship picture, Mick (Schumacher) is a long way back in the midfield. Yuki is right at the back of the grid after problems today. Could you have predicted today going any better from your point of view?
Callum: No, it's pretty good.
FIA Formula 2: What are your nerves like right now? Are you relaxed, are you relieved with the way today's gone, or have you a bit of nervous energy ahead of the weekend?
Callum: To be honest I have no nerves. It doesn't really... I've still got one more weekend after this even I do a good job. It doesn't change that from that side. From that side, it's gone well today. The practice was not so good, so after that I was bit like, "this might be a bit more difficult." After setting that first lap I was more like, "I have some talent again!"
FIA Formula 2: Congratulations today. Felipe, it's the third time you've qualified on the front row for the Feature Race this season. How happy are you with that session?
Felipe Drugovich: I'm really happy. I think after Sochi we were a little bit worried about the pace. To be fair, we don't know what went on there, but we didn't have any pace. Coming to here, I think we did the same job as always and we're up there. I'm really happy with that. The team worked hard like always. Normally we have the pace for Qualifying, now we have to work on it for the races and try to have good pace while limiting the tyre degradation.
FIA Formula 2: Obviously Free Practice was a bit scrappy today with interruptions and the weather, but how do you feel the race pace is? Is a first podium in a Feature Race on the cards for you tomorrow?
Felipe: Hopefully! I cannot predict anything. I'll just try and do the same job as always, try to optimise everything we have, all the data that we've gathered from Qualifying and Free Practice, and we'll go from there.
FIA Formula 2: Good luck, thank you. Dan, moving on to you. It's the second time you've qualified in the top three this year, and there was 0.027 seconds between yourself and sixth place. Did you know it was that close? Was it intense out there today?
Dan Ticktum: No, I didn't know. You've made me a lot happier actually! Sochi was pretty disastrous from a one-lap pace point of view. The race pace was good, but in Qualifying we were 17th. It was just disastrous, and I think we've struggled with Qualifying all year really. To be here is good. At the pre-season test we were pretty handy. I hadn't driven a car for a long time and we were always around the top 10, so I knew we were going to be ok here, but the one-lap pace at the test still wasn't great. We've definitely made some big improvements from a team perspective. Practice reminded me of my short time in Super Formula to be honest. It was just absolute carnage. No one was getting out of the way on your push laps, everyone was causing red flags, people spinning... I did one lap I think in 45 minutes. The car felt very balanced, so I knew we were going to be decent, but then you change compound for Qualifying and that sometimes has proved to be a bigger change than sometimes we'd expect. I feel it was a very strange Qualifying session. Normally, everything gets quicker as your progress and you go on to the second set of tyres and you go quicker. It was the complete opposite here. It was like he (Ilott) nailed a lap and started dropping oil everywhere or something! I don't know... I did a pretty good job. I don't think I could have challenged Callum, but if I'd nailed it I think maybe I could have got second. I'm happy with where I am.
FIA Formula 2: Well done today. When it comes to race performances, in the Sprint Race you've had podiums and wins but you don't have a podium in the Feature Race yet. Is that a goal for these last two rounds? Do you set any targets for these?
Dan: Yeah, I think all my points this season have come from reverse grid races apart from ones I've been disqualified in. I'd love to get a win in a Feature Race to be honest. That would be good way of doing it, I know it's not the last round, but in the last couple of rounds. I think the team deserve it. We've worked very hard over this season. It's been a very tough one for all of us. I'm just going to do my best. I'll treat it how I treat every race. If I was fighting for the Championship, I'd treat it the same way. It's just trying to take the right amount of risk and finish as high up as you can pretty much! Simple as that.
FIA Formula 2: Thank you very much. Callum, just returning to you. As everyone's mentioned, we had a bit of a scrappy Free Practice session this weekend. How much learning were you doing in that Qualifying session, and how many unknowns does it mean there are going into the race?
Callum: I did fairly minimal learning. I hadn't driven anything in the two months, not even a simulator, because I couldn't get to Italy to use the simulator because all the flights were cancelled. It was good to get the three and a half laps that I did in practice, and the two practice starts... Really worth it. But it helped, because obviously I got pole. It was a good three and a half laps.