This page contains archived information and may not display perfectly
F2 - Post-Qualifying press conference
2020 Race of Russia - Post qualifying press conference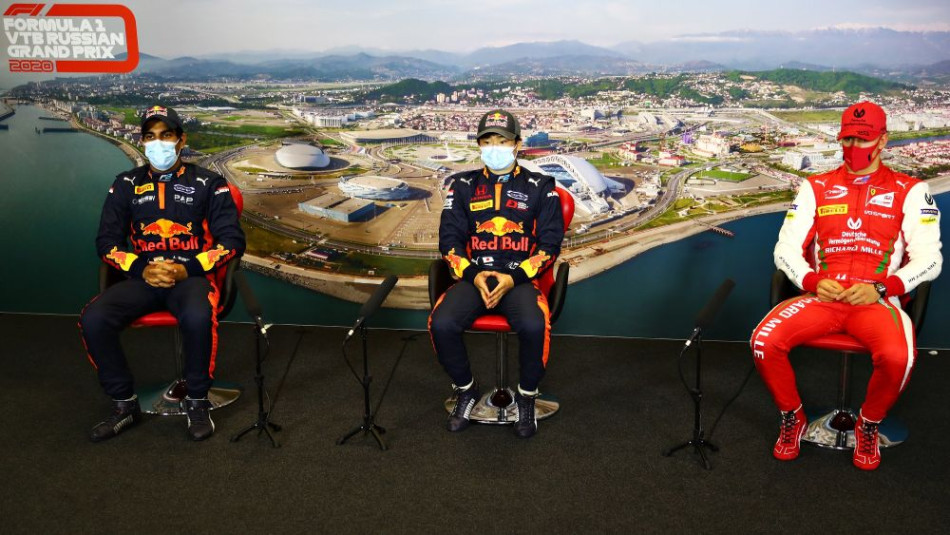 THOUGHTS FROM TSUNODA, DARUVALA AND SCHUMACHER
FIA Formula 2: Hello and welcome to the press conference with the top three qualifiers for tomorrow's FIA Formula 2 Feature Race here at the Sochi Autodrom. We are joined by pole-sitter Yuki Tsunoda for Carlin, in second is Jehan Daruvala, also for Carlin, and third is Mick Schumacher for PREMA Racing. Yuki, your third pole position of 2020, and it completes a Carlin lockout of the front row. Many congratulations. That was an incredible lap by you, right at the end of the session. You found a huge amount of time, so can you just talk us through that final lap?
Yuki Tsunoda: Until the last push I had a lot of conversations with my engineer, asking where I was losing to P1. Most of the time was in Sector 2. I also knew where I had to improve from Free Practice, and he (Jehan Daruvala) was really strong at Turn 8. On the second set of new tyres I was trying to improve at that corner. I also made a lot of mistakes on the first set, so on the last push on the second set I put it all together. I improved a lot in Sector 2 and got P1 so I'm really happy with that.
FIA Formula 2: Carlin have clearly found a sweet spot with the car around this racetrack. How much set up work went in between Free Practice and Qualifying today?
Yuki: I don't know honestly. I think they didn't change much. There was already good pace in Free Practice, and I think the engineers just did a really good job with the preparation for Russia. They didn't change. They already had the confidence we could be in the top three before Qualifying.
FIA Formula 2: It's a long race tomorrow - 28 laps. Just give us your thoughts on tyre wear and strategy.
Yuki: I can't say at the moment about the strategy, but I expect that there will be high degradation. Last year, I saw the video, and in the first option stint the guys from P1 to P6 started on the option tyre, and the guy who started on the prime tyre from somewhere like P10 just overtook every car on the first stint. At the end, the guy changed to the option tyre and just hung on. So, a lot of degradation, and needs a lot of tyre management. But I have pretty good confidence in the tyre management so far. I just have to put it all together like today and get P1.
FIA Formula 2: Good luck tomorrow. Jehan, moving on to you. You led that session for so long. Are you feeling a little bit deflated now, or are you still happy with your best ever starting position in Formula 2?
Jehan Daruvala: First of all, I'm happy to back here. I haven't been here for a while, so that feels good. But all things said, honestly, I was a bit disappointed in the end because I led most of the way through. Also, the last lap in Sector 3, I pretty much almost nailed it. It's six thousandths. I could have gone either way. None the less, I'm happy for the team. We've secured a one-two. I can't wait. Like everyone says, it's a long run down to Turn 2, so anything can happen off the line. Hopefully, we just all have a clean start.
FIA Formula 2: As you say, it's so close between you and your teammate. Have you actually had a chance, since Qualifying, to see where he got those inches over you?
Jehan: Yeah, there's places where I'm better and there's places where he's better. I think, from my side, I didn't improve the middle sector at all after my first push on the first set. That's somewhere that I'm a bit disappointed. A lot of the guys kept improving in Sector 2, and since my first lap I was almost over-driving a bit in the middle sector. From that side, I'm disappointed, but every lap I did felt good so from that side I'm quite happy.
FIA Formula 2: Well done. Tomorrow, as you say, it's a long drag down to that first braking zone. How much are you going to plan in advance, or is it all just going to be reacting to what's going on around you?
Jehan: Honestly, it's hard to plan. Obviously, you can run through scenarios in your head but, when the lights go out, it just depends on who gets a good start and how the tow works going down to Turn 2. After that the race is long. I don't expect it to be as bad as last year in terms of degradation, just because in Qualifying everyone could improve on their second lap. It's hard to say with strategy, but you only know at the end of the race which is the correct one.
FIA Formula 2: We will find out at the end of the race, well done Jehan. Mick, coming to you. Many congratulations, you've matched your best Qualifying position of the year. First up, are you surprised by the pace of the Carlin cars so far today?
Mick Schumacher: Looking at Free Practice I think they were very strong to begin with. They showed very good pace from the beginning. On my side, I struggled a bit in FP, trying to find the limit and I did go over it a few times. But in general, I have a very good feeling - especially in that second stint. I was also trying to see how long the tyres lasted. It was quite positive. As Jehan said, the tyre deg seems to be quite a bit different from last year, so it's up to the drivers and the teams to try and understand what is happening as quickly as possible. I'm fairly confident that I have understood what I need and what it takes to be quick for tomorrow's race. Yeah, fairly confident.
FIA Formula 2: It was very slippery during Free Practice this morning. Just how did the track grip up during the day, and during Qualifying specifically?
Mick: Unusually, in comparison to all the other race weekends we've had up until now, we were the first ones on track. We did have any F3, or any F1, driving before us. I think that was something that caught us out big time. I wasn't expecting it to be that bad, but then the evolution to Quali was quite big, and the slip in tyre was quite small. I was expecting something more. I was expecting to be quite a bit faster. When you consider that we're more than two seconds off 2018's pace, and pretty much a second and a bit from last year's pace. It seems like less cars driving on the track does have a big influence on the track development. I'm quite confident that tomorrow is going to be a big change again.