This page contains archived information and may not display perfectly
F2 - Post Qualifying Press Conference
F2 - 2019 Race of Abu Dhabi - Post Qualifying Press Conference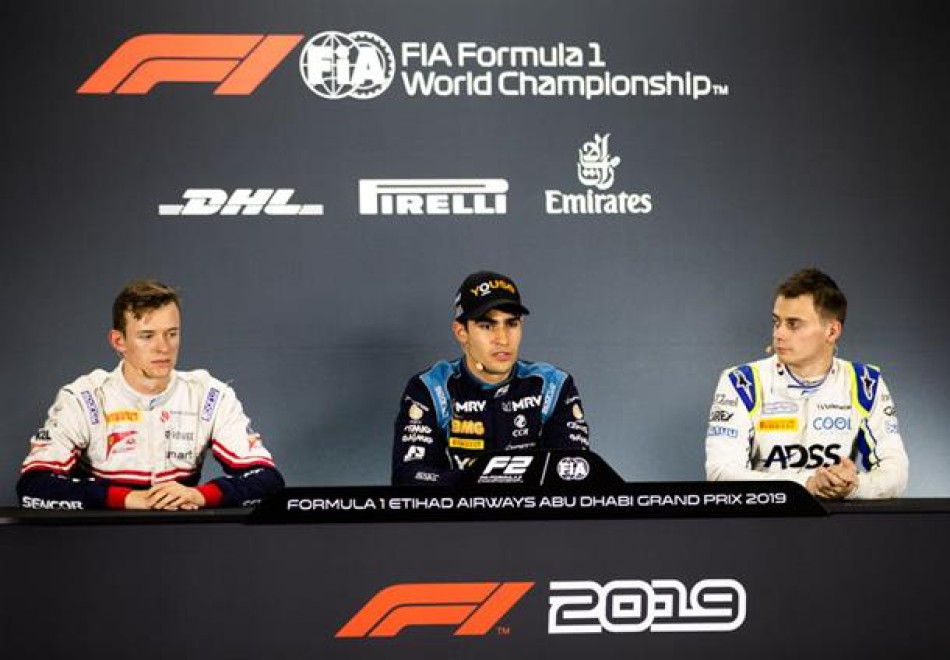 Thoughts from Sette Câmara, Ilott and Delétraz
FIA Formula 2: Hello and welcome to the press conference with the top three qualifiers for tomorrow's FIA Formula 2 Feature Race here in Abu Dhabi. We are joined by pole sitter Sérgio Sette Câmara for DAMS, in second place is Callum Ilott for Sauber Junior Team by Charouz and third is Louis Delétraz for Carlin. Sérgio, your second pole position of this season, just tell us how good was that lap?
Sérgio Sette Câmara: It was a good lap, although Sector 1 was not that great actually. It is tough here in Abu Dhabi to be 100% ready and to predict the balance of the car into Turn 1, in such a sharp corner. I under-judged that, but after that I was just regaining time throughout the lap compared to my previous attempt. I wasn't expecting such a big improvement and I was surprised when I crossed the line to see that it was in the 1m 49s. I had a pretty good Sector 3, so I think that explains it. I had made mistakes in my previous attempt there, so I was expecting that to be my main improvement place. I am glad about the pole position. I know that there was a bit of a luck factor going on there, because there was a driver spinning and a lot of the other drivers couldn't establish a laptime. If I remember well, these two guys with me here were in the top three with me in the first run, so that is a good sign and that makes today's pole a bit more gratifying because it was the same people going quick on the first run that are here. So, I guess that they had the pace all along as well.
FIA Formula 2: You mention making a few mistakes in your first run. Obviously, you guys practice in daytime, in the heat, and then you have to qualify at night, so how difficult is it to get everything out of the car in just those few laps, in these conditions?
Sérgio: I think that it is always difficult, but it is even more difficult in Free Practice, I would say. In Free Practice, when you go out it feels horrible, there is no grip and you do a really messy lap and maybe you can be actually quite alright. Now, when you get more grip, everything makes sense and I think that it is surprising how quickly we can all find the limit. It is always tricky of course, but if I had to highlight something that would be Free Practice, when we come from our sofas - two months without driving, and then you get a super tricky track, full of sand. That is the hardest part. 
FIA Formula 2: Congratulations and well done today. Callum, moving on to you. You were on provisional pole after those first runs, as Sérgio mentioned. You were just under one tenth off pole position at the end, do you know where it got away?
Callum Ilott: Yeah, the last corner! [Laughs] No it was a really strong first run, I was really happy with the car. I was contemplating making a small change, but no, everything was kind of in the window. The first sector was good, the second sector was good, third sector was good, and I have just attacked the last corner a little bit and I expected to get understeer, but I had oversteer. I lost what was probably enough for pole doing that, but his [Sette Câmara] lap wasn't clean on the first corner, mine wasn't on the last corner.
Sérgio: I made a mistake on the last corner as well! [Laughs]
Callum: Okay, well… Even worse then! [Laughs] I am really happy with how we performed though, obviously finishing the season qualifying P2, I am really happy with that. The team did a really good job to set everything up to let me achieve that. 
FIA Formula 2: You have had a strong finish in terms of qualifying, but you are yet to have a podium in a Feature Race. What have you learned through the season that will set you up for tomorrow? Do you think you can convert from here?
Callum: Through the year we have had to improve the starts, I think that has gotten a lot better than what it was. There were still some guys who managed to do incredible stuff. I think that the improvement with the quali was trying to find what I liked from the car and what you can actually do with the car, because you have got four different tyre compounds. You are qualifying on different compounds, and it is quite difficult to always get the feeling of that. Going into the races, I have established a bit more of what I want from the car in the race, to kind of help save it. I still do somethings wrong, sometimes I don't quite get it right with the car, so it is just all about focusing on those things and making sure that the whole package is suited to you. You have got to do the right things. Hopefully, that all goes ahead for tomorrow. It looks good. I am pretty happy with how it was today. Also, in testing here last year, when I did my first test with this team, we had a really good car and everything was impressive so I think that we should be alright.
FIA Formula 2: Thank you very much. Louis, moving on to you. This is your first time in the top three Qualifying press conference since Bahrain at the start of the season. What's been the key to starting and ending the season so strongly?
Louis Delétraz: Yeah, I'm quite happy with P3 today. We've struggled a bit in the last few qualis. We're always in an okay position but never in the top three... P4, P5, P6. We've actually been a lot stronger in races recently than on quali pace, so that's why I'm happy to be here today because hopefully we have a good race pace tomorrow and starting ahead helps a lot!
FIA Formula 2: I was going to ask that. In the last Feature Race you were on the podium, so do you think you've got the car to match that result? Do you learn enough about it in the conditions you had earlier today?
Louis: As Sergio said before, the track from practice to quali has changed massively. It's really hard to judge where to go with the balance of the car. I think we were quite good today, just Sector 3 where it was tough for us, for both Carlins. Sector 1 and Sector 2 were super-fast. Usually we know what steps to take from quali to race, so because tomorrow's race is at night it will be a normal step as usual. That will help.
FIA Formula 2: Good luck tomorrow. Sergio, just returning to you. You're still in with a chance of finishing second overall this season, and Nicholas [Latifi] is starting seventh. Do you think this gives you a big opportunity to really put the pressure on him heading into the final two races?
Sérgio: No I don't think so, not for P2 in the standings at least. I hope to maybe get up to third. Most importantly I don't want to drop to fifth! [Laughs] In fourth I guarantee my Super Licence, and even if I'm not going to F1 next year it's always good to be in the market with one. You set yourself up to get lucky, for an opportunity to show up. Not necessarily in a driver role, but maybe in tests or something. It's there on your CV, so I want to have it. Fourth at least guarantees me that but of course finishing top three in the championship it means something more - Top 3. You can put it in a sentence and it sounds good [laughs]. That would be nice. It's a big gap to Luca, I'm not sure where he's starting, but he's 20 points ahead so I would need to get quite a lot of contrast. So, I'm better just focusing on driving a good race and then seeing afterwards how the maths are.